New & Custom Rugs in Stock
Design of New Carpets and Custom Rugs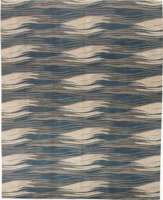 Please visit our outstanding collection of rugs on the web or in one of our galleries in New York and Washington, DC.
Known around the world for 50 years as one of the most elite dealers in antique and vintage rugs, Doris Leslie Blau also offers a wide variety of new carpets and custom area rugs for sale. Some of the new rugs that we produce are inspired by antique carpets and feature timeless designs. From magnificent Persian rugs, through wonderful Turkish and exotic Indian or Chinese creations, to elegant and fabulous European-inspired carpets, we are able to recreate absolutely any grand design. Other new custom rugs and custom area rugs including large area rugs are based upon the fabulous work of the Modernists acting in the first half of the 20th century, or works of art but are executed with a more modern twist either in design or color palette. Many of our new custom rugs were created by top designers and architects exclusively for the Doris Leslie Blau Gallery. We realize that antique rugs and vintage carpets, although existing in a plethora of styles and designs, may not always be appropriate for contemporary interiors, or, simply, they may not be exactly what our dear customers are looking for. Constituting the perfect complement to any home and the ideal foundation for any décor, new rugs, in either modern or traditional design, are always in style.
An Exceptional Collection of New Carpets in New York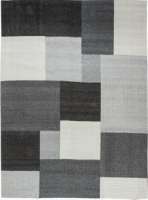 As the current market leader, we have been a major supplier of custom rugs for nearly a decade. Within this segment we have focused on offering our clientele the most beautiful and comprehensive selection of unique and eco-friendly rug options. Why eco-friendly? In our manufacturing process we do not rely on the soulless machine production but on traditional hand-making in accordance with centuries-old techniques. Not only does it limit the amount of pollution and waste but also it ensures that each new custom rug is one of a kind and durable, ready to withstand many years of constant usage. Whether you are seeking a vibrant area rug to be the focal point of your room, or a subtle allover rug to play a supporting role in a design scheme, we are confident that we can help you find the perfect rug to meet your needs and desires. Whether an Italian-garden inspired pattern, a novel interpretation of an 18th century design, a sophisticated modern design, or a playful interpretation to match a quirky color scheme, we are confident in our ability to find the rug to complete the personality of your room. (For those seeking the ultimate in self-expression and design freedom, please see our custom rugs section.)
Making Techniques of New Rugs and Custom Rugs
Our exclusive new carpet collection consists of various designs and weaving techniques. We apply old and refined methods of making custom rugs and new rugs in order to ensure that they match the incredibly high standards set by the generations of Oriental weaving masters. Depending on the style, we draw from the lore of our ancestors and resort to symmetrical knot, also known as Ghiordes, known from Turkish antique rugs, or Senneh, also called "an asymmetric knot", used by the great Persian artisans for many centuries. These and other advanced techniques allow us to aptly recreate awe-inspiring and meticulous patterns, and to ensure each rug's durability and uniqueness. By doing so, we give our beloved customers a guarantee that the custom rug or a new rug they purchase, if properly taken care of, will serve them for generations without signs of wear of damage. Doris Leslie Blau has always been known for outstanding quality and the finest designs. We offer silk, wool, cotton and other natural fibers (there is nothing better than all-natural rugs) in various weaves; our new rug collection includes rugs produced in cut pile, looped, high & low piles, Moroccans weaves, shags, and various types of flat woven rugs. Chosen with the utmost care, the craftsmen who weave our rugs celebrate the beauty and integrity of natural materials and each is individually crafted to the highest standards.
New Rug and Custom Rug Collections Curated by DLB
Many of the DLB designer rugs were created in co-operation with the world-renowned designers, including Mariette Himes Gomez, Amy Lau, Eskayel, Miles Redd, Bunny Williams, Cullman & Kravis, Carey Maloney & Hermes Mallea of M (Group), Brett Beldock, Buzz Kelly, Gabhan O'Keeffe, Ike Kligerman Barkley, Albert Hadley, Lucca & company, and the very Doris Blau, among many others.
In 2002 and 2009 Doris Leslie Blau curated a collection of renowned interior designers and architects who developed their own unique rugs for our exclusive designer catalog. To make these luxurious rugs, only the finest wool, silk and natural fibers were chosen to provide the consistently high quality, texture, and beauty that defines our designer rug collection.
In 2007, the DLB gallery launched the Fashion Designer Collection of carpets, collaborating with fashion icons – Tommy Hilfiger and Nanette Lepore.
In 2017, the Doris Leslie Blau Gallery in partnership with Donald Kaufman, the artist and founder of Donald Kaufman Colors, organized the Color Theory show – an exhibition featuring antique, vintage and modern rugs set in the context of 11 color palettes.
Therefore, whether it is a new oriental rug or a new wool rug you are seeking, whatever your preference, Doris Leslie Blau has an array of beautiful, high-quality new rugs to choose from. Find the one that speaks to you and start your own tradition!
DLB gallery in New York: 306 East 61st Street, 7th Floor; in Washingon, DC: 1099 14th Street, N.W. Suite 325
An Exceptional Collection of Custom Rugs and New Rugs for Sale