Vintage French Art Deco Red Hand Knotted Wool Rug BB7544
8'10" × 10'10"
$

20,000
$20,000
French style carpets that employ Art Deco styles of creativity hyper-evolved and artistically propelled the idea that precious, contemporary hand knotted vintage rugs could also be reverence-worthy tapestries. French Art Deco designers of the past are owed a huge debt a gratitude from modern interior designers, who have to satisfy contemporary demand for modern Art Deco interior design flourishes.
This Art Deco style area rug employs a minimalist and expressionist style inherent in French European deco rug designs. The color of this open-border field and sans medallion French Art Deco style antique rug is an all over, saturating hue of deep red crimson. The stark red field is vertically bisected by an intersecting weave ridge. An abstract, lantern design totem embellishes the lower left half of the tapestry while an abstract wave pattern design inhabits the upper right portion.
Art Deco is a style of visual arts, architecture and design that first appeared in France just before World War I. The Art Deco movement led to a fast evolution of the rug and textile design, among other art forms. Rug design evolved from traditional floral and highly ornamental to a style of angular elegance with geometric, abstract and modern figurative motifs. The design is frequently spare, geometric, and architectural. The rugs created during this period remain elegant and refined to this day.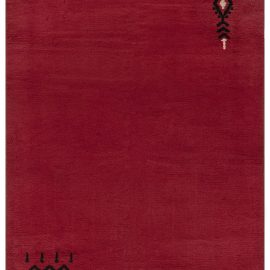 Vintage French Art Deco Red Hand Knotted Wool Rug BB7544
$

20,000
In stock