What are Moroccan Rugs?
Moroccan rugs, in their variety of textures, colors, and designs have stood the test of time. They are a classic staple in both traditional and modern interiors because their unpretentious elegance allows them to achieve a perfect integration in many styles of decoration and interior design. The tribal style seems to be universally appealing, resonating with elements found in many other cultures. Doris Leslie Blau carries a large selection of hand-picked vintage Moroccans, also known as Beni Ourain, Kilims, Berber, Azilal, Boujad, and Boucherouite rugs, depending on their style.

Each North African tribe has its own distinct repertoire of design and colors. They reflect both the ceremonial and the day-to-day life of the tribe as engraved in history. The practical and symbolic worlds of hundreds of Berber tribes scattered about the northern part of the African continent are translated into wonderful creations that are not only decorative floor coverings, but they also display the social status of the members of the tribe. Even the eligibility for marriage was partially determined by the ability to weave beautifully and the quality of these weavings.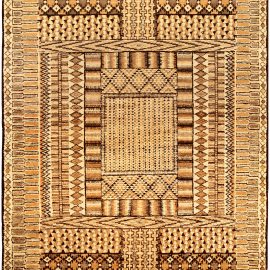 From versatile flatweaves to shaggy hand-knotted area rugs or runners, Moroccan rugs are both decorative and functional. The palette can be calm and neutral, with minimalistic vibes, using only undyed wool in natural shades of ivory, cream, grey, brown, and black. Other tribal rugs display bold geometric designs created by using yarns in exuberant hues infused with eco-friendly dyes made from local plants like madder root, henna, indigo or dyes of natural animal origins such as the cochineal shells.
Moroccan rugs are hand-knotted using soft natural wool which makes them family-friendly and suitable for bedrooms, family rooms, or living rooms. The hand-woven kilims work well in dining rooms, hallways, and areas with high traffic. Moroccan rugs are valued for their technical qualities, expert use of fibers, great tensile strength, and abrasion resistance.
Without a doubt, original vintage Moroccan rugs bring character and a touch of worldliness to an interior.