Modern Contemporary Rugs
Contemporary Rugs and Modern Rugs Provided by DLB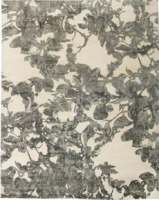 Doris Leslie Blau grants clients looking for contemporary rugs and modern rugs a unique opportunity to make their own individual statement with a floor covering that is truly their own and truly one of a kind. Known around the world as one of the most elite dealers in antique rugs and vintage carpets, Doris Leslie Blau does not stop there, and offers a wide variety of new designer rugs created by renowned figures from the world of art, design and architecture. And for those looking for the ultimate in personal statements, we can provide bespoke carpets, custom-made to your specifications that are limited only by your imagination.
Contemporary rug designs can be inspired by vintage rugs, antique carpets, or by relevant works of art, yet are usually executed with a more modern twist, either in the pattern or the color palette. Many of our modern rugs and contemporary rugs were shaped by top designers and architects exclusive to the Doris Leslie Blau Gallery. Modern contemporary rugs are the perfect complement to all sorts of interior arrangements, from classic to state-of-the-art. A modern rug design will not stand in opposition even an antique rug or a vintage carpet. We produce new rugs inspired by antique carpets that feature timeless designs. We stock floor coverings in various sizes from 7 x 10 to 17 x 27. As the current market leader, we have been a major supplier of custom rugs and contemporary rugs for nearly a decade. Within this segment, our main focus has been on offering our clientele the most beautiful and comprehensive selection of unique and eco-friendly bespoke rug options. Whether you are in search of an Italian-garden inspired pattern, a twist on an 18th century design, a sophisticated modern design, or a playful interpretation to match a quirky color scheme, we are confident in our ability to find modern rug designs to capture the personality of your room.
Freedom of choice in Modern Contemporary Rugs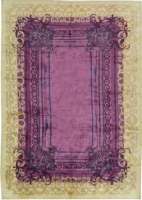 Our exclusive NYC modern contemporary rug collection consists of various designs and weaving techniques. Doris Leslie Blau is known for outstanding quality and unique patterns. We offer silk, wool, cotton and other natural fibers in various weaves. The custom carpet designs can be hand-knotted in cut pile, looped, high & low piles, Moroccans weaves and shags.
Starting from this base, clients can choose colors and/or modify design elements to suit their color story or to incorporate important design elements from other room furnishings or architectural details. When designing a custom rug the client has complete freedom to personalize the rug by changing the color, size, shape, design, material, or technique to suit their needs. We have an extensive array of designs that can be customized, or we can utilize any patterns or colors presented to us to create a truly unique contemporary rug. While performing this service we assist our clients every step of the way, from creating color-matching dyes to producing samples of the designs. For those seeking the highest level of personalization, DLB gives a free hand – we welcome customers with their own designs, and put all the efforts into transforming them into custom-made modern rugs. In producing a truly bespoke carpet, we encourage our clients to collaborate with us as a part of our team. Our designers, textile artists and factories will pick and locate the correct fibers and techniques to execute the design of your choice. Chosen with the utmost care, our custom artisan rugs are made to celebrate the beauty and integrity of natural materials, and are individually crafted to the highest standards. There is no limit to what we can offer our clients in pursuit of the perfect foundation for each room. If you can dream it, we can make it a reality by giving you the ideal bespoke modern rug or contemporary rug in New York City and other parts of the world.
The Fascinating Origins of Modern Rugs
Modern rugs are a broad and absolutely intriguing category which has been continuously developing since the first half of the 20th century, and today is one of the most celebrated, intriguing and desired group of floor coverings. Contemporary rugs stem from the work of renowned artists and painters such as Picasso, Miro, Mondrian, Pollock, as well as textile designers like Marta Maas-Fjetterstrom, Barbro Nilsson, Judith Johansson, William Morris, Sigvard Bernadotte or Josef Frank, who changed the face of not only carpet industry but also the art world in general.
Modernism in the Context of Contemporary Rugs
It all begins with Modernism – a philosophical movement that, along with cultural trends and changes, arose from the wide-scale and far-reaching transformations in the Western society during the late 19th and early 20th centuries. Modern art is strongly associated with the notion of modernism in philosophy and the phenomenon of the avant-garde. The term "modern art" in its pure form was first used by Joris-Karl Huysmans in 1883. The scope of the notion of modern art is connected with new concepts of art and masterpiece which widely draw from the language of art, artistic experimentation, the use of new techniques and materials, deep faith in the relationships of culture and technology, and above all with the idea of progress (linear development of art and history). Modernist art is based on the ideas of the Enlightenment, i.e. on rationalism, liberalism and the already mentioned idea of progress. Modern contemporary rugs are steeped in those concepts and reflect the ongoing trends and styles, thus, they most accurately cater for the needs of present-day consumers.
Art Deco as the Inspiration for Modern Rugs
Modern rugs, also known as contemporary rugs originate from various early 20th-century weaving styles. The vintage Art Deco carpets of France, China or America are one of the paramount examples of early modernism in textile design. Art déco was characterized by classicization of geometry and the desire to synthesize the forms. Its main goal was the search for beauty as a function of the object and the clarity of the message in graphics or painting. Vivid and bright colors known from Art Deco rugs were inherited from Fauvism. Since Art Deco, a vast group of modern rugs has even further moved away from figurative representation, relying heavily on the simplicity and the purity of form, emphasizing the importance of texture and, thus, expressing the maximum of content using the most modest means. Therefore, contemporary rugs and carpets, with their moderation and sublimity, constitute the perfect complement to up-to-date interior arrangements.
Scandinavian Design in Contemporary Rugs
Scandinavian design also widely contributed to the revolution in modern rug aesthetics. The northern philosophy of the early 20th-century assumed that utilitarian objects should be affordable, beautiful and functional in equal measure. Therefore, artists from Sweden, Norway or Denmark have begun building upon the power of simplicity to achieve the goal of pro-social designs, deeply embedded in Scandinavian tradition. The results were absolutely fabulous and the unfading fame of Scandinavian carpets continues to this day, heavily influencing the shape of modern rugs in New York City and other corners of the world.
Modern Contemporary Rug Designs
Today, while creating new rug designs, designers focus mostly on pro-environmental, nature-related projects which are both mesmerizing and responsible towards our planet. Artists like the renowned Eskayel group make sure that their works do not harm the natural environment from which they draw major inspirations. Abstract forms, erratic dots resembling the Rorschach test, or imaginative applications of colors, frequently present on contemporary rugs and carpets, are in fact the reflection of the surrounding world. The light flickering on the surface of ocean waters, the shadows casted by tropical plants, or the formation of rocks and entire continents that have been slowly crafted by the wind and tectonic movements over billions of years – all these wonders in constant motion, ever-changing and taking on new shapes are the greatest muse of contemporary designers, and find reflection in modern rug designs.
Modern Rugs and Contemporary Rugs as a Bridge Between the Past and Present
Contemporary rugs have numerous faces, from traditional-inspired patterns through abstract forms to minimalistic and geometric designs. They constitute a fascinating bridge between the antiquity and contemporaneity, combining the ancient, centuries-old craft with up-to-date ideas and progressive aesthetic thought. The quality of modern rugs in New York City purchased through trusted dealers does not differ at all from the one of antique and vintage carpets. It is important for the buyer to be sure that the given piece was expertly hand-knotted of the finest materials dyed with natural dyes, like wool, silk, hemp, banana silk, metal threads or cotton, in accordance with old and refined techniques by a skilled artisan, not machine-made of synthetic components in mass production. Due to such thorough execution, any modern rug will be able to serve its owners for generations without any signs of blemish or wear, at the same time being adjusted to a contemporary interior arrangement.
Moreover, modern rugs give us a chance of customizing – something impossible in case of antique and vintage floor coverings. Bespoke contemporary carpets have a chance to be adjusted to anyone's needs and liking in terms of design, shape, size and materials, resulting in ideally tailored, absolutely perfect floor coverings.
The Magic of Modern Blue Rugs
Out of all natural colors on rugs, blue has always been responsible for evoking the strongest emotions. In medieval Europe, blue was obtained from woad and resulted in a slightly washed out, whitened and soft shade which today we would describe as pastel blue – in fact, the woad-based dye bore the name of "pastel". Due to its debatable quality and wide accessibility, pastel was considered the color of the lowly part of the society. The tides have turned entirely in the 15th century, with the arrival of indigo from India. Indigo dye is made from the plant indigofera tinctoria, also called "true indigo". Obviously, in India and the major part of Asia it had been known, respected and widely applied long before Europe got to hear about it. Its profound sapphire shade along with durability largely contributed to the popularity of blue textiles around the globe.
Someone might ask, what does it have to do with modern blue rugs? At the break of the 20th century, artificial dyes came into play, partially substituting the arduously obtained natural ones. However, all artisans respecting the centuries-old techniques and traditions of rug weaving abstained from using them to maintain the subtleties and unmistakable beauty of antique rugs, as well as to protect the natural environment from contamination. A naturally dyed blue modern rug from the collection of DLB will most certainly match any interior arrangement, from classic to contemporary. Color is known to have powerful effect on one's emotions, behavior and decisions – artists, designers and marketers alike have harnessed that knowledge all too well. Blue is a shade associated with peace, intelligence, tranquility, and reliability. It provides a sense of security, curbs appetite, and stimulates productivity as it is the best color for concentration. A blue modern rug is an excellent way to add depth to the arrangement in an unobtrusive, classy, tasteful and absolutely timeless way.
Large Modern Rugs
Elegance and charm offered by large modern rugs cannot be found anywhere else. Inspired by the newest trends in interior design and fashion, grand contemporary rugs are diverse enough to fit into any kind of house. Due to their imposing dimensions, they will supremely complement ample spaces, bringing in warmth and coziness, as well as enhancing the décor with their mesmerizing designs. Here at Doris Leslie Blau we are immensely proud of our collection of large contemporary rugs. If you look for a perfect extra-large contemporary rug in New York, or any other city, take a look at our website and indulge in a luxurious shopping experience offered by Doris Leslie Blau Gallery.
Medium Contemporary Rugs
Widely applicable and versatile, medium modern rugs will most definitely match any interior arrangement, from classic to state-of-the-art. As the size medium is suitable for the largest number of accommodations, medium contemporary rugs come in absolutely all sorts of styles and designs and are the most accessible. Next to defining the space, these carpets will bring warmth, snugness, colors and patterns to the design of the room. From antique-inspired to futuristic, with Doris Leslie Blau you can get a medium modern rug in New York City, or any other town, that will perfectly match your expectations and complement your décor to the fullest.
Small Contemporary Rugs
Handy and charming, small contemporary rugs are the apple of the eye of tastemakers and designers around the world. They are the proverbial "icing on the cake" of every design, as they unobtrusively complement the space, avoiding excess yet adding colors and patterns in a visible way. A small contemporary rug is simply ideal for the super trendy tea-table arrangement. It is absolutely irreplaceable in the bathroom, a kitchen or a vestibule as a subtle touch, bringing in warmth and a homely atmosphere. At Doris Leslie Blau we take pride in purveying first-rate modern rugs and carpets to New York City, and other parts of the globe. Whether you're looking for a bold round floor covering, permeated with the spirit of Art Deco, a Scandinavian-inspired, fashionable creation, or you desire something rather neutral to just cap the décor, you can rest reassured that DLB has in stock something special to cater for your needs. If, however, nothing seems to be "it", you may always rely on us while creating a one of the kind, custom contemporary rug design.
An Exceptional Collection of Modern Contemporary Rugs and Carpets for Sale
Please visit our gallery in New York at 306 East 61st Street, 7th Floor