Caucasian Rugs Origin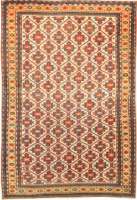 The majority of Caucasian rugs is produced as village pieces rather than city creations so they are saturated with folk aesthetics and exude and absolutely irresistible, heartwarming vibe. Karabagh is the name of a region in the Southern Caucasus where hand-knotted, pile Caucasian rugs have been produced since the eleventh century. Due to its location between the Black and Caspian Seas, as well as being bordered by Turkey and Iran, Karabagh has always been a melting pot of religions and cultures. This wonderful merger of various influences resulted in the birth of unique and enchanting antique Caucasian rugs, widely desired by collectors and design aficionados alike. Although similar to other Caucasian rugs in their coarse weave and symmetric knots, the Caucasian rugs from Karabagh tend to be considerably larger.
Design of Caucasian Rugs
Most Caucasian rugs display bold geometric or simplistic botanical designs in primary, usually dim hues. The general color palette of carpets from the Caucasus consists of toned, autumnal shades such as brown, black, crimson, ochre, forest green, with accents of navy blue and indigo appearing more sporadically. The most unusual of Caucasian antique rugs are the rose-patterned ones, clearly created in response to Western tastes. Such rose-inspired designs utilize geometric pink and red flowers, as well as bouquets arranged in garlands with swags, on grounds of dark blue or black.
Hand-Knotted Caucasian Rugs
The rugs from Caucasus are thoroughly hand-knotted using various materials particular to the given region, including wool or hemp. Some of the most iconic Caucasian rugs are Shirvan, Dagestan, Kuba or Kazak carpets.
An Exceptional Collection of Caucasian Carpets for Sale