Antique Turkish Rugs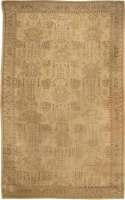 Kayseri, formerly called Caesarea, is a rug production hub in central Turkey (Anatolia). Central Anatolia is generally known to be one of core areas of carpet manufacturing in this country. Apart from Kayseri, other weaving regions in this part of Anatolia are Konya, Niğde and Sivas – all of them differ as far as the designs and traditions are concerned. Kayseri rugs –produced for export for the most part – are widely recognized for their fine weaving. Made of wool with cotton foundation, Kayseri carpet often imitates the patterns that can be seen on rugs from nearby towns, like Hereke, Kum-Kapı. Ürgüp, Avanos and İncesu.
Silk Turkish Rugs
Silk or artificial silk rugs are also quite common. Characterized by their dense weaving, rugs from Avanos have religious designs on them. The bright red field of such carpet is decorated with mosca (protective amulet) and have golden yellow borders. Ingenious ornamental patterns adorn the whole carpet, so that it draws one's attention immediately. Ürgüp rugs, on the other hand, can be easily recognized by their colors. The prevalent ones are: brown gold, bright orange and yellow. The 'Ürgüp red' field is bedecked with medallions, palmettes and various floral motifs. Silk rugs from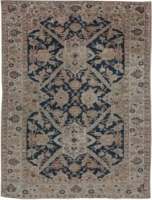 Hereke with their refined designs of trees and birds in pale pastel palette of colors are considered very unique.
Vintage Turkish Rugs
In the vast majority of Kayseri rugs natural dyes are used. For instance, brown color can be attained from walnuts, yellow one – from saffron. Vintage Turkish rugs, for instance kilims are invariably popular and highly desired among foreign tourists. Kayseri rugs, especially those silk ones, are also adorned not only for their lively colors but for the sophisticated designs and fine weaving techniques as well. As a curiosity, we can distinguish over 200 different flower patterns on Kayseri carpets. Their floral and curvy designs cause that a single carpet can have more than 300 knots per square inch. There is definitely something magical in Anatolian carpets, no wonder they are sought after by people from all over the world.
An Exceptional Collection of Antique Turkish Rugs for Sale