Antique Ghiordes rugs online shop for sale. Check out our Ghiordes rug collection. Ghiordes rugs are made with handwoven and hand-knotted technique. Ghiordes rugs and carpets are unique examples of large carpets made of wool, silk and cotton. Discover more color options of Ghiordes rugs such as brown, beige, cream, gold and black which will fit best with your home decorations. You can buy online Ghiordes rugs or visit our rug store in New York City.
Motifs of Ghiordes Rugs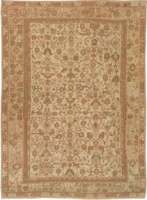 Since the beginning of their production in the 18th century, rugs from the Anatolian town, Ghiordes have mostly been known for their rectilinear, colorful, multi-bordered antique prayer patterns. Ghiordes rugs often have open fields with mihrabs or hanging lamps and stylized architectural motifs that are found on sixteenth and seventeenth century Ottoman court rugs.
An Exceptional Collection of Ghiordes Carpets for Sale