Vintage Rugs
We welcome you to see our collection of vintage rugs in New York.
The Charm of Vintage Rugs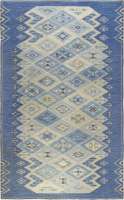 Vintage rugs are essential objects of desire of not only vintage trend followers but all aficionados of beauty and sublime design. There is a good reason for such a vast recognition as vintage carpets constitute the core of taste and artistry of the 20th century progressive thought. They are clearly defined by the past century's celebration of new ideas, modern lifestyle and the Renaissance of all arts which happened about that time. This group of rugs has many faces – there are numerous aspects such as historical period, style, fashion, culture, symbolism and philosophy which add up to form the dazzling array of vintage carpets. Among this sensational collection one will find pieces coming from Scandinavia, Morocco, China, England and Continental Europe – in brief, from all over the world. Each and every one of those cultural circles differs severely, so does the philosophy behind the design of vintage rugs coming from various parts of the globe. However, one thing they have in common – the undeniable quality, which makes them perfect utilitarian objects in modern households, beside being absolute works of art.
The Difference Between Antique Carpets and Vintage Rugs
The very term "vintage" introduces a bit of confusion. Although it is more than frequently uttered nowadays, the very essence of what exactly is vintage and what should be called antique often remains a mystery. As for placing vintage rugs on the time line, they were typically made after the year 1920, whereas antique carpets are considered to be made before that date. There is a general rule saying that antique rugs are those being over 80 years, making age the major factor distinguishing them from vintage carpets. This division is somehow contractual, cause the line between an antique rug and a vintage carpet is rather fluent and changes as we move forward in time. All vintage carpets will become antiques one day and it is in a sense clear. Another way of categorizing vintage rugs, probably more accurate, is linking them to the birth of Modernism.
The History Behind Vintage Rugs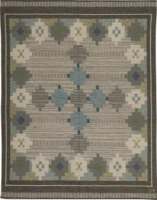 The Modernist movement that emerged at the beginning of the 20th century was a major transition from the era of Victorian salons, full of conventions and social distinctions, to the age of café society, concentrated on fixing all of the ill-fitted aspects of the world. The strive for change resounded strongly in design, introducing many innovations unthinkable in the old days. People discovered the brilliance of simplicity, the excellence of geometric elegance and the power of properly applied, daring colors. They experimented not only with patterns but also with forms and textures of objects. The pomp and excess were left behind to make way for the new concept of beauty. It all transferred to vintage modern rugs – every trend in architecture and art was reflected also in textiles. One might ask why exactly rugs, where this fascination for weaving masterpieces, beginning from the earliest antique rugs, comes from. The answer is simple – a rug is a heart of every room. Vintage wool rugs showcase rich diversity in terms of design, ranging from geometric, abstract patterns to native floral or folk motifs with mesmerizing use of color and form.
Art Deco, also known as Style Moderne, appeared in France in the 1920s' and for a long time constituted a representation of high fashion and luxury. Design studios which distinguished themselves for creating Art Deco interiors were those of Emile Jacques Ruhlmann, Jules Leleu, Paul Follot and Maurice Dufrene, among others. The world of Art Deco vintage rugs was ruled by Ivan Da Silva Bruhns  Paule Leleu (the daughter of J. Leleu) or Suzanne Guiguichon, who was designing rugs inter alia for Maurice Dufrene. Other tycoons of carpet design, such as Marion Dorn, Jules Coudyser, Rene Crevel and Vladimir Boberman should be mentioned without a question. Thanks to the imagination of those artists, the textile industry entered the world of abstraction, advance graphics, bold, colorful floral patterns and geometric minimalism.
Simultaneously, the famous Bauhaus school was founded in Germany. The philosophy and a major attempt behind the creation of this school, which transformed into a design movement, was to combine fine arts with craftsmanship. The assumption was that utilitarian and architectural objects can be both beautiful and practical and that sublime taste can be instilled in willing students. It proved to be true. The most widely known Bauhaus weavers include Johannes Iten, Gunta Stolz and Anni Albers. This style is largely geometric, organized but not without artistry and certainty not predictable. The Bauhaus aesthetics has an unsurpassed influence on art deco rugs and is clearly apparent in Scandinavian rug design.
Different Types of Vintage Rugs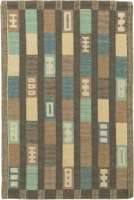 Scandinavian rugs and particularly vintage Swedish rugs are one of the major examples of vintage rugs. They have become known around the world for intricate weaving techniques, exceptional color palettes and most importantly – their compatibility with both modern and contemporary interiors. Their strongest point is remarkable Scandinavian aesthetics which was born of history, philosophy and breathtaking landscapes of the northern countries. It is a style full of symbolism referring to nature, where the exact representation of plants, animals or landforms was substituted by geometric, simple motifs. The main idea behind this philosophy of design lies in the dream of social equality. The Scandinavian society, being compatible and unified, assumed that anyone, not only the rich and wealthy but all citizens, should be able to afford a beautiful and practical interior. It is perfectly reflected in vintage Swedish rugs which have been created by the artists of the finest sort. Marta Maas-Fjetterstrom can be lightly called a Grand Dame of Swedish rugs. She established her own company in 1919 which after her death in 1942 was taken over by Barbro Nilsson, who became the director and chief designer of the weaving workshop. Other important designers of Swedish rugs in the mid 20th century include Ingrid Dessau, Marin Hemmingson, Sigvard Bernadotte, Brita Grahn, Edna Martin and Viola Grasten. All of them have contributed to the absolute success of Scandinavian rug design, which is nowadays desired more than ever. Vintage carpets are praised by contemporary interior designers for the unobtrusive, muted color palette combined with the patterns largely inspired by folklore and geometry.
Vintage Rugs from China
Rug production in China during this period was absolutely influenced by the fine Art Deco rugs originating from France. Chinese Deco rugs tend to be more floral than geometric and they showcase an exceptional diversity. An intriguing twist to Chinese vintage wool rugs can be attributed to the Asian influence, absent in the vintage carpets produced in the West. Here, the particular attention should be payed to the brave, imaginative use of colors and the traditional Eastern motifs such as bamboos, lotus flowers, Chinese calligraphy or the iconic phoenix and dragon figures. Although these far-oriental patterns are sometimes present as a subtle touch, Chinese Deco rugs should not be confused with antique Chinese rugs. Mid-20th century carpets imported from China were produced mainly to cater for the European and American taste. They have a rather spare and modern appeal in contrast to antique rugs. Nonetheless, their quality is marvelous and an effort of finding a genuine Chinese Deco vintage rug is worth the candle.
Vintage Rugs from Morocco
Moroccan rugs definitely stand strong in the pantheon of the most sought-after vintage rugs. They are distinguished by the charm deriving from genuineness. Typically adorned with tribal patterns, they constitute an authentic book on the culture of the Middle-East. Each of them tells a story but instead of letters there are symbols, ready to reveal the substance to an attentive reader. Everything matters, from the use of color to the smallest fret motif – everything bears a distinguished meaning. The message is usually supposed to be a good omen, a blessing to a person or a household. It was also the means of expression for the female tribal weavers, who could transfer their fears, stories and dreams to the looms. The Modernists in the mid-20th century fell in love with Moroccan rugs, employing them in the modern interior design, however their apple of the eye appeared to be Moroccan Beni Ourain rugs. Their appearance varies from what we know as typical Moroccan rugs. Beni Ourains are dichromatic, with toned beige background and a simple, seemingly reckless pattern, maintained in a light brown shade. Vintage Moroccan rugs influenced designers such as Ivan Da Silva Bruhn and Vladimir Boberman. American Interior Designer Francis Elkins used them in some of her most notable interiors in the 1930's and 1940's.
Vintage Rugs from USA
At the same time the modernist movement stormed into the United States and was warmly welcomed, most likely as a result of major exhibitions at the Museum of Modern Art and at the Metropolitan Museum in New York City. These exhibitions presented the movement to the wider audience and ensured its success in all forms of arts. It inspired some of the most notable textile and rug designers working in the United States, such as Donald Desky, Stanislav V'Soske, Eliel Saarinen, Loja Saarinen (the mother of Eero Saarinen) and Ruth Reeves. After the closing of the Bauhaus school, many of the architects and designers associated with the school immigrated to the United States, including Josef and Anni Albers. Numerous brilliant vintage wool rugs for sale were created thanks to the emergence of the movement in America.
An Exceptional Collection of Vintage rugs for Sale
Doris Leslie Blau is proud to be in possession of an incredibly vast collection of vintage rugs and antique carpets, which will please the eye and the hand of even the most demanding connoisseurs. Visit our New York City Gallery and experience the magic and mystery of weaving masterpieces for yourself.