boasts one of the most diverse and rich collection of antique, vintage, oriental and modern rugs that are bound to suit your tastes. We provide our vast clientele with best quality designer rugs, made by such famed names as Bunny Williams.
Ever since our inception

in 1956, we strive to set new standards in the rug industry by ensuring the best shopping experience for our clients. Our love for carpets is endless , not matter if they are antique, vintage or modern pieces. Rug hooking is a typically American craft, created out of practical necessity rather than a need for beauty. This craft is estimated to be at least over 200 years old! In the 1600's supplies available to early settlers were limited, so first rugs were created using whatever textiles were at hand. At that difficult time, rug were used not as a decoration, but as means to keep warmth in the house. Designs started off as fairy simple, consisting mostly of geometric and floral patterns, but eventually evolved into something more complex.

As first American society
was composed of different nationalities, their artistic traditions and techniques mixed freely resulting in original creations. The process of weaving is a simple one: it starts by pulling loops of yarn through a stiff base, usually made of burlap or rug warp and then pulled by the loops through the backing material. What makes hooked rugs so beautiful is how precise their designs are. Numerous designers, like Christina Little, and commercial shops started to manufacture hooked rugs, using their own styles and patterns. While modern weavers don't have to use old scraps of material, as it was in the past, they continue to express their vast creativity and inventiveness with rugs and we are more than proud to provide you with our best quality hooked rugs.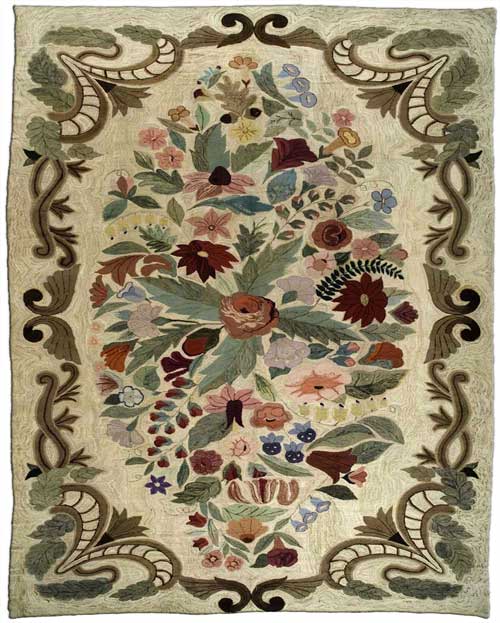 Vintage rugs European american hooked rag beige geometric botanical bb2647 16×137″ src="//www.dorisleslieblau.com/pictures/article_block_images/images/000/001/860/original/vintage-rugs-european-american-hooked-rag-beige-geometric-botanical-bb2647-16×137.jpg" class="img-responsive ">