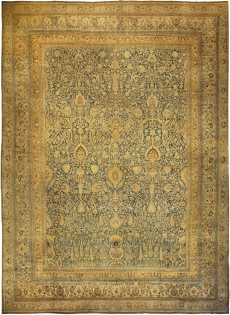 The Dorokhsh rug is synonymous with style and class. And with good reason. The name is taken from a town in the Khorasan region of Iran, which until modern times was northern Persia. And as anyone who knows anything about carpet production will tell you, a floor covering made in the region is among the best in the world. If you're looking for fine floor coverings, this is as good as it gets.
Characteristics
These rugs are available in a number of different designs, each one very finely woven usually in multiple colors. A quick look at a carpet will show intricate designs and patterns are the norm. A large rug has especially wide borders so that the design becomes even more conspicuous. Traditional carpet design is based on the legacy of the ancient weavers in northeast Persia, with the emphasis on medallions or flora. However, there are many different styles now available, and while most follow the tradition, variations have emerged so you can get the look that best complements your home interior and suits your individual tastes.
Stylish Floor Coverings
The Dorokhsh rug is something of a collector's item available in different colors, patterns, and styles. The colors are almost always subtle, which is one of the reasons that these floor coverings have become so popular; they partner so nicely with the complex design pattern. Add in the fine craftsmanship and you have the ingredients for an exquisite carpet.
These carpets also tend to be substantial in size, making them perfect as interior decorations, although there are smaller ones available as well. While subdued colors are almost universal, the knot used to weave the rug varies. Some use an asymmetric knot while others go for the Persian knot. Traditionally the rug is made of wool but new ones are manufactured in a number of different materials. As far as the knots go, they are exceedingly fine at 120 to 275 kpsi.
At Doris Leslie Blau we have an extensive collection of Dorokhsh carpets in different colors and styles. If your home is telling you that it needs a makeover, browse our fine collection. You are bound to find the perfect carpet.