Indian Dhurrie Rugs
History of Indinan Dhurrie Rugs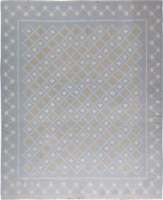 Traditional Indian Dhurrie rugs had been overshadowed by luxuriant Mughal pile carpets for too long. In the twentieth century these antique flat-woven Indian rugs began to be recognized and lauded as a significant art form of the Indian subcontinent. Transcending social boundaries, the Dhurrie rugs were used by both commoner and royalty. As versatile and welcome in a dirt-floor hut as it is in the most palatial home.  At its simplest, it was a multi-purpose textile used as a floor covering, or for bedding or packaging, while the most elaborate were woven with the finest fibers and enhanced by gold-wrapped thread and graced the palaces of royalty.
In fact, it wasn't until the middle of the 20th century that durries started to be considered marvelous and exquisite carpets. Early Indian dhurrie rugs' designs were rather ordinary since the aesthetic function was of no greater importance at the time. The situation has changed after the Partition of India. The inhabitants of certain areas of the country moved to Panipat, the'Textile City', where the ancestral craft of weaving dhurries began to flourish.
There can be distinguished many types of Indian dhurries. Women living in the villages near Panipat are known for their traditional hand-woven Panja dhurrie rugs. Interestingly enough, such this kind of rugs is in some regions a part of a dowry for a daughter when she gets married. The hand-loomed dhurries can be described as more contemporary, thicker, and with bolder patterns. There are also Chindi dhurrie, which are a fairly new type, and designer dhurrie rugs.
Characteristics of Indian Dhurrie Rugs
Dhurrie rugs have been made by the people of India for thousands of years. By definition, a dhurrie (the word is sometimes spelled "dari" or "durrie") is a flat-woven rug indigenous to India and the surrounding regions -- Pakistan, Afghanistan, and Burma. Dhurries are always weft-faced, which means that the warp, or lengthwise threads of the rug, are never visible except at the fringes. Indian Dhurrie rugs can be coarsely or finely woven and, best of all, they are reversible and easy to clean. Cotton, flat-woven dhurries are light so they can be folded and moved without a slightest effort. Moreover, their practicality manifests itself in the resistance to silverfish and other insects responsible for destroying regular carpets. Due to the fact that Indian dhurries are impenetrable to those parasites, they are distinguished by a particularly low-maintenance cost and upmost durability. Finally, a genuine cotton Indian Dhurrie rug is always warm in winters and cool in summers thanks to which one may use them all year round with the benefit to the home ambience
Design of Indian Dhurrie Rugs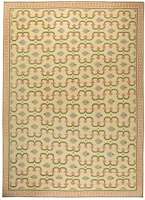 Dhurries have few structural or stylistic restrictions. They can be as small at 12" by 12" or as large as 20' by 20'. The carpets usually feature "dovetailed joints," which means that the same warp is shared when wefts of different colors meet, resulting in an unbroken weave. But they sometimes employ the slit-tapestry technique used in kilims, which creates small gaps when different blocks of color are introduced.  Traditionally Dhurries are 100% cotton or wool (however, there are instances of jute or silk dhurries), flat woven on a loom, ensuring a truly hand-crafted, all-natural and eco-friendly product.
Patterns of Dhurrie Rugs
Stripes, geometrics, and rudimentary Islamic images, such as mosques and minarets, are traditional dhurrie motifs, largely because they were easy to create on the simple horizontal looms used to weave them. But as Britain's influence grew in 19th-century India, so did the popularity of European designs, particularly, brash Victorian floral patterns.
The most popular and prevailing colors on traditional Indian Dhurrie rugs are shades of white and indigo. This combination of cream, ivory or off-white hues with the multi-level depth of indigo – the most precious and iconic Indian dye – creates an extremely elegant, timeless and appealing composition that is suitable for a living room, a bedroom or any other space in the house in equal measure.
Bucking the trend towards lower quality, mass-production, our Dhurrie Rugs are hand-loomed by artisans in Rajasthan, India, using the traditional method that dates back centuries.  In India, this ancient art form has been passed down from generation to generation and there are entire families of craftsmen dedicated to the art of weaving dhurrie rugs and carpets. Our designs are primarily inspired by traditional antique Dhurries and their motifs and make a wonderfully causal addition to any room.
Read an article about Dhurrie Rugs
An Exceptional Collection of Dhurrie Carpets for Sale