Finding ways of putting together various pieces of decor and furniture is not an easy task, especially if it's your first time doing it. There are many things to consider, which may discourage amateur decorators – from appropriate colors to patterns. In the case of contemporary area rugs there is also one more aspect that needs to be thought over – the size.
After all, this particular type of rugs is characterized by its considerable size, which earned it many admirers. As with all modern carpets, contemporary area rugs are extremely diverse, making them a perfect choice for any type of interior. However, in this guide we will concentrate on how to pick the best area rug for modern interiors, as it is no easy feat. Area rugs can quickly become a focus of any room, due to their size, which can be treated as either advantage or disadvantage. Any mistake made while picking the rug will be immediately seen, but so will be its beautiful design. This is why thinking your purchase over is so important, so We would like to encourage you to browse through out exquisite collection of area rugs, brought from every corner of Earth. Seeing them might help you visualize your own dream rug and who knows? Maybe you will find that one, perfect carpet that you will fall in love with?
Modern interiors are characterized by their rather open character and good lightning, which can be either natural or artificial. Wall colors are also quite important, as majority of designers usually picks subdued hues, such as white or beige, so that there is more freedom while picking the color of textiles or decorations. The type of flooring is also substantial, as it will serve as a background for your carpet and should bring out what's the best in it. When it comes to the furnishings, many people decide upon very simple forms with sharp edges, but that is not the rule. Modern interior design prefers lengthy and flat furniture with. You can expect elements made of glass that may or may not make the interior feel a bit colder than it is in the reality, which is sometimes remedied by incorporating natural materials such as wood, cotton or leather. Area rug in such a place should serve not only as a piece of decor, but also a way of making otherwise minimalistic interior feel homely and inviting.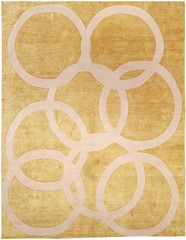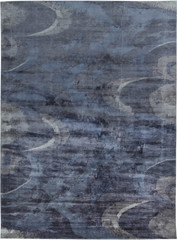 Picking the size of your future area rug is one of the first things that should be done before a purchase. Measure the space where you want to place the rug carefully, so to know how big should the area carpet be. Most typical sizes, that you are sure to find in any shop are 4 by 6 or 5 by 7 ft., 6 by 9 ft. and 8 by 10 or 9 by 12 ft.. In case you need something a bit bigger, consider investing in a custom rug, that will be tailored to your needs and tastes. If your space is more limited, try experimenting with carpet's shape. A square, triangular or round carpet will help you work out some of the space limitations and make the interior look original.
As we mentioned before, due to their size, contemporary area rugs immediately draw any kind of attention to themselves, so be very careful about picking their colors and patterns. Avoid any sort of clashing and try to find a rug in such a palette that will work well with pieces of decor that you already have. Going with the dominant color in the room, such as the color of the walls is not a good idea, since it might make your interior look overwhelming, but don't let those words of advice make you think that picking up a rug in calm tones is your only choice. Bold ornamentations or vivacious palettes won't do you any harm! What our guests will think about the house is important, but remember that you are the one who lives in here. Gray rugs for an example, might serve as a nice calming element in an otherwise vivacious interior.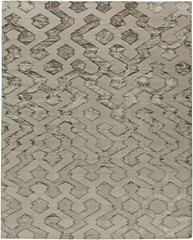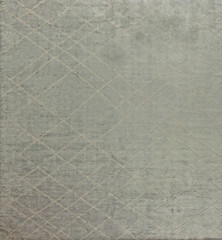 Placement of your contemporary area rug can have a huge impact not only on the decor, but also condition of the rug itself. Depending on how much floor will your area carpet cover, some of it might be placed on its pile – such placement should be avoided if your rug of choice is made of very delicate fiber, such as silk. Heavy furniture when left on such a delicate rug for a long time can leave marks on the pile, which are very difficult or downright impossible to remove. Prolonged sun exposure is also something to avoid, as it can lead to bleaching of the dye and destroy otherwise beautiful area rug. Modern area rugs shrug off stains and spills more easily than antique ones, which might end up irreparably damaged, but risky places, such as dining rooms or kitchens should be considered carefully before placing a rug in them. While there are easy ways of removing all kinds of stains and spills, it is far better to avoid them in the first place, unless you are determined to have a rug there.
Considering the material of which your rug should be made is especially important for those suffering from allergies or respiratory problems. Certain types of fiber, such as wool, are proven to be hypoallergenic and thus are a great choice if you are sensitive to dust. Area carpets made of natural fibers work just as well, provided you will take a good care of them.
While area rugs are not the easiest ones to decorate with, their great beauty is definitely worth the effort. Fashions and trends might be changeable, but a good rug can last you a lifetime, becoming an important part of your household or maybe even a family heirloom. Purchasing a carpet can be an important decision, so if you have any doubts, do not hesitate to contact our attentive staff at Doris Leslie Blau. We are proud to carter to our clients, both old and new.