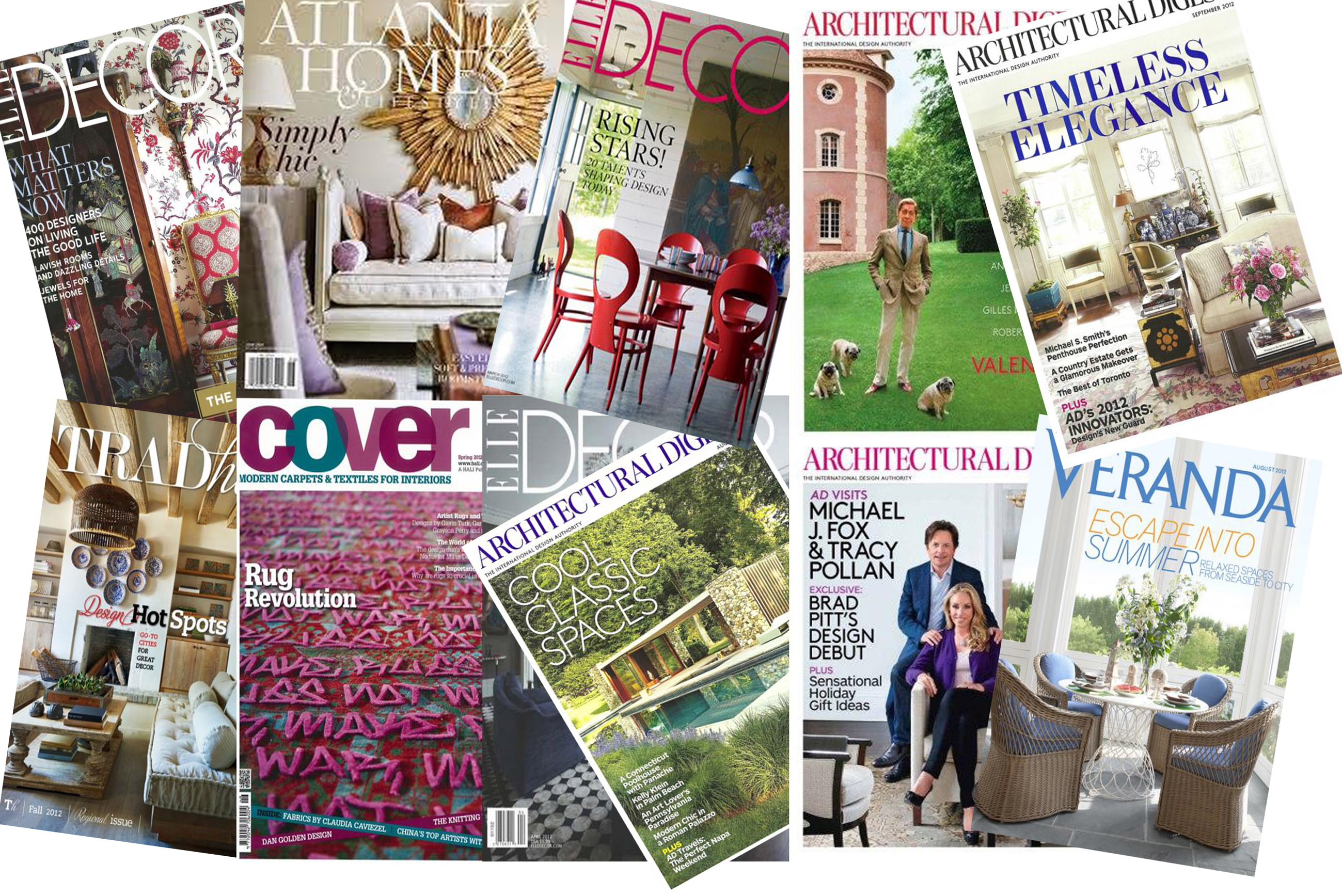 As the year is coming to an end, it's time to reflect on what an exhilarating year it has been.  It is quite the honor to have had Doris Leslie Blau antique, vintage and custom rugs placed in so many impeccably designed rooms by fabulous designers, as well as being featured in many of the top media outlets. Below is all the wonderful press we've received in 2012! We look forward to seeing you in 2013!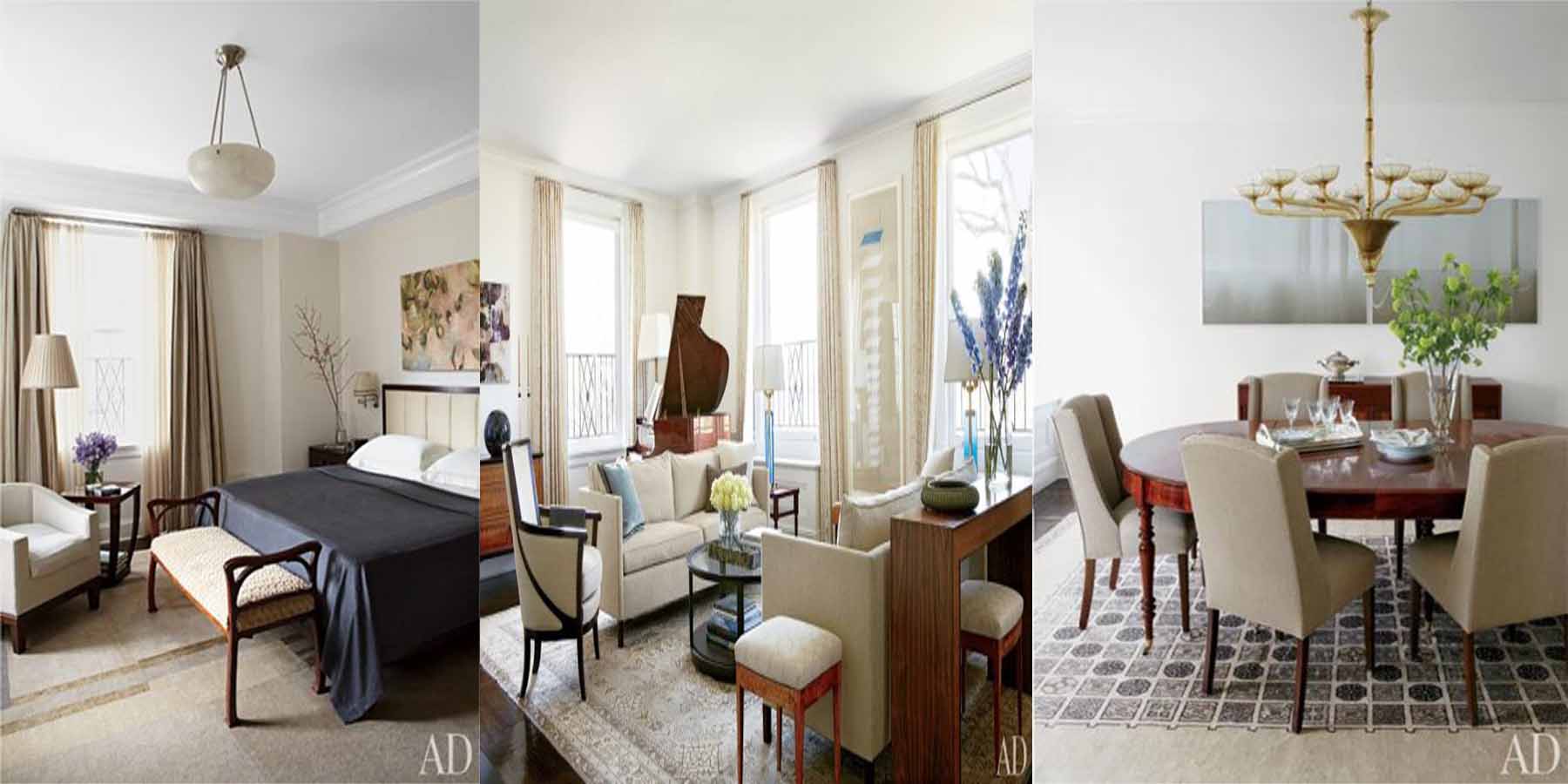 Architectural Digest featured Michael J. Fox and Tracy Pollan's home designed by Gomez Associates. Doris Leslie Blau's antique and vintage carpets were placed in their home.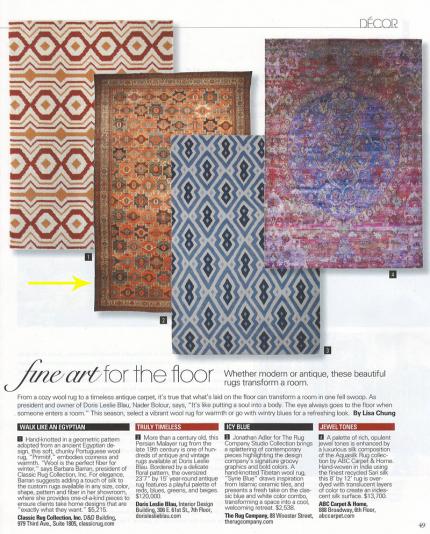 DLB's Persian Malayer carpet was featured in the article, "Fine Art for the Floor… Whether Modern or Antique, These Beautiful Rugs Transform a Room." Our very own Nader Bolour was quoted in the article, "It's like putting a soul into a body. The eye always goes to the floor when someone enters a room."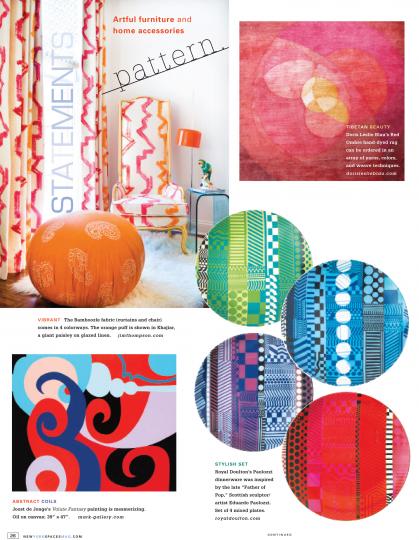 DLB's custom rug was featured in NY Spaces page "Artful Furniture and Home Accessories."  Doris Leslie Blau's rug was titled, "Tibetan Beauty."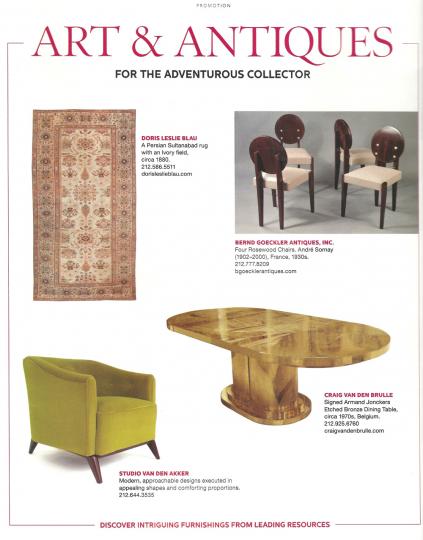 DLB's Persian Sultanabad rug was featured in Elle Décor's  Arts and Antiques page, "For the Adventurous Collector."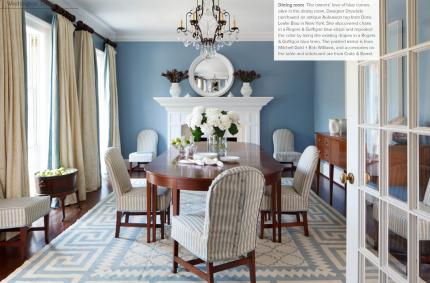 Traditional Home featured a dining room designed by Mary Douglas Drysdale; the carpet is a Doris Leslie Blau Aubusson carpet.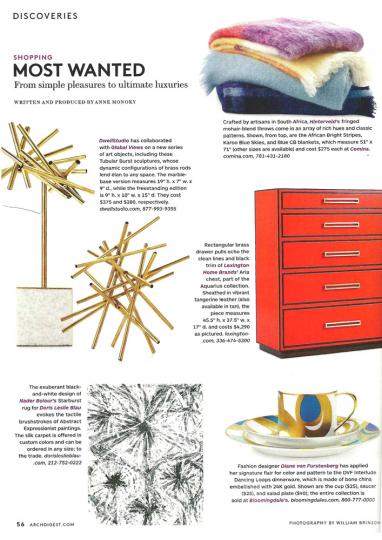 Owner Nader Bolour's Starburst designed rug was featured in Architectural Digest's article, "Most Wanted… From Simple Pleasures to Ultimate Luxuries." To quote the article, "The exuberant black and white design of Nader Bolour's Starburst rug for DLB evokes the tactile brushstrokes of abstract expressionist paintings."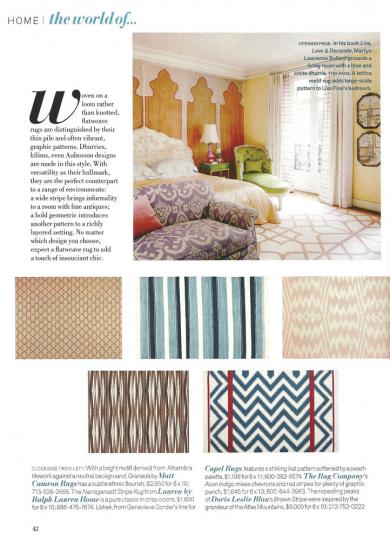 Doris Leslie Blau's Brown Stripe rug was a featured rug in Veranda's "The World of…" page discussing flat weaves.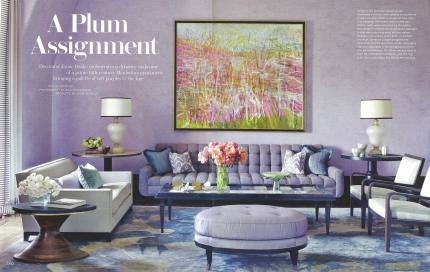 In Architectural Digest's article, "A Plum Assignment," interior designer Jamie Drake's designed room featured Doris Leslie Blau's custom designed Lily Rug.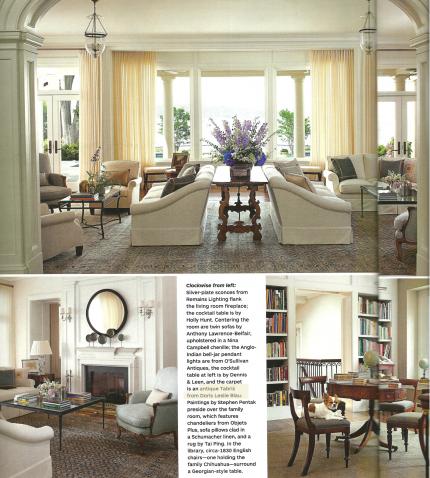 A Doris Leslie Blau Persian Tabriz was used in a Carey Maloney designed room in Architectural Digest, August 2012.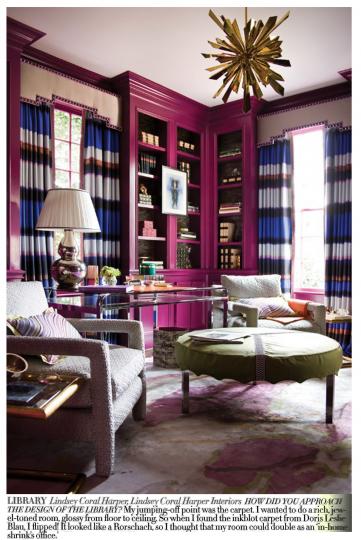 Atlanta Home featured a Lindsey Coral Harper designed room with our Eskayel Madagascar rug. Lindsey said, "My jumping-off point was the carpet. I wanted to do a rich jewel-toned room, glossy from floor to ceiling. So when I found the inkblot carpet from Doris Leslie Blau, I flipped! It looked like a Rorschach, so I thought that my room could double as an in-home shrink's office."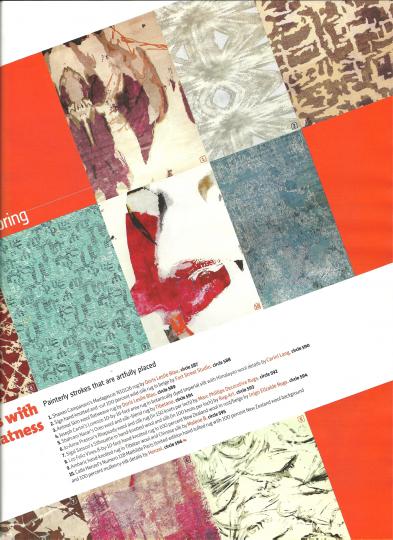 Two Doris Leslie Blau custom rugs, the Madagascar and animal skin flat weave, were featured in Interior Design magazine's article, "Painterly Strokes that are Artfully Placed."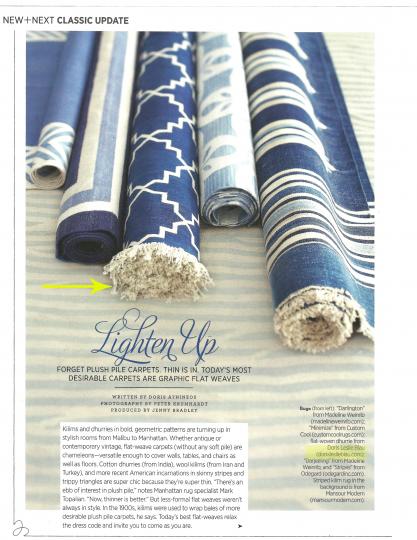 In the article "Lighten Up," Doris Leslie Blau's cotton Dhurrie carpet was a featured rug. To quote the article, "Forget plush pile carpets, thin is in. Today's most desirable carpets are graphic flat weaves."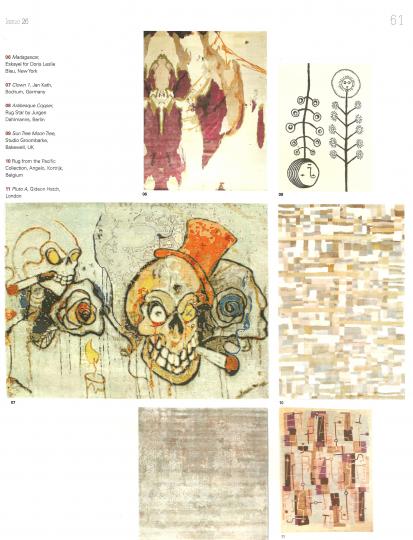 Our Madagascar Eskayel custom designed rug was a featured rug in Cover Magazines "Rug Revolution" edition.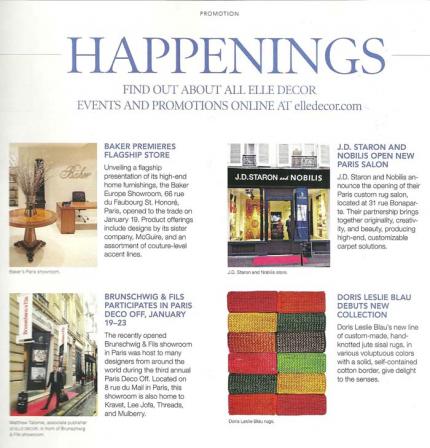 Elle Décor featured DLB in their "Happenings" feature. They shared Doris Leslie Blau's custom-made collection of hand-knotted jute sisal rugs. The collection was said to"Come in various voluptuous colors with a solid, self-contained cotton border, give delight to the senses."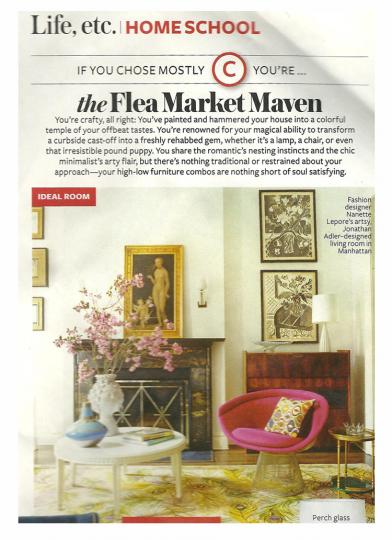 In Style featured fashion designer Nanette Lepore's living room designed by Jonathan Adler with a custom Doris Leslie Blau peacock carpet.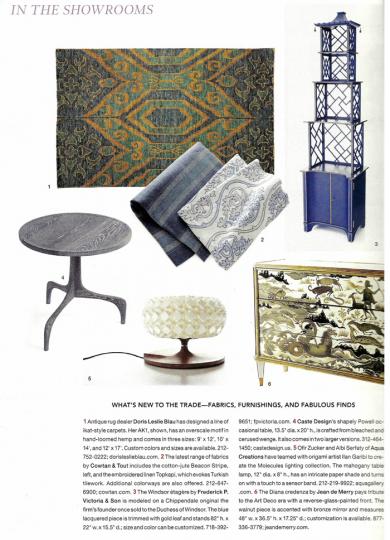 Elle Décor featured Doris Leslie Blau's custom Ikat-style rug. "The rug has an overscale motif in hand-loomed hemp."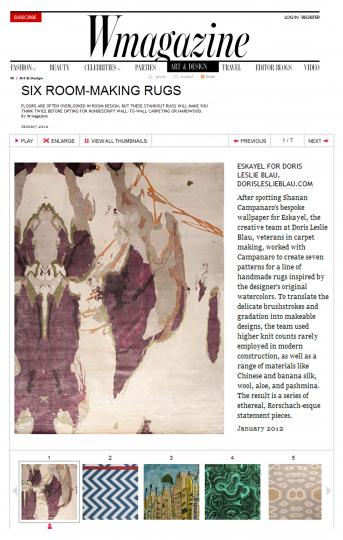 W Magazine featured one of our Eskayel designed rugs in the article, "Six Room-Making Rugs." The rugs were said to be "A series of ethereal, Rorschach-esque statement pieces."
Thank you for joing us and supporting us on our journey through 2012!