A lot has been going on in kitchen décor lately. Storage walls came in place of traditional cupboards, shiny metallics got even bigger in presence. If a backsplash, then only the one that makes a statement. All in all, 'maximalism' prevails and we are ready for more! Open your arms and welcome the newest craze – two-toned kitchen cabinets – with a warm embrace. We believe them to be the proverbial 'cherry on top', adding colors and edge to every arrangement. Check out the 6 following kitchen decors and get under the spell of two-toned cabinets.
Mid-Century Modern Chic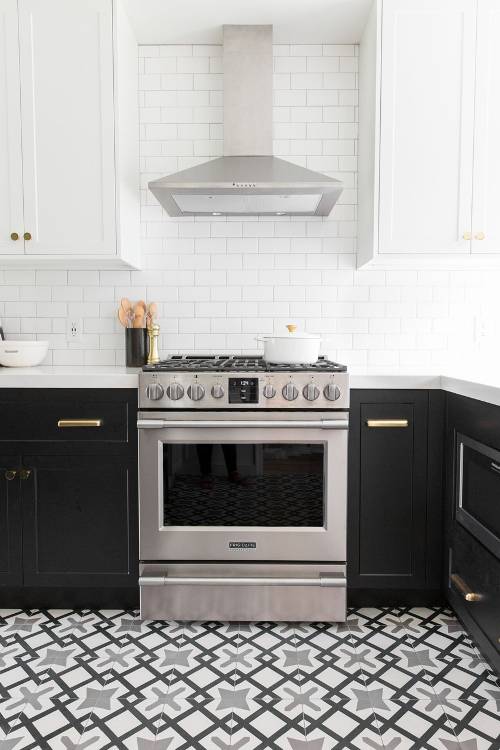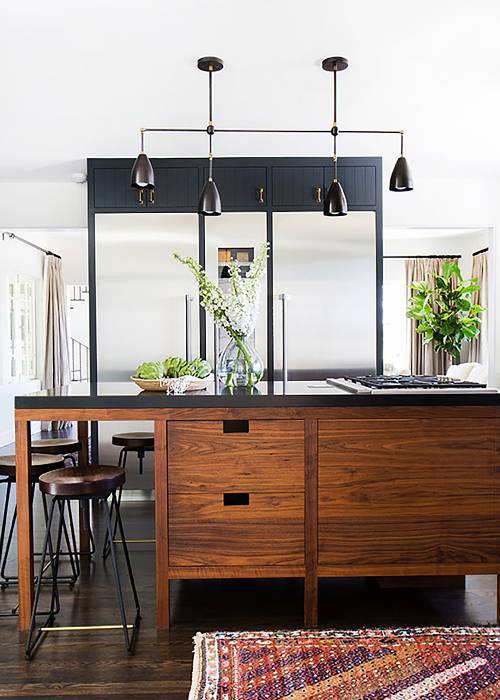 Let's start from classic elegance. This gorgeous kitchen inspired with Mid-Century Modern aesthetics would make even Don Draper from Mad Men come home more often. 😉 After black walls and ceilings, the time has come for black kitchen cabinets. But not in an allover version! Here, a black countertop fans the flame of the wooden fronts bringing out their saturated shade and fascinating structure. In case of this kitchen, color is introduced via a fabulous rug in an autumnal palette. Impeccable style achieved.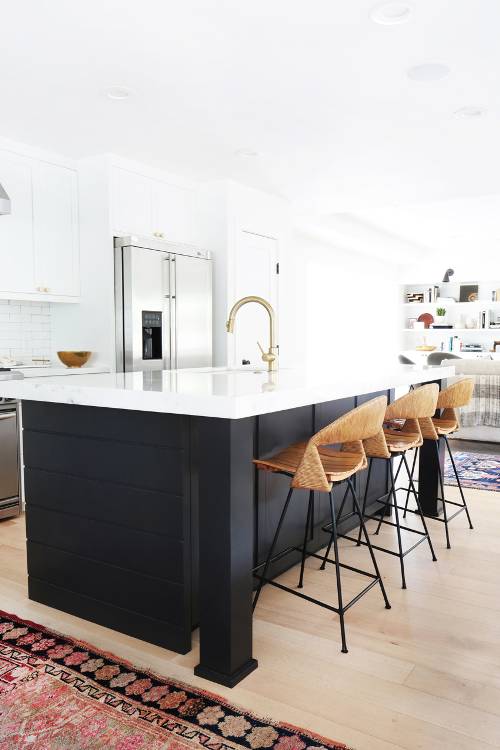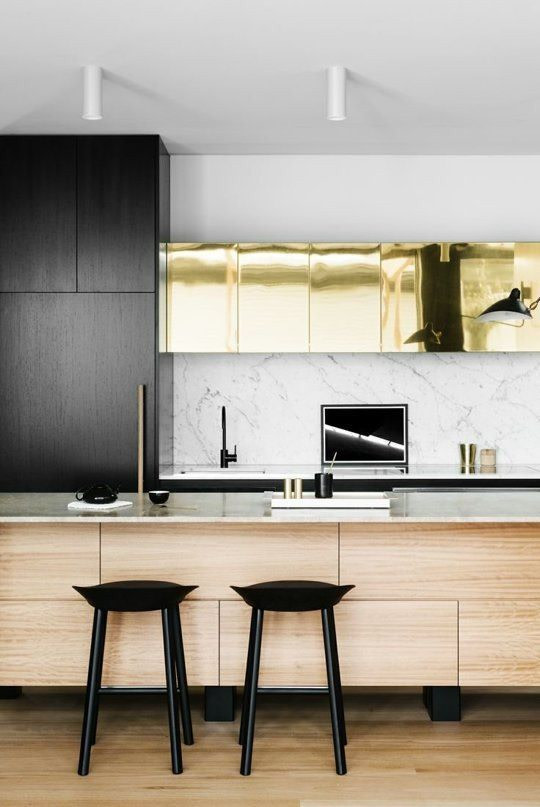 Rural Idyll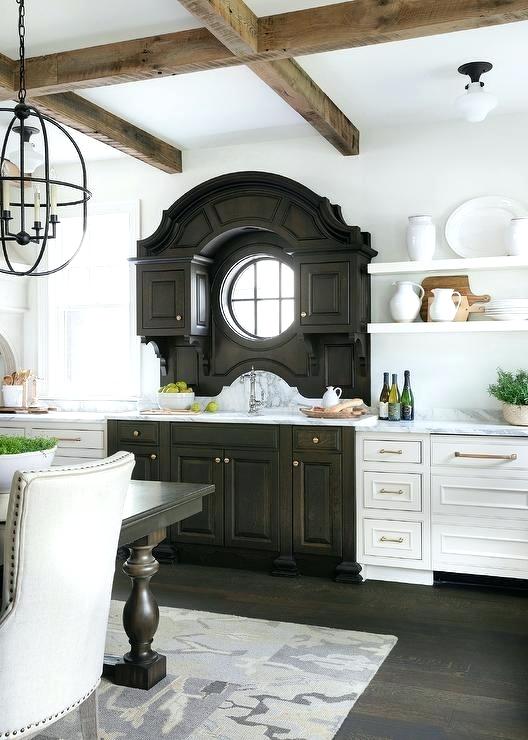 This time something for the fans of Farmhouse. The combination of black and white is one thing, the mix of styles is another. A stylized rustic cupboard majestically sits in between simple white cabinets. Marble countertops clutch the décor together, being the bridge between the ornate and the minimal. Other references may be found in the dining area marked by a rug. There, the dark table and white chairs reflect the dynamic of the cupboard and cabinets. Balanced yet definitely with flair!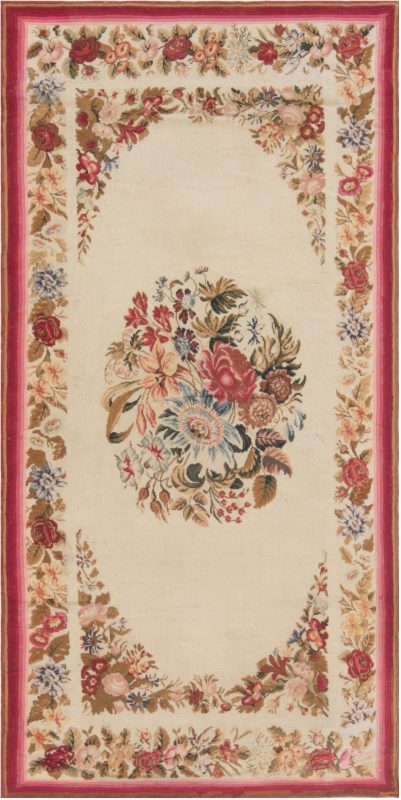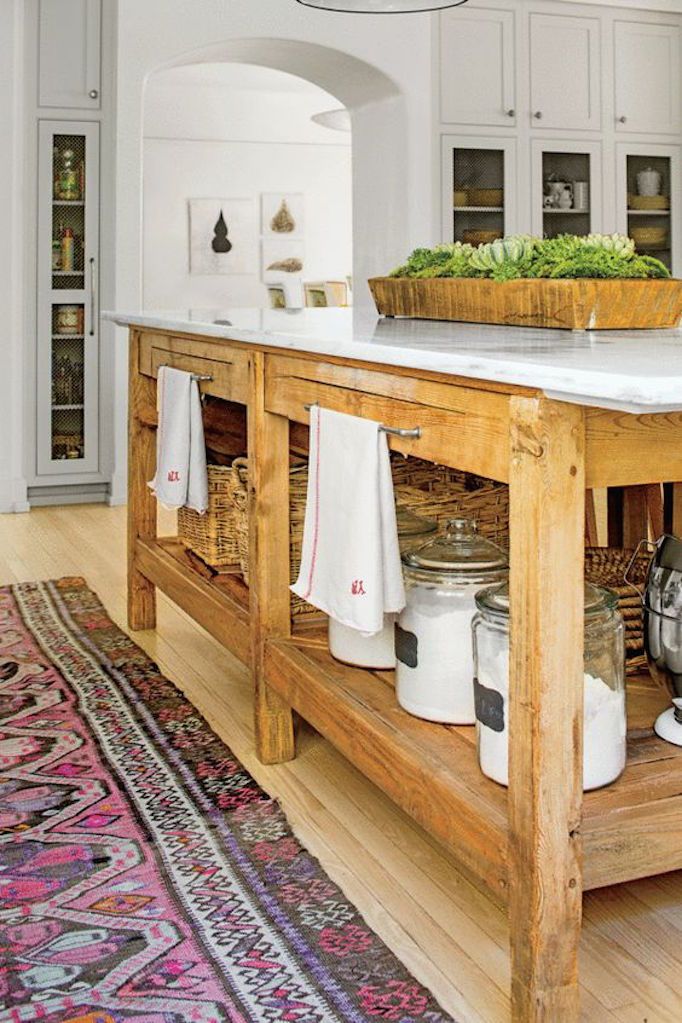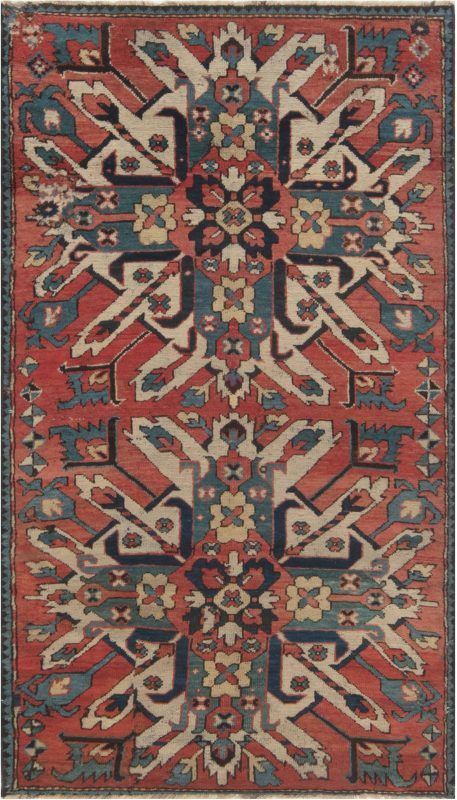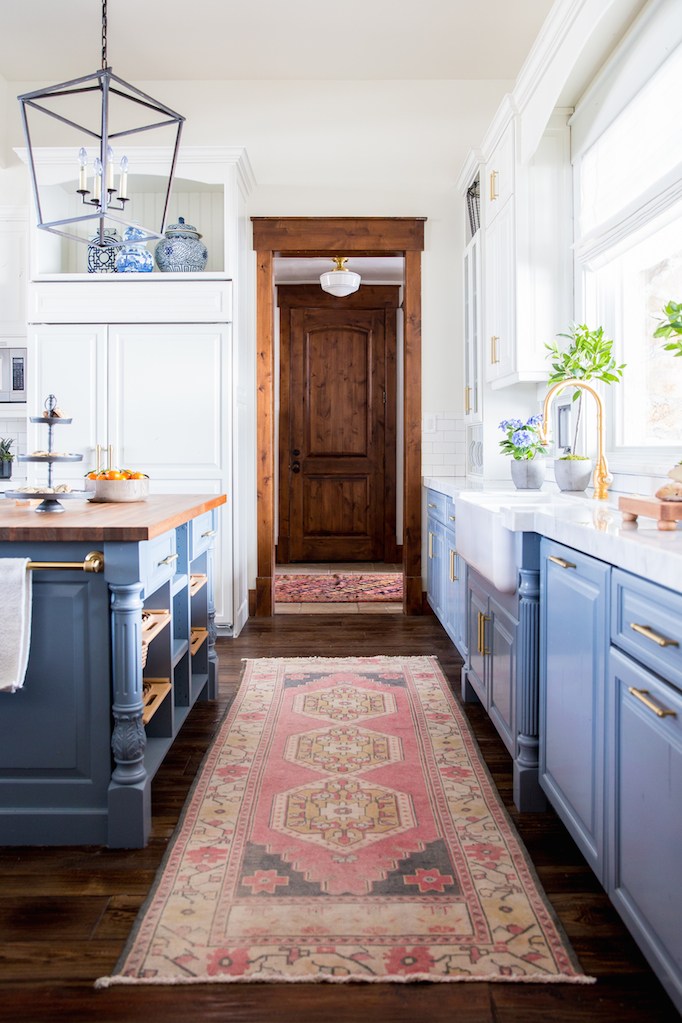 Cali-Coolish Vibes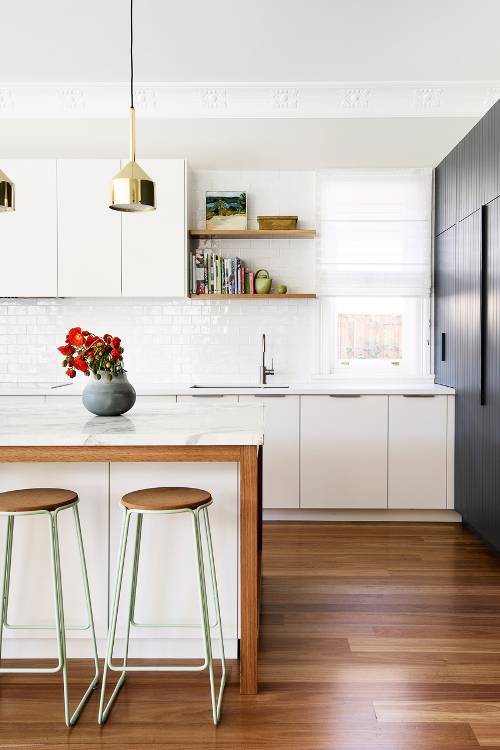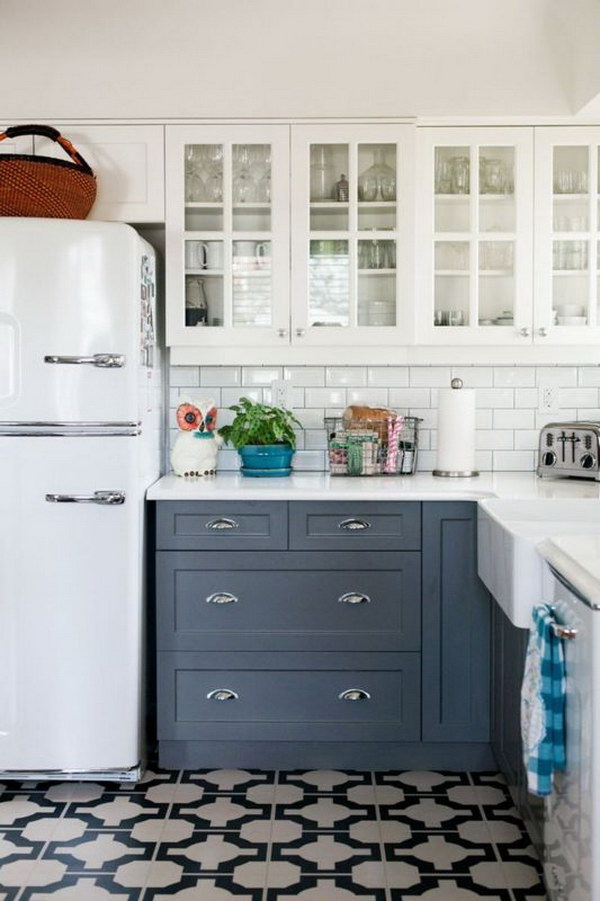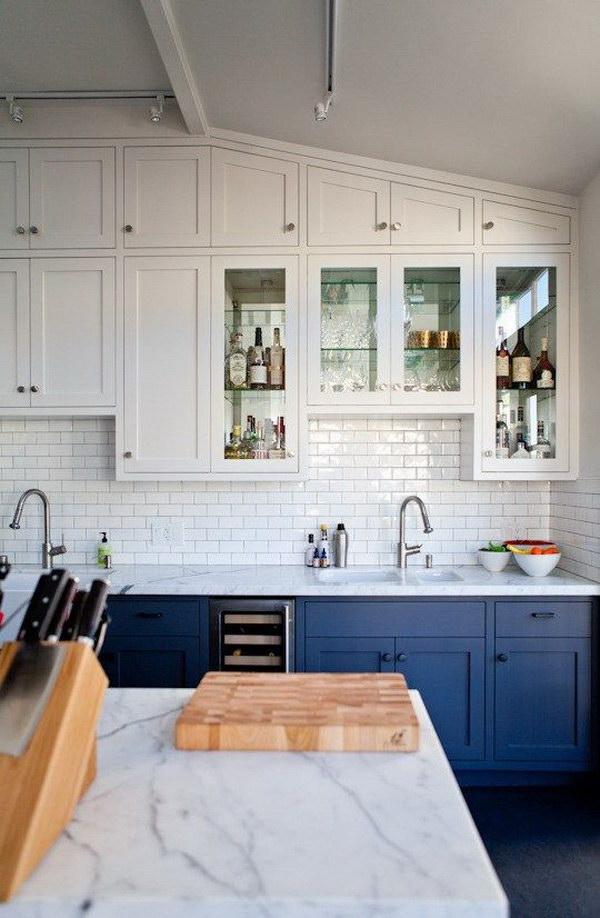 Blue has been in the middle of attention ever since Sherwin Williams made 'Oceanside' the color of 2017. And bless Sherwin Williams for that! Although Oceanside wall in the kitchen is not for everyone, the hue simply loves the furniture. See for yourself. This time you finally get to experience the pure concept of two-toned cabinets. Strong, profound blue anchors the color while white contributes to airiness. Moreover, such an arrangement – dark at the bottom and light at the top – is trending the strongest. Wooden elements, white tiles and marble are perfectly suited to this composition.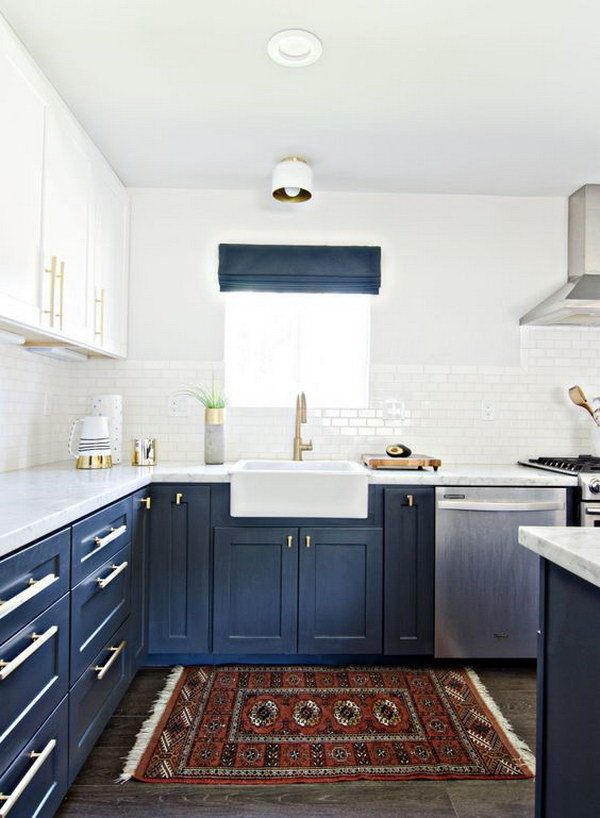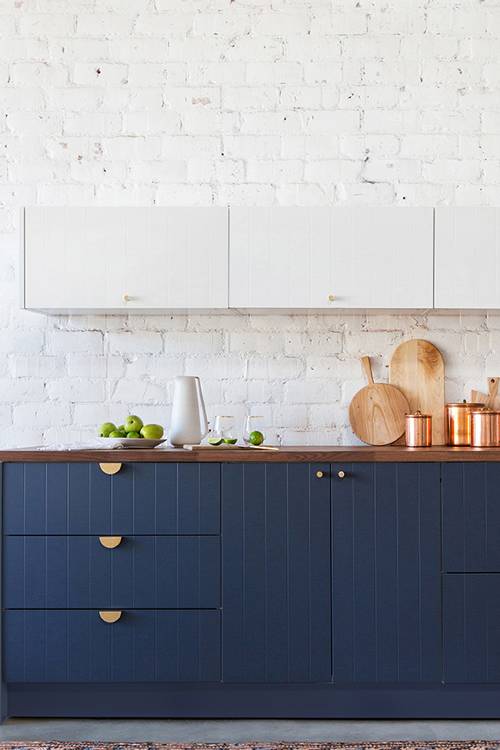 Evergreen Green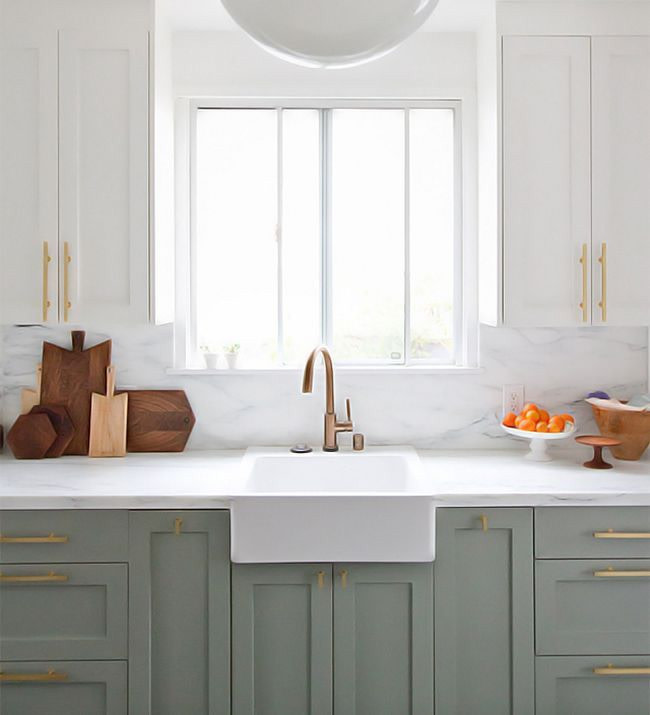 Green, especially its 'jewel' tones like emerald, continues to triumph in the world of design. However, emerald is not often found on kitchen cabinets. According to Pinterest, the most popular 'green' is sage, thus if you want to stand out, go for… hunter green. Dressing kitchen cabinets in this color will ask the boredom out while still letting the furniture maintain aesthetic simplicity. Not to mention, how perfectly sage corresponds with off-white or cream!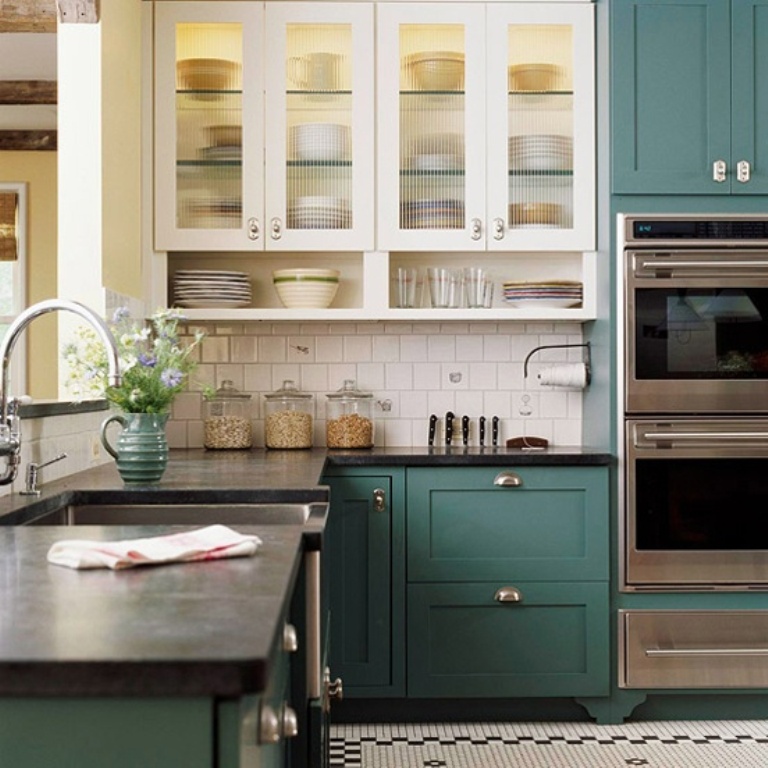 Smooth Eclecticism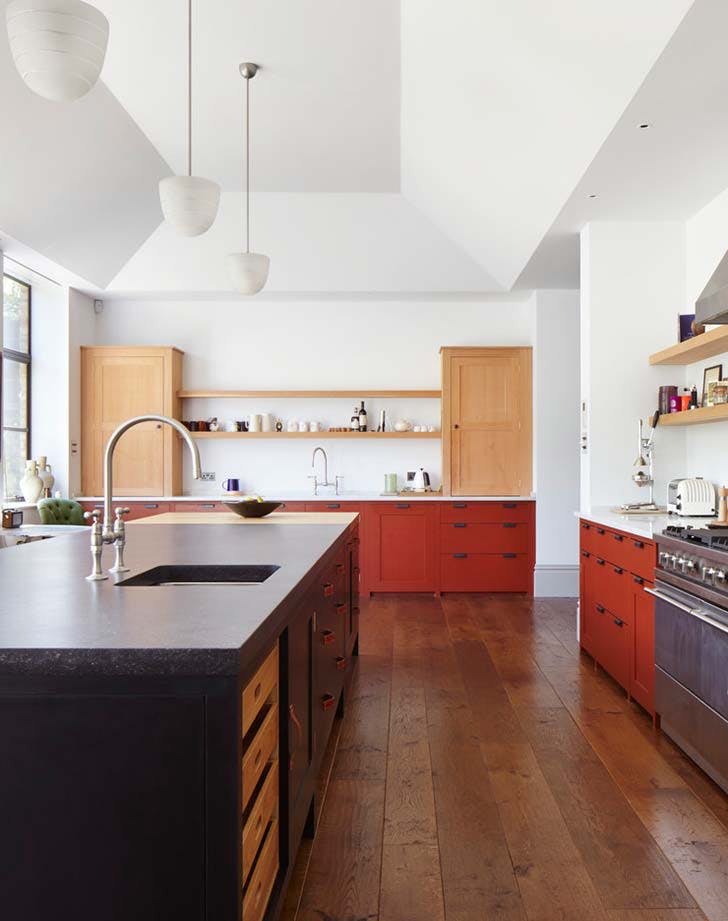 Classic and new trends in one space – yes, it's possible! The antique Oriental rug in shades of red and ochre brings out the reddish undertones in mahogany cabinets. Again, we experience the fab combo of dark bottoms and light tops. The entire kitchen in mahogany would be way too overwhelming. Fortunately, the marble island, countertops and white upper cabinets save the day. They take the weight off and visually enlarge the space.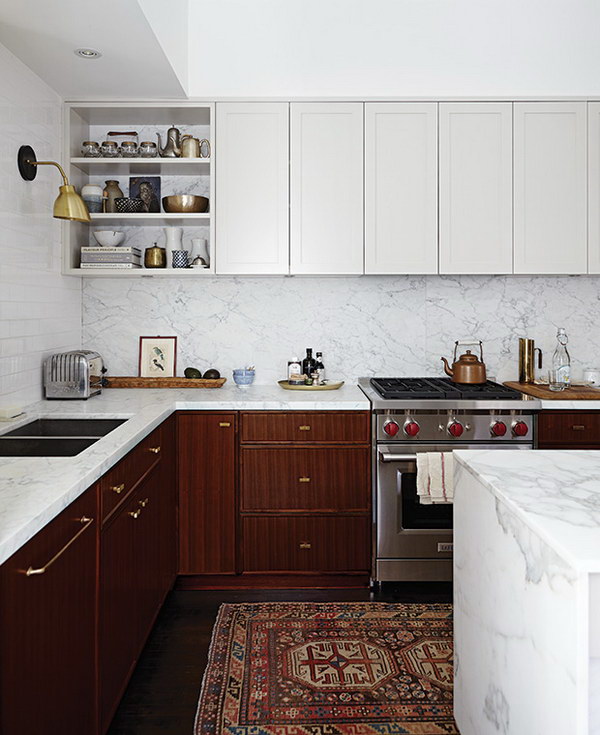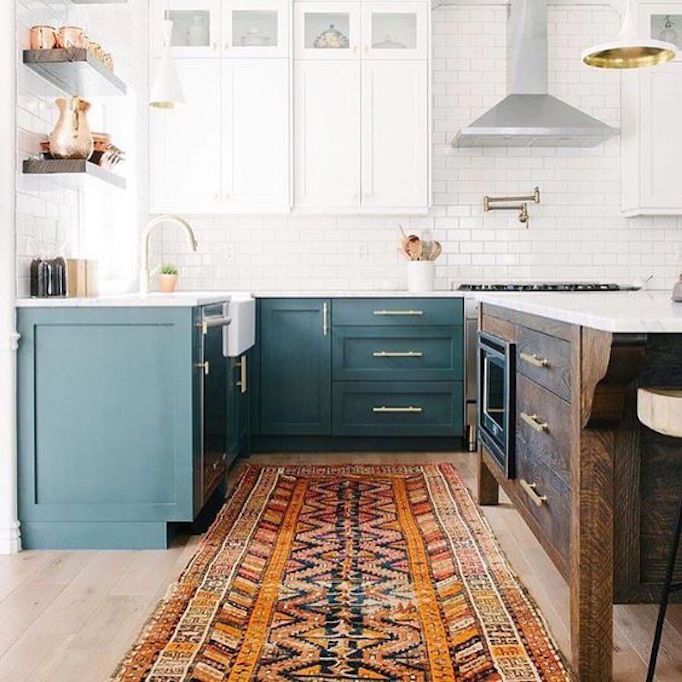 Pastel Fantasy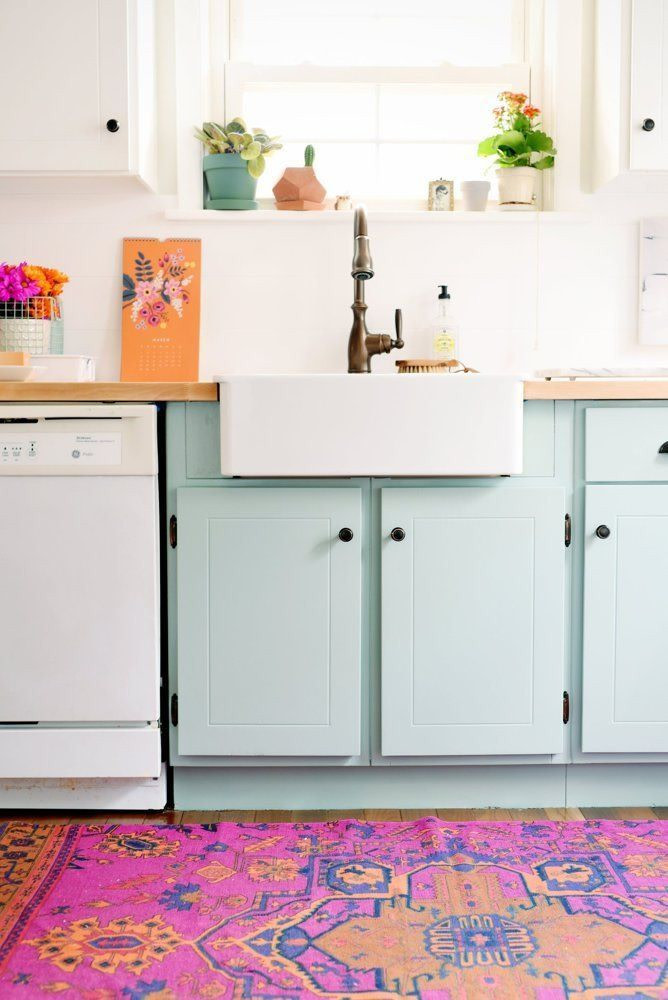 Color-blocking of saturated paints is a thing but you really need to be careful while doing that on your own. Pastel colors, on the other hand, have a very convenient feature – they all match perfectly! It's like they were a pack of old friends who never want to separate. You may safely experiment with painting cabinets in two opposite but pastel shades. Want to break the convension? A garish rug or other glowing elements will light up the pastel serenity.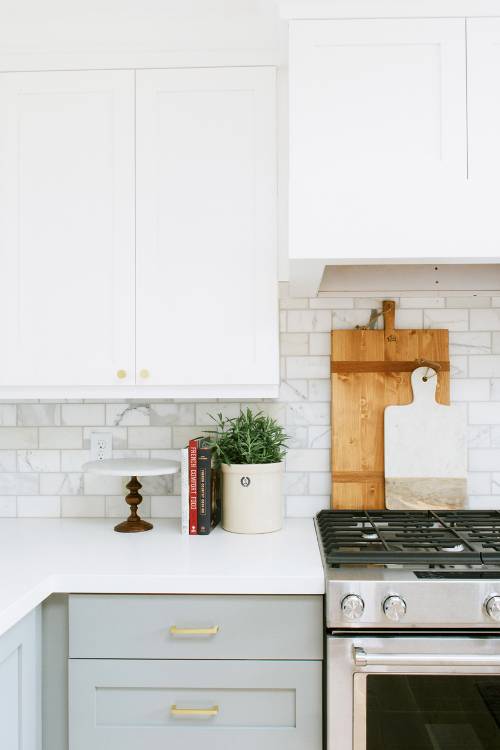 Doris Leslie Blau can help you find the right Persian carpet or oriental rug. We have a large showroom in New York City plus online catalogs and supplementary information. For help choosing a product for your needs, contact us online or call 212-586-5511.