No matter how chic and inviting the rest of the house may be, the most memorable convos and moments usually happen in the kitchen. It is much more than just a cooking area – it is the heart of every home, which deserves a touch of love expressed by practical and beautiful décor. We selected 10 amazing, joy-sparking arrangements that will surely inspire you to re-define your kitchen this spring!
In Black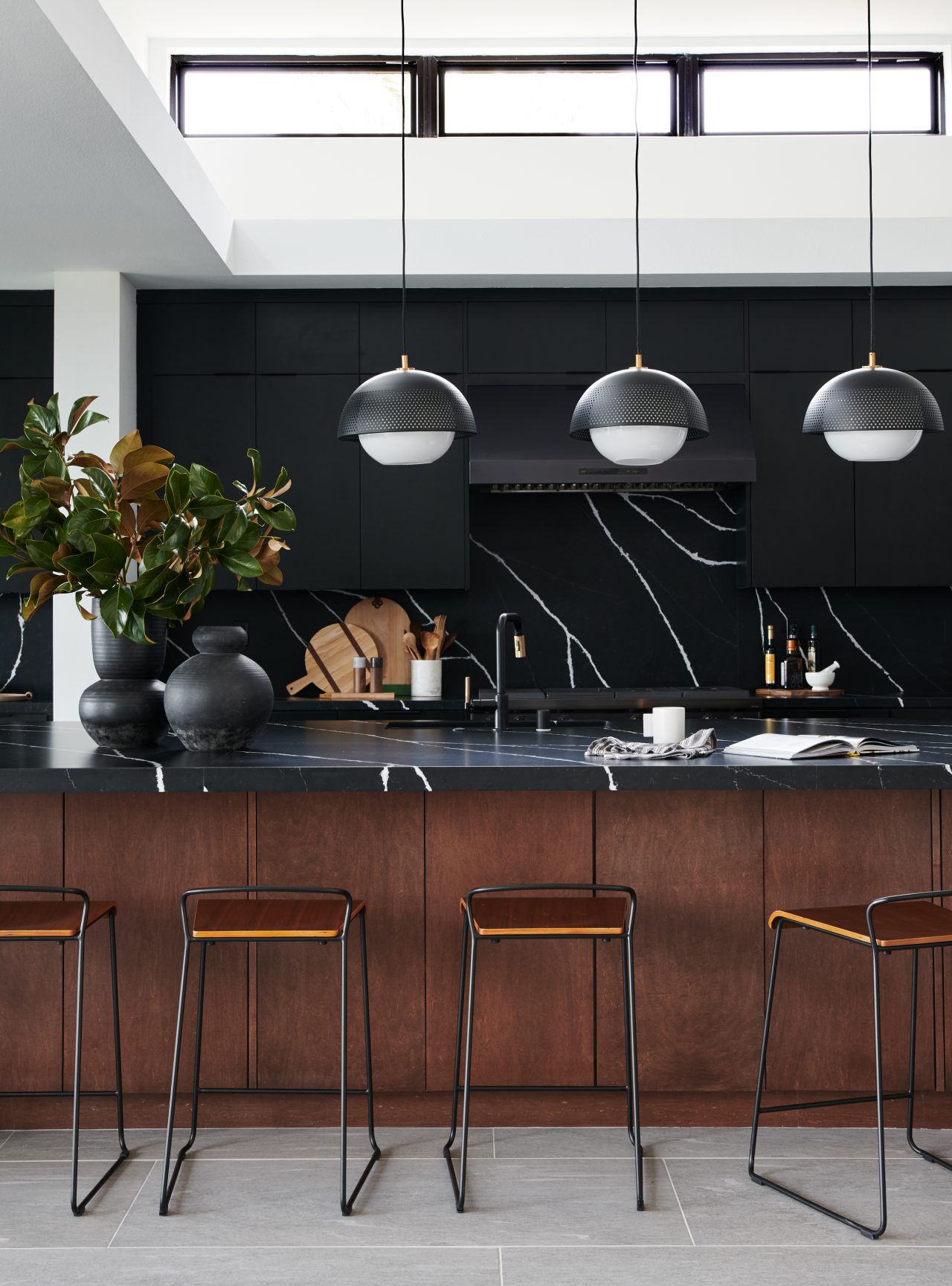 A black color palette is the latest kitchen trend. After all the white, then green and navy blue kitchens, the time has come for black. We must admit that it looks very elegant, beautifully matches wood (which is frequently used in kitchen décor), and constitutes a perfect setting for sophisticated accessories and furniture such as a golden faucet, handles or a marble counter.
Open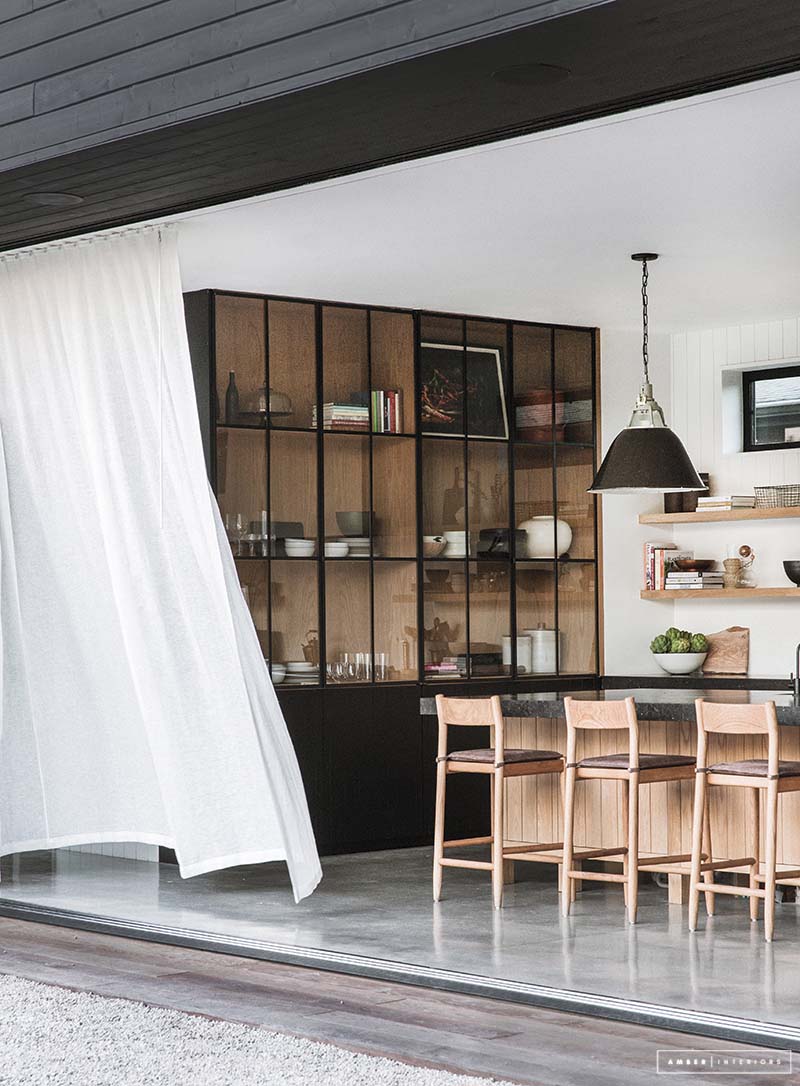 Once you get over the fact that this kitchen flows directly outside, allowing for seamless indoor/outdoor living, you can focus on the design of the actual kitchen, which is just as stunning as the architecture of the space. Black cabinets, countertops, and pendant lights vary from the usual light and neutral colors of most kitchens, proving that the moody look can be absolutely fabulous.
Light Farmhouse
We've seen Farmhouse style kitchens many times, but this is something particularly captivating. Natural wooden elements – from the floor to the ceiling – give the space the character of a true rural ranch. A simple but timeless light-filled kitchen is both universal and unique.
Eclectic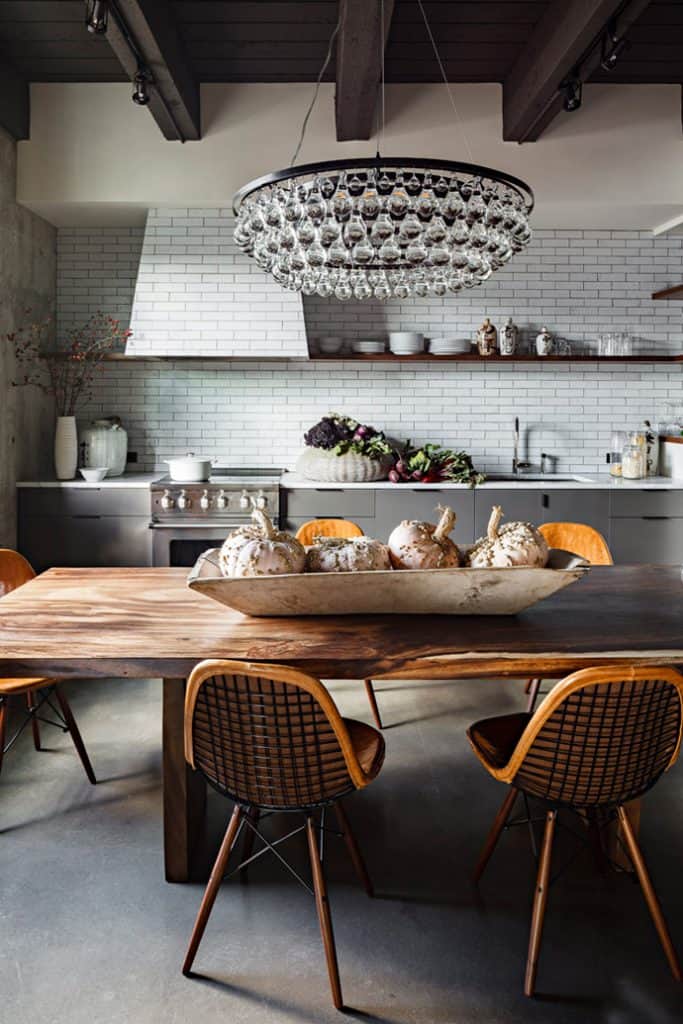 "My kitchen is currently going in an English Tudor house, but I don't think dark colors are exclusive to historic houses. In fact, I think that dark colors add so much warmth to a modern kitchen and should really be considered as an alternative to whites and grays," says interior designer Nina Freudenberger. We like how the kitchen combines many seemingly contradictory styles – Farmhouse, Royal Glamor (this crystal chandelier!), and minimalist modern furniture in the dining room.
Wallpapered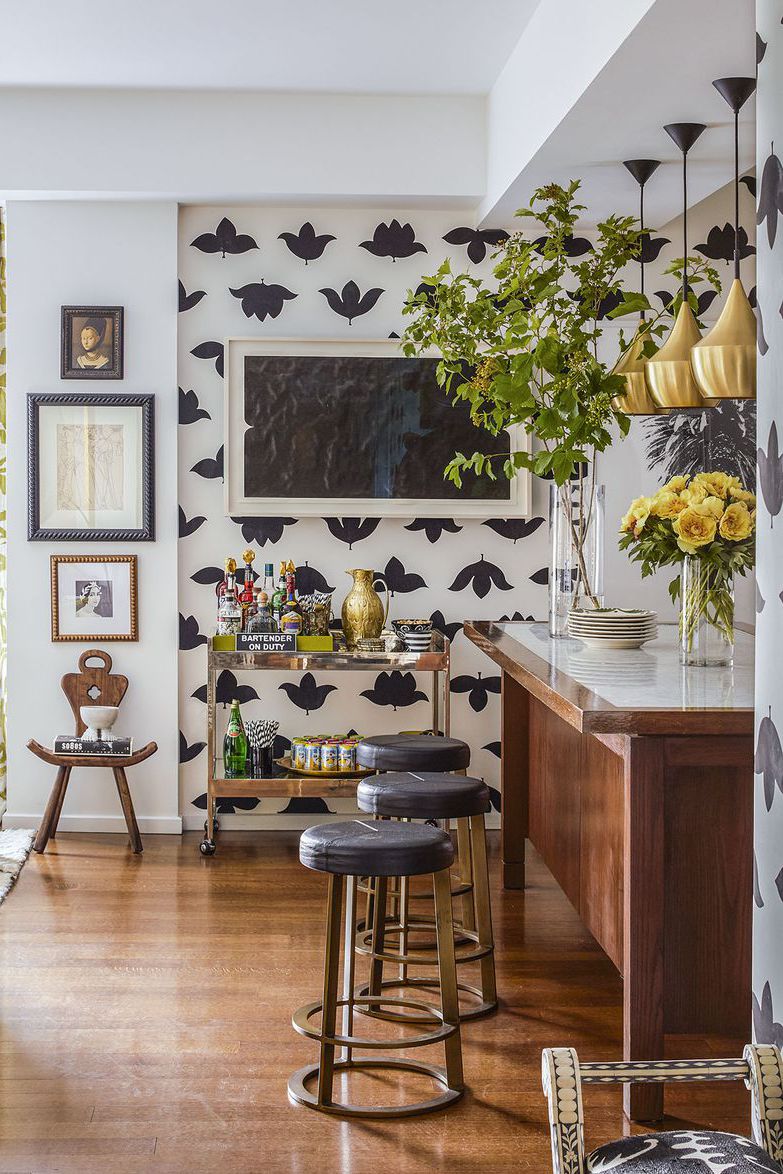 In a PR Maven's glamorous New York City apartment, Sam Still artwork hangs on a wall covered in a Madeline Weinrib wallpaper. Kitchens with wallpaper, the most fashionable statement piece of 2019, are undoubtedly impressive. The key to success is to balance all the elements of the décor – here the black and white wallpaper pattern harmonizes with the subdued wooden floor and other walls. The dichromatic palette is enriched by golden accessories and green plants.
Airy Farmhouse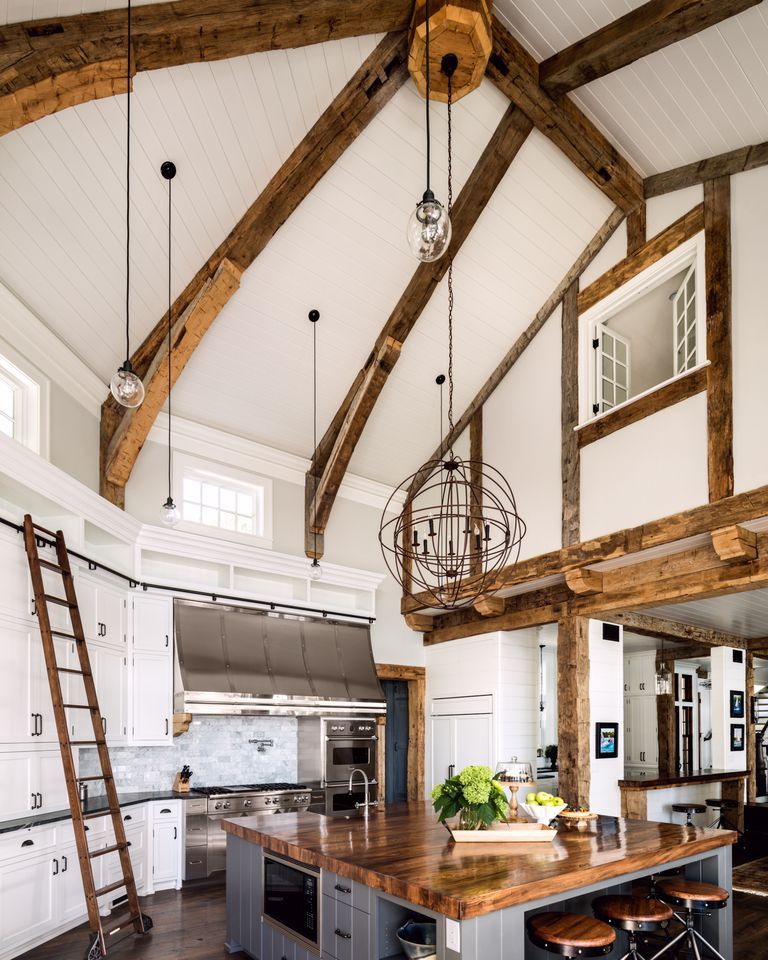 Farmhouse kitchens dominate our list and it is hardly surprising – both interior designers and decorating enthusiasts appreciate them for coziness and for the possibilities they give. Heavy timber beams introduce an eclectic vibe in this kitchen by Wade Weissmann Architecture Inc. We will remember this amazing ceiling for a long time.
Contemporary Historic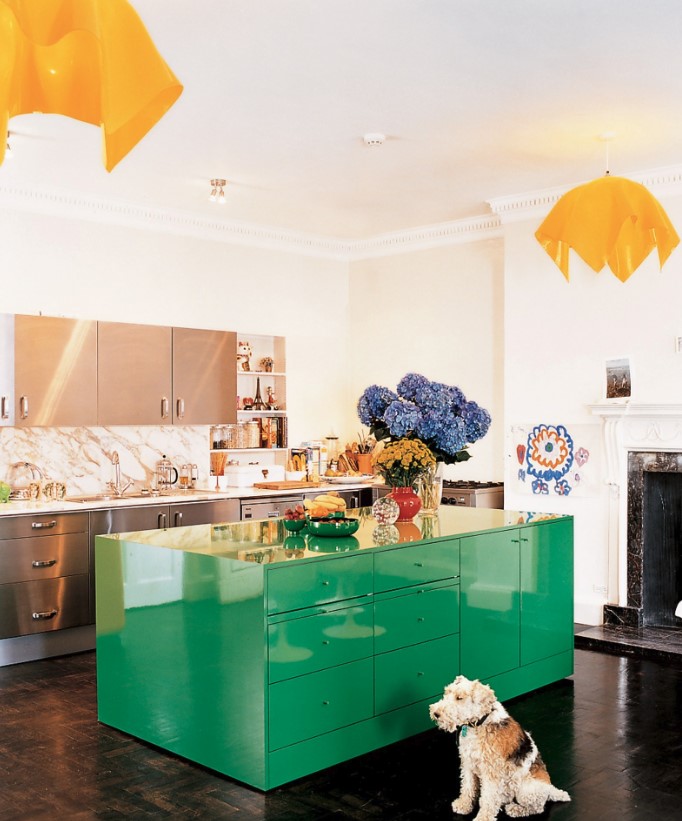 Built by the Earl of Mansfield at the end of the 18th century, this London West End townhouse owned by Serena Rees and Joseph Corré of Agent Provocateur has all of the beautiful details that a historic home should. In the kitchen, rather than distracting from the building's history, the stark contrast of the stainless steel cabinetry and lacquered Kelly green island help to call attention to the period details in the room, such as the dentil molding and carved fireplace mantel.
Functionality and Beauty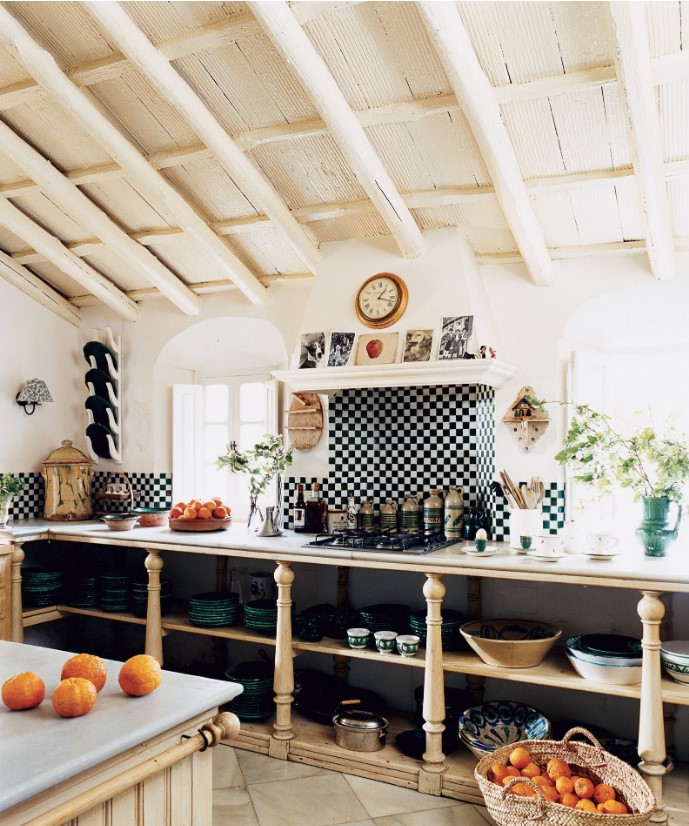 At Trasierra, a hotel owned by Charlotte Scott in Seville, Spain, open cabinetry keeps everything the family needs to cook for large groups easily accessible. But far from being purely functional, the turned posts, checkerboard tile, and painted beamed ceiling lend a feeling of whimsy to what could have otherwise been a plain, utilitarian space.
Floating Island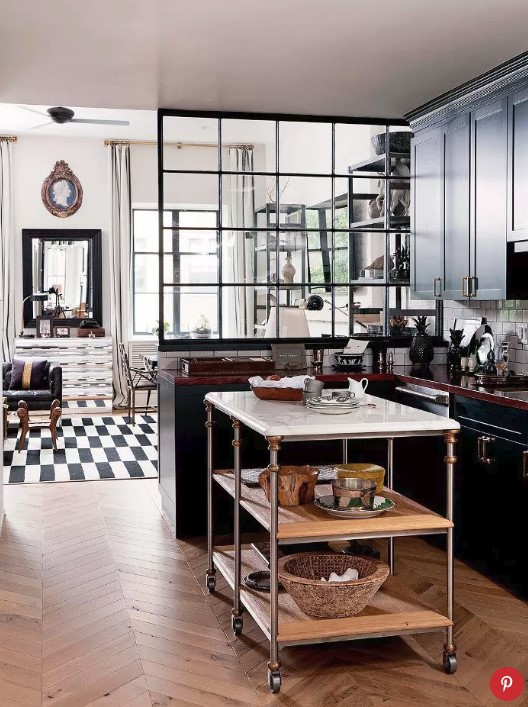 This kitchen may not be as spectacular as the others, but it has one amazing element – an island on wheels. This is an outstanding piece of furniture – functional, ingenious and trendy. It can be used as a kitchen counter, bar or simply a storage space or a place to eat (only a bar stool is missing). We are delighted!
Classic Modern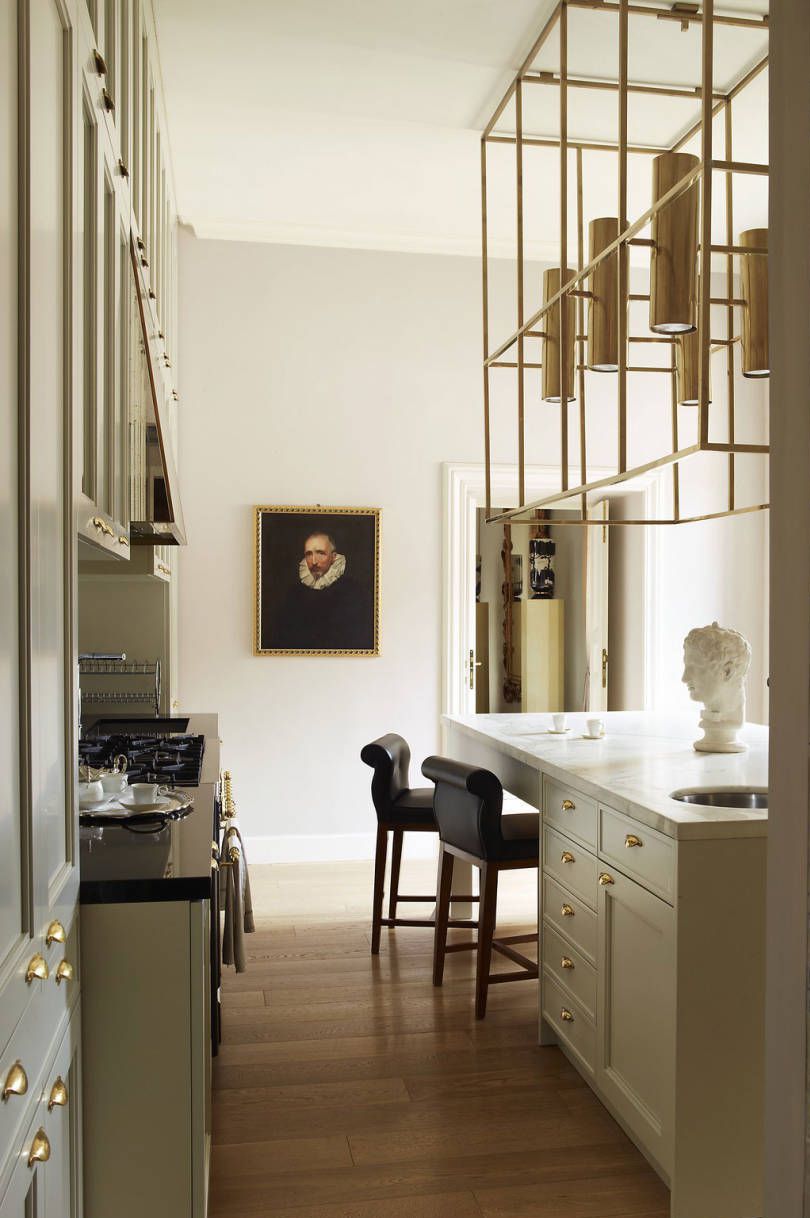 A modern kitchen by architect Achille Salvagni, designed in a nearly palatial way, combines brass lighting fixtures and a Venetian portrait from the second half of the 18th century. A clean setting of uniform floor, gray kitchen cabinets and light walls has gained an amazing royal character thanks to the golden elements and several antiques.
Doris Leslie Blau can help YOU FIND THE RIGHT PERSIAN CARPET OR ORIENTAL RUG. WE HAVE A LARGE SHOWROOM IN NEW YORK CITY PLUS ONLINE CATALOGS AND SUPPLEMENTARY INFORMATION. FOR HELP CHOOSING A PRODUCT FOR YOUR NEEDS, CONTACT US ONLINE OR CALL 212-586-5511.