See our full collection of vintage Scandinavian rugs here.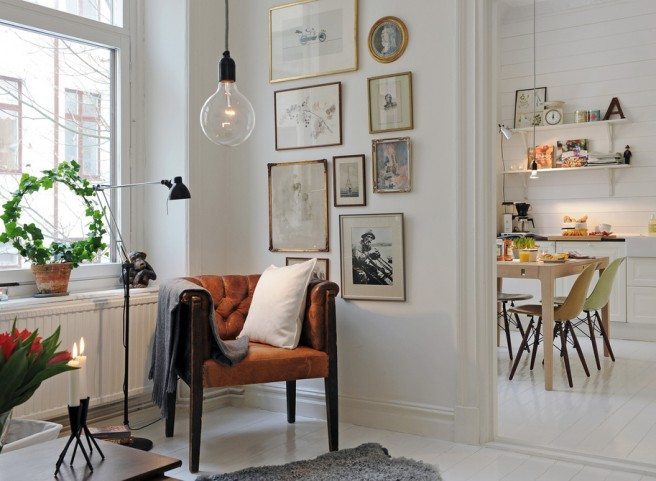 Lagom is a Swedish term that means perfectly balanced – not too little, not too much.
Much of the success of Scandinavian design, new or old, is owed to its clean lines, simplicity of design and how harmoniously it blends with other periods and styles.
This is in part why the resurgence of mid-century modern style and designs by many of the greats like Hans Wegner, Eero Saarinen and Arne Jacobsen have journeyed back into many of our homes.
Looking to channel Scandinavian style? Here's how: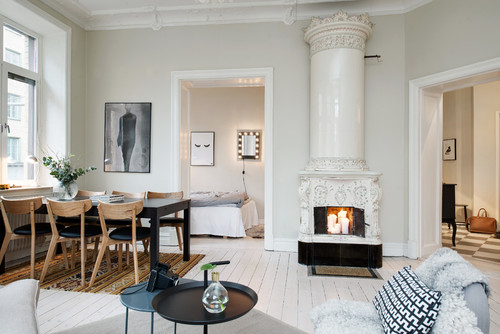 Start with a blank canvas
Perhaps the first perfect neutral backdrop, traditional Swedish interiors usually feature white or light grey painted walls and white-washed wood flooring. Giving a fresh, clean look, a light, neutral base makes way for a pop of color on a feature wall, artwork, or furnishings.  Here, the patterned rug takes center stage in this Swedish apartment.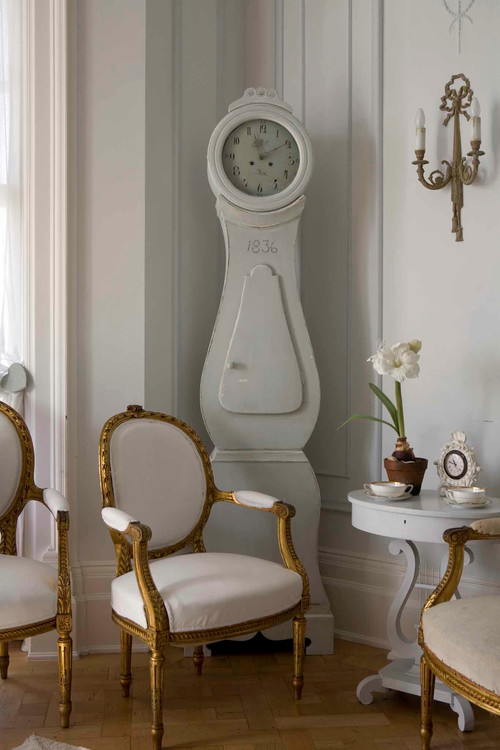 Go for a touch of gold
Traditional Swedish furniture was often gilded to reflect the light and brighten bleak, winter days.  The key to maintaining balance is to not overdue it. A collection of armchairs, like this trio, or a large mirror will usually suffice.
Make room for a stencil
Showing off figural handiwork, Swedish walls and furniture often featured hand-painted folk art designs called kurbits or jamtland. Here, Ontario-based designer Kate Thornley-Hall's contemporary take makes for a cheery bedroom.
Get floored over by a flat weave rug
A recent Wall Street Journal article on design trends of 2016 cited a rush of popularity for Scandinavian flat weave rugs. Like a breath of fresh air, Los Angeles designer Madeline Stuart points out in the article,  "these rugs are a sophisticated answer to the omnipresent neutrals and sisals."
Swedish weavers incorporated simple, geometric patterns based on regional folk designs. The elegant yet bold, colorful forms complemented the modern, mid-century designs of the 20th century, propelling the rugs into the international spotlight.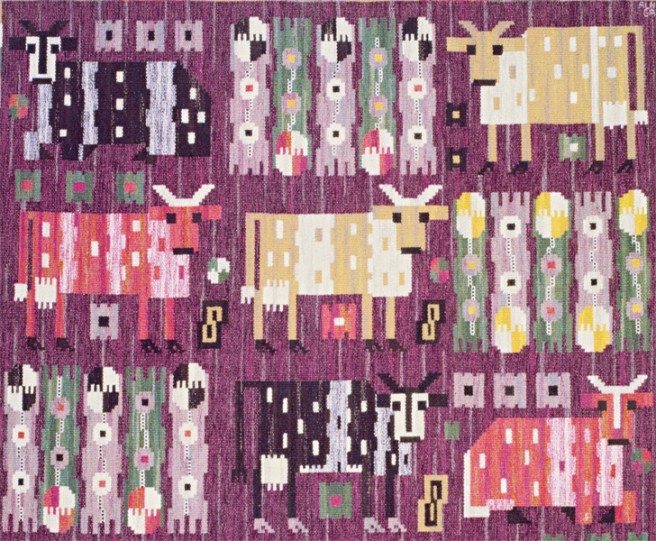 Märta Måås Fjetterström (1873-1941) was a renowned mid-century rug designer who reiterated nature through linear and geometric forms, like the korna, or cows here. Fjetterström left more than 700 designs and weaving instructions when she passed away, and her workshop paved the way for younger designers like Barbro Nilsson, Marianne Richter, Ann-Mari Forsberg to continue her legacy and bring their own visions to their work. Be on the lookout. Initials from these sought-out designers are sometimes woven into one of the rug corners.
Like mid-century furniture, Scandinavian rugs work effortlessly in a variety of styles, from sleek and contemporary to transitional to casual, like in this den.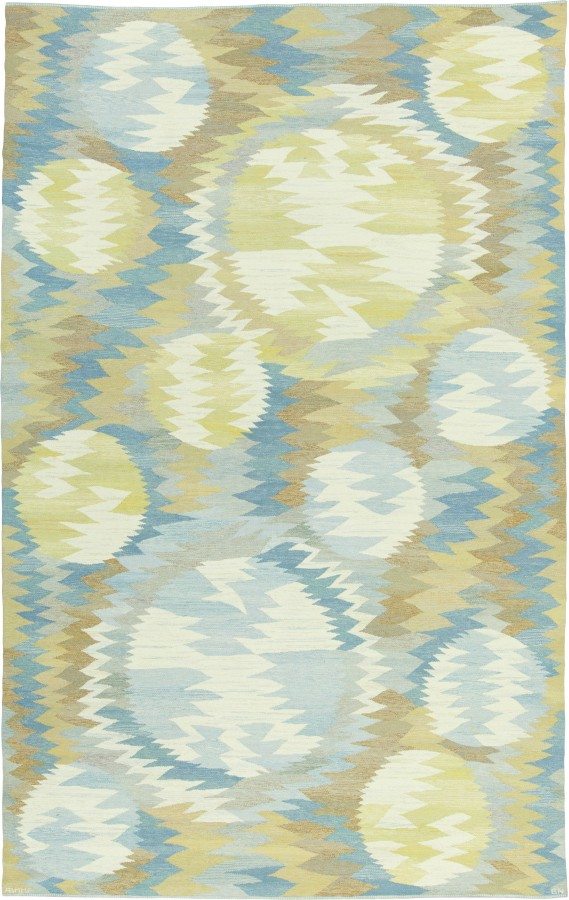 Scandinavian flat weave rugs vary greatly in color and pattern. This one, called "Solfläckar", or "sunspots", woven by Fjetterström, is a softer rendition featuring abstract overlapping circles and dancing jagged shapes.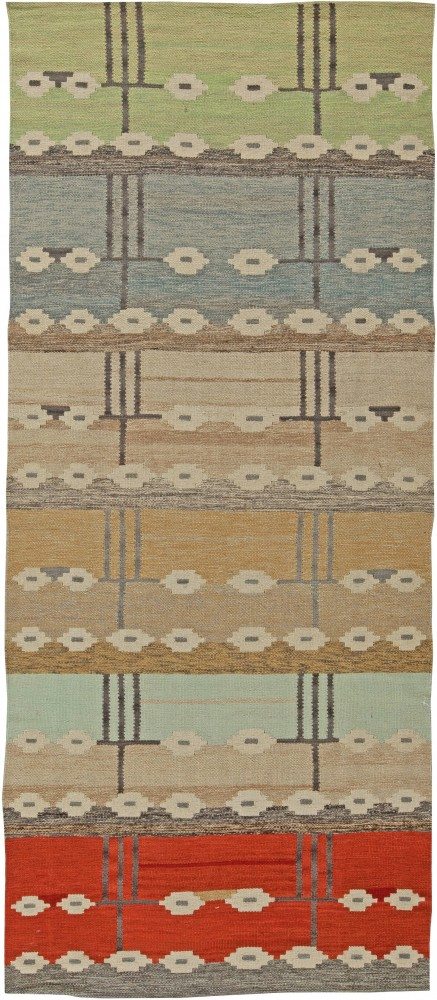 Like many Scandinavian interiors, this flat weave rug embodies the balance of lagom. A bright punch of red, set amidst a calming group of neutral bands — not too little, not too much.
Please share how you have incorporated Scandinavian design in your projects or home decor.
Written by Karen Egly-Thompson
—————————————————————————————————————–
Karen Egly-Thompson is a former interior designer turned interiors writer. She writes regularly for Houzz and her work has appeared in publications such as Commercial Interior Design and Middle East Architect. Her blog Design Salad focuses on traditional design in contemporary context. A seeker of ideal coastal weather, Karen calls both Dubai and Maine home.