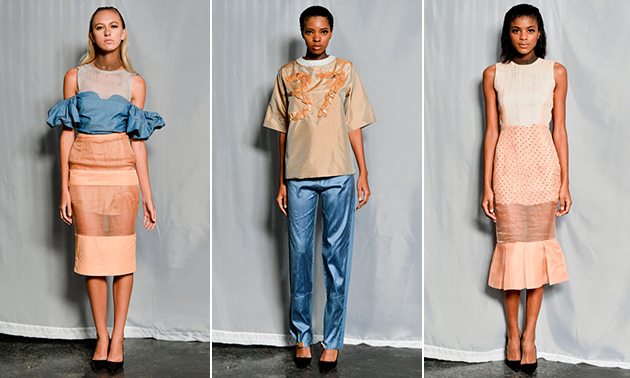 Maki Oh
Designer Maki Osakwe knows how to mix it up and her collection Maki Oh is a testament to women's fearlessness and complexities. The Nigerian designer grew up in the bustling city of Lagos and witnessed power dressing to the max. After dabbling in design as a child (inspired by her mother) Maki went on to formulate her own line, driven by modernity and cultural influences.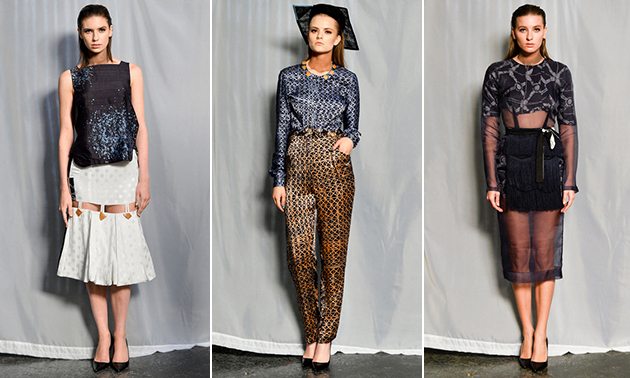 The liveliness of Lagos is seen in Maki Oh's eclectic collection. For her latest offering- Spring 2014- there's a healthy dose of sheer, paint splatter, athleticism and ladylike appeal. And it's wonderfully cohesive to boot. Maki says there's a hidden meaning behind each piece, which draws inspiration from decades ago when Nigerian women used their clothing to pass messages to others. This line also cares about the environment. Maki uses fabric that is organically dyed on silks and cottons as opposed to industrial paint dying. There's a passion for sustainability and every part of the design process is done on Nigerian soil.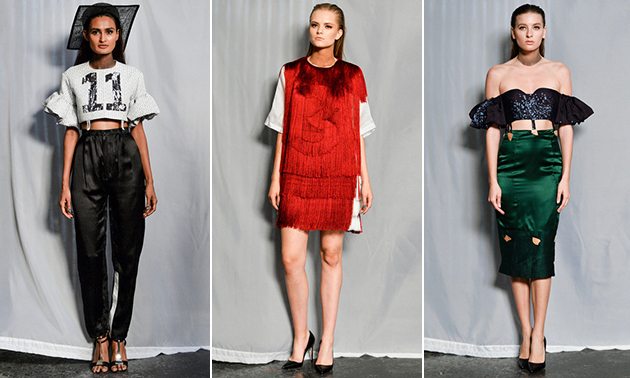 The shining stars of this collection are as diverse as the line itself. An off the shoulder knee length dress boasts puffed sleeves and a sheer skirt. It's equal parts artistic and whimsical. Another look features an athletic-inspired top with peplum sleeves in a graphic print, reminiscent of chipped paint. The rest of the look is comprised of a high waisted silk trouser with a tad bit of colorblocking under the knee. The details are both evident and discreet, loud yet bashful, mysterious but sweet: much like the duality of a woman. At the core, Maki Oh embodies the freedom of defining your own beauty.  Women want to express all sides of themselves and with this line there's no need to choose. I'd like to see these pieces at the Fall ready-to-wear shows next month, opening night at an exhibit or pretty much any NYC event. They'll do quite nicely in my closet.
Kara Mann
Interior designer Kara Mann does for spaces what Maki Oh does for the body. Her work is multifaceted: daring, strong, sexy, worldly and edgy. And sweet. The New York City and Chicago based designer creates distinctive interiors by mixing modern and traditional. Here are some standouts from a few spaces she's worked on.
Table Toppers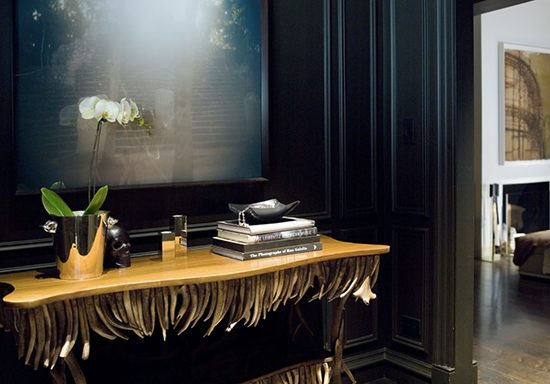 Using a few standout pieces, Kara shows it's possible to be both edgy and classy. In the foyer lies a black skull beside a steel flower post holding pretty blooms. The table is wood but mixes in an unforgettable touch: a whispy, fringe-like wooden trim. Coffee table books and a sleek silver dish finish off this entryway.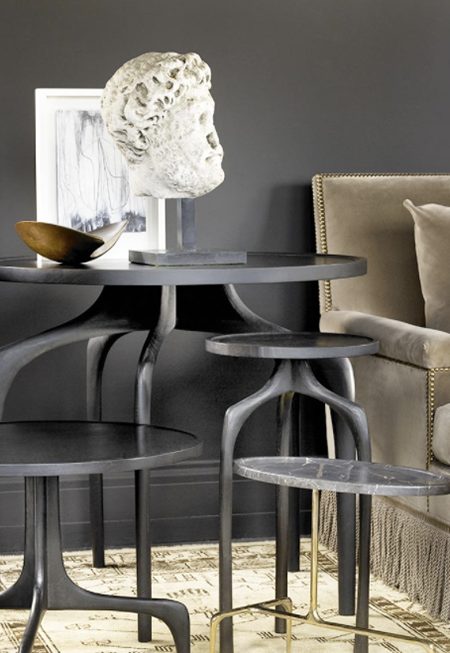 There's nothing like a Roman bust to create a vibe for the entire room. Beside the sculpture is a bronze bowl. Both sit atop a charcoal table with matching chairs.The tone is set, nothing else is needed here. The magic lies in mixing the two metals and topping it off (literally) with a beautiful piece of art. It's simple yet strong.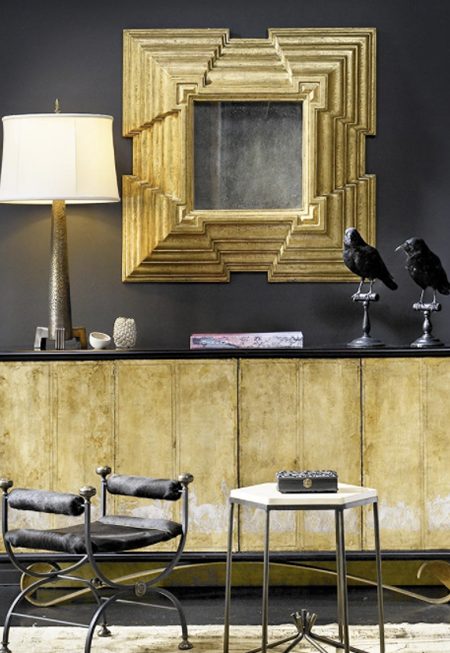 Wildlife is not your ordinary choice for room decor but here it's absolutely brilliant. Two black birds are perched in front of a golden 3-D frame. It's intriguing and classic.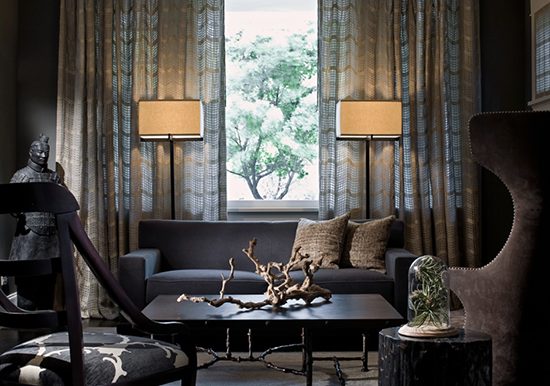 Another way to bring in a bit of rustic charm is with a twig. It's beautifully tangled and acts as the focal point for the room. A closer look reveals a branchlike framework under the table.
On The Walls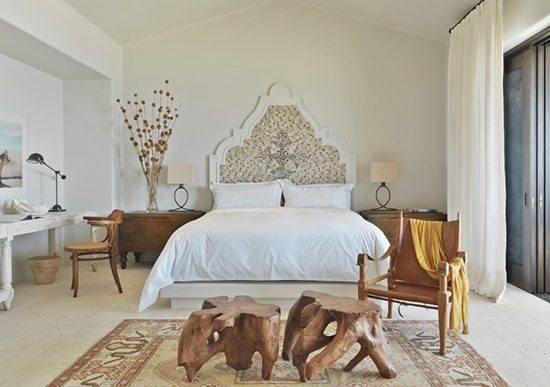 You've gotta have a headboard, so why not make it the most beautiful part of your room? This one's like no other. It's tiled and quite grand. Equally amazing and noteworthy are the two tree trunk chairs lined in front of the bed. Never has nature been so chic.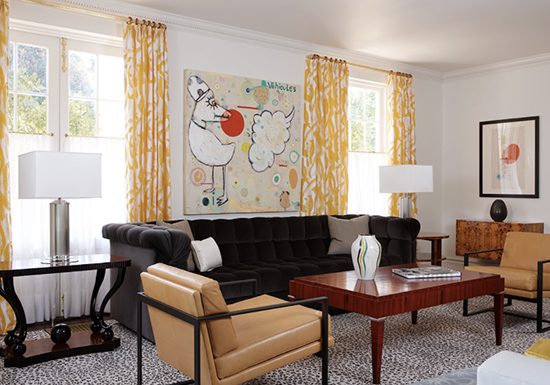 Whimsical art shouldn't be relegated only to fridge doors. Frame it and hang it up in your living room. They'll be added warmth and life brought into your space.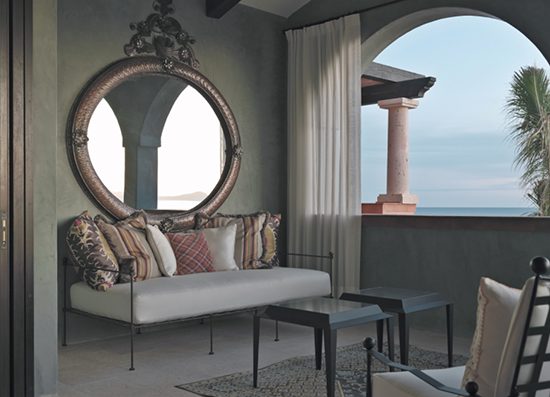 Create a memorable moment with a large ornate mirror placed behind your sofa. The bronze metal and different colored pillows gives the room a bit of Moroccan flair. It's perfect for relaxing with friends and family.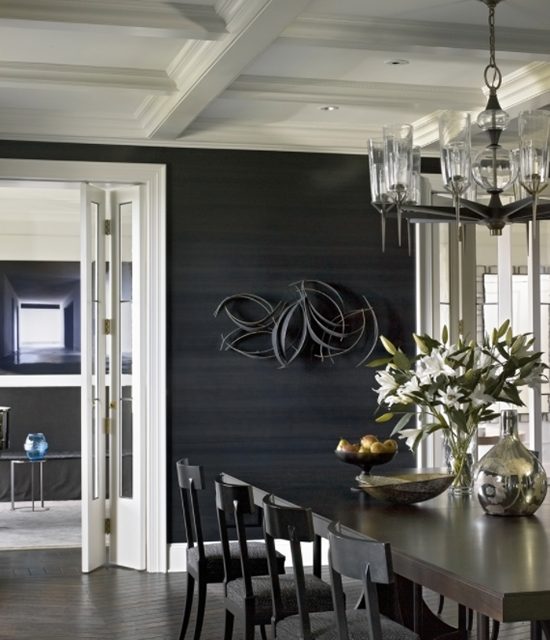 Matching your wall to a bold piece can be as striking as adding an accent. This curved sculpture is sleek and intriguing, making it a perfect fit for this sophisticated dining room.
Some more spaces that I love by Kara Mann:
By Joy Adaeze of JoyLovesFashion