Though we (hopefully) enjoy our homes all year long, we tend to most appreciate their capacity to foster bonding and human connection at family gatherings.
Whether celebrating Thanksgiving at your home or someone else's this year, pay attention to how people interact with the space. Where do they congregate? If two people want to have a more intimate conversation, where do they go? Noticing these things can inform future design decisions. In the mean time, here are some ways to create living spaces family and friends will be grateful for:
A more livable living room
Sometimes, despite our best intentions, the living room is too imposing. A giant sectional flanked by your most expensive art can call to mind a more formal era – but not in a good way – and send guests scurrying to a homier, more casual setting (usually the kitchen).
That said, you don't have to sacrifice refinement to make a space more comfortable.
Place furniture such that people can seat themselves closer or farther from the central focus of the room. Sometimes you want to have a big group engagement, but just as often you want guests to be able to create pockets of intimacy.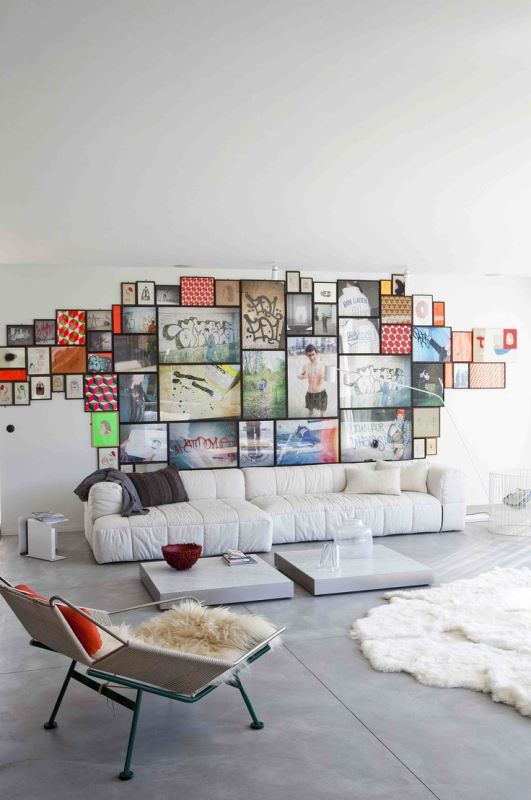 Via: Tosokaki
Never underestimate the power of a great accent chair. While its purpose is ostensibly to provide additional seating, it will often be the first seat taken. Why is that? Can't say for sure, but I might chalk it up to the magical-magnetic powers of a fabulous design piece.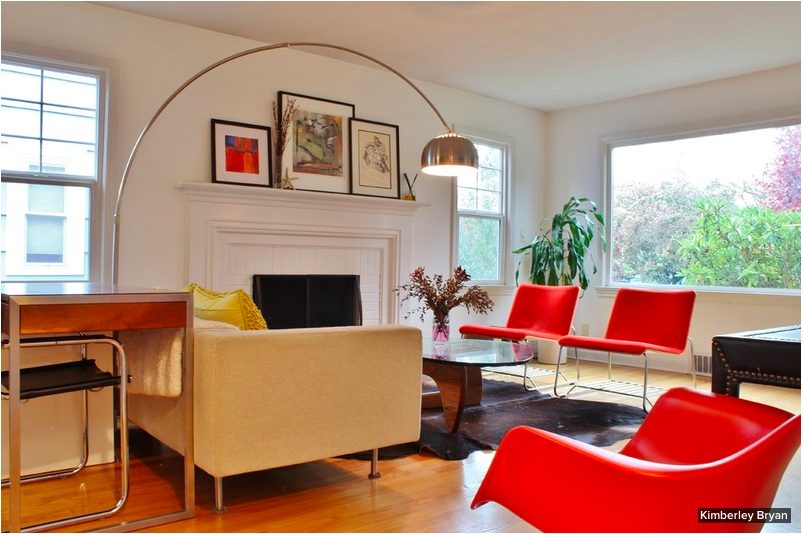 Via: Houzz
Let there be light. There's a reason that's the third verse in the Bible. We crave it, we need, and it's always disappointing visiting a beautiful (usually older) home that isn't sufficiently lighted.
In a perfect world, we'd all have ample fixtures and houses immaculately designed to maximize natural light resources. But the renovated Seattle home pictured above has no overhead fixtures in the living room – typical for the 1940s when it was built – yet the owners more than make up with this sleek, swooping floor lamp.
Even if your space has plenty of natural light, it's worth investing in quality lighting that will keep people comfortable and energized after sundown.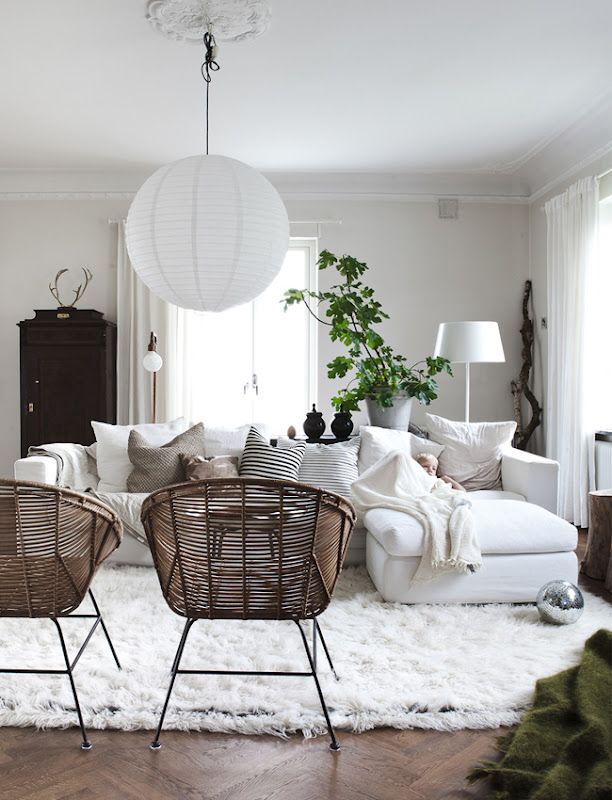 Via: Decoholic
A living room without enough fabrics and textures can feel naked. Pillows and throws offer comfort and help achieve aesthetic balance, but it's important to look at textiles in concert, so don't forget carpets and rugs.
From a design standpoint, we say a rug is the baseline of the whole aesthetic statement. But comfort is equally important. A friend of mine visited a doctor of Traditional Chinese Medicine for knee problems, one piece of advice he received was: "Don't ever let your feet get cold."
That wisdom applies to design too. Whether it's the solid, abstract lines of a sleek modern piece or the entrancing symmetry of a more traditional design  – even if you don't live in a cold climate – the textural and visual benefit of a great rug  can bring balance and a sense of assurance to a space that will make people linger.
Happy Thanksgiving everyone!
By: Leslie Jones