The year 2016 is almost over and it's time to welcome the brand new 2017! No one would like to be found unprepared for such an important encounter so you'd better start thinking about the perfect New Year's Eve party décor. If you need inspiration, just keep reading 😉
The dusk of every year is a time of reflection on what is past. It is then we make firm resolutions which later on usually prove tough to keep. But take it easy, life is mostly about living the moment and the most beautiful moments are with the people we love.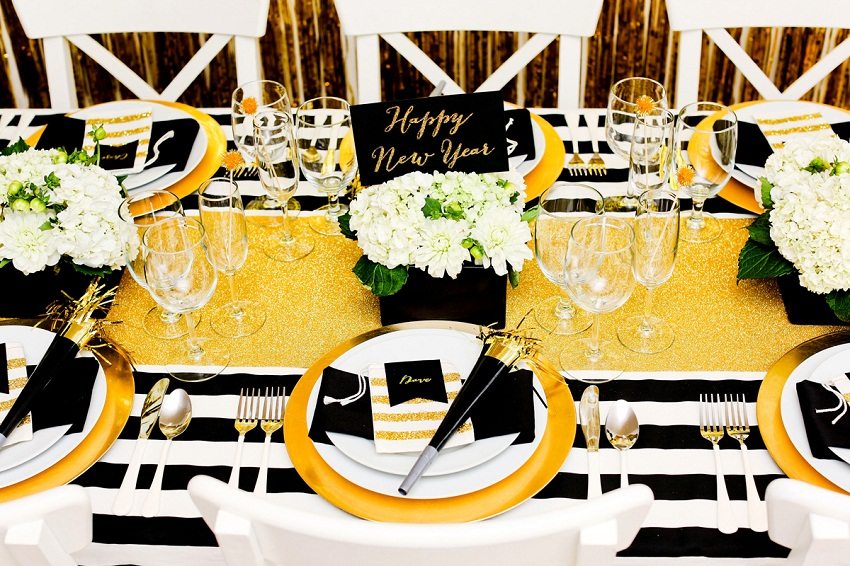 Old Year's Day gives us a chance to say goodbye to all the joys and sorrows of the passing year and to greet whatever shall come in the company of our family and friends. Let's make it a helluva party!
Balloons fly to the top
Whoever said that balloons are only good for children is hugely mistaken. On New Year's Eve every person, old or young, has a full authorization for a new start so we should make sure everyone feels fresh without any exceptions. Balloons are a low-budget option for transforming an ordinary interior into a genuine ballroom. Besides, they bring a fun vibe of recklessness and unlimited freedom so desired during this very special celebration.
There is a reason for ballroom and balloons starting with the same prefix, is there not? 😉 Black may not be the color associated with joy but let us not be constrained by the conventions. When matched with gold and white, black balloons results in a truly royal décor. Still not convinced? Try transparent balloons filled with confetti. If one of them pops you'll have twice the fun. The possibilities are endless, just pump it!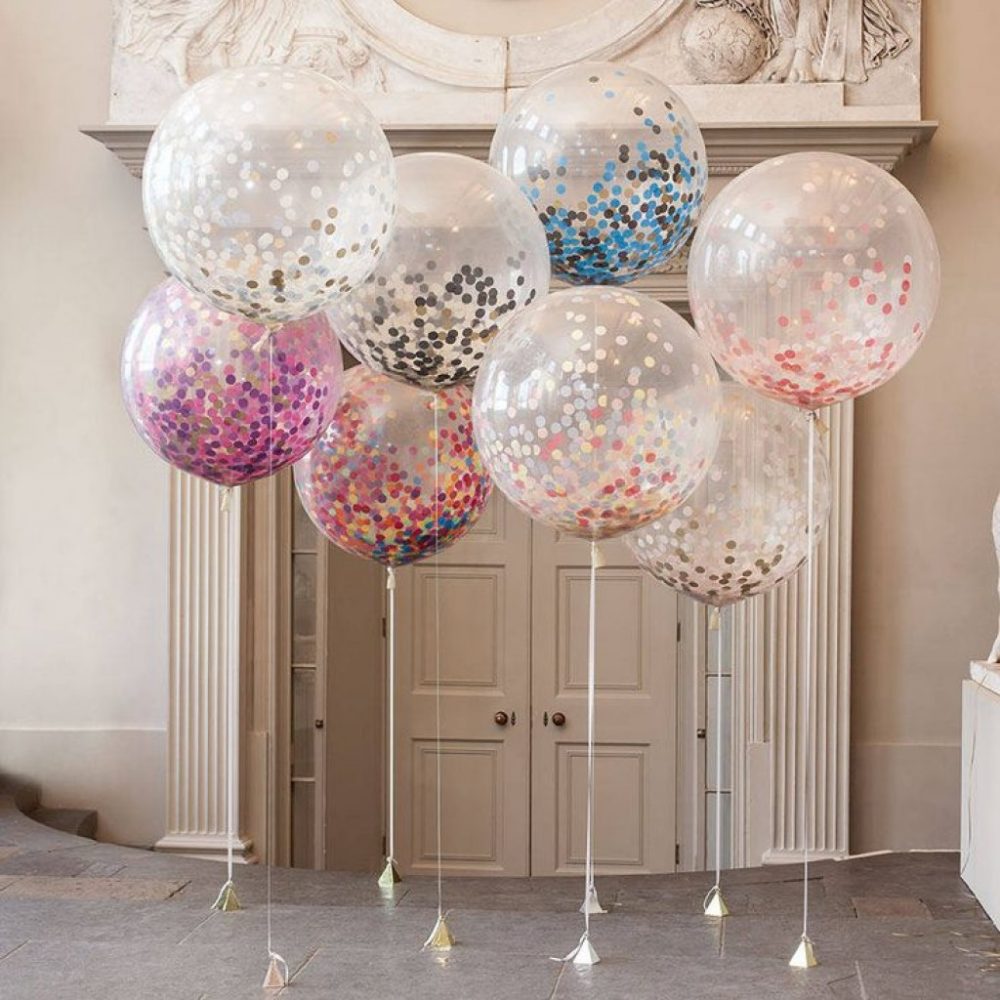 Drinks roll in
How do you like your martini? We bet stirred, not shaken. Give your guests a choice and arrange a home drink bar. Put out all the liquors, sparkling water, lemons, syrups, glasses and ice on a simple duplex trolley (or just any piece of furniture that seems suited for that purpose). To emphasize the homely atmosphere of the gathering, you may locate your home drink bar on an ornate rug – it will be a landmark for thirsty visitors 😉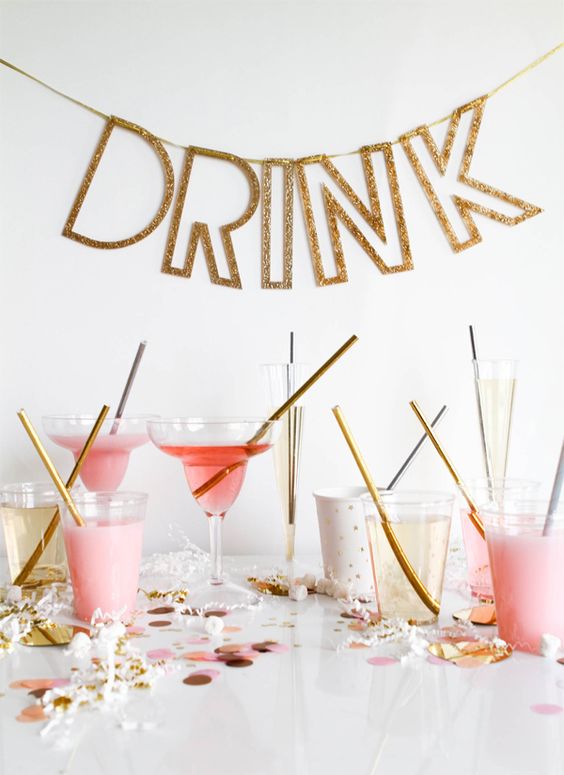 Don't forget about the extras! Olives, marinated onions or apple juice are nice but is a bit of a has-been. This year's party should welcome fresh basil, curly kale and cucumber juice – after all we are entering a year of Greenery color.  If green beverages don't exactly appeal to you, do it the Eastern-European way and serve drinks with milk and whipped cream. Who would not be tempted to try a classic White Russian? Bottoms up!
Table picks the runner
Drinks and balloons will introduce everyone in a festive atmosphere but we still need a gathering point to bring people together. There is no better place to share stories, tell jokes and laugh than a properly set table. To prepare this hearth of a party, start with a table runner.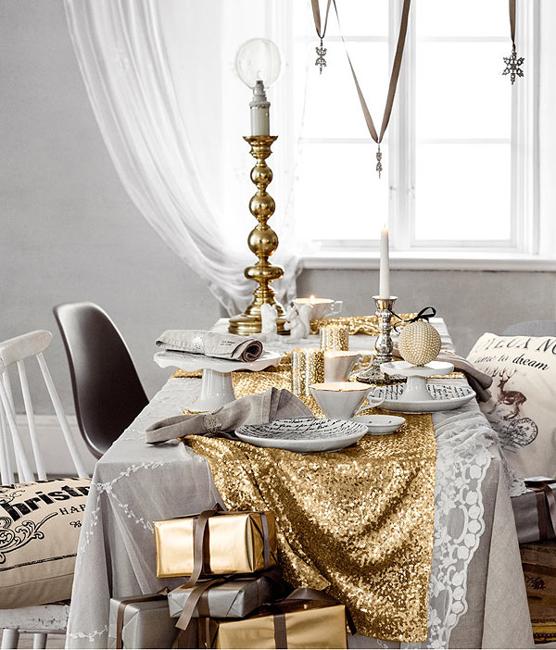 A tablecloth is indisputably practical but it covers all the charm that lies beneath. The upcoming 2017 will be all about Nature, so exposing bare wood is a discreet trick to smuggle a bit of it.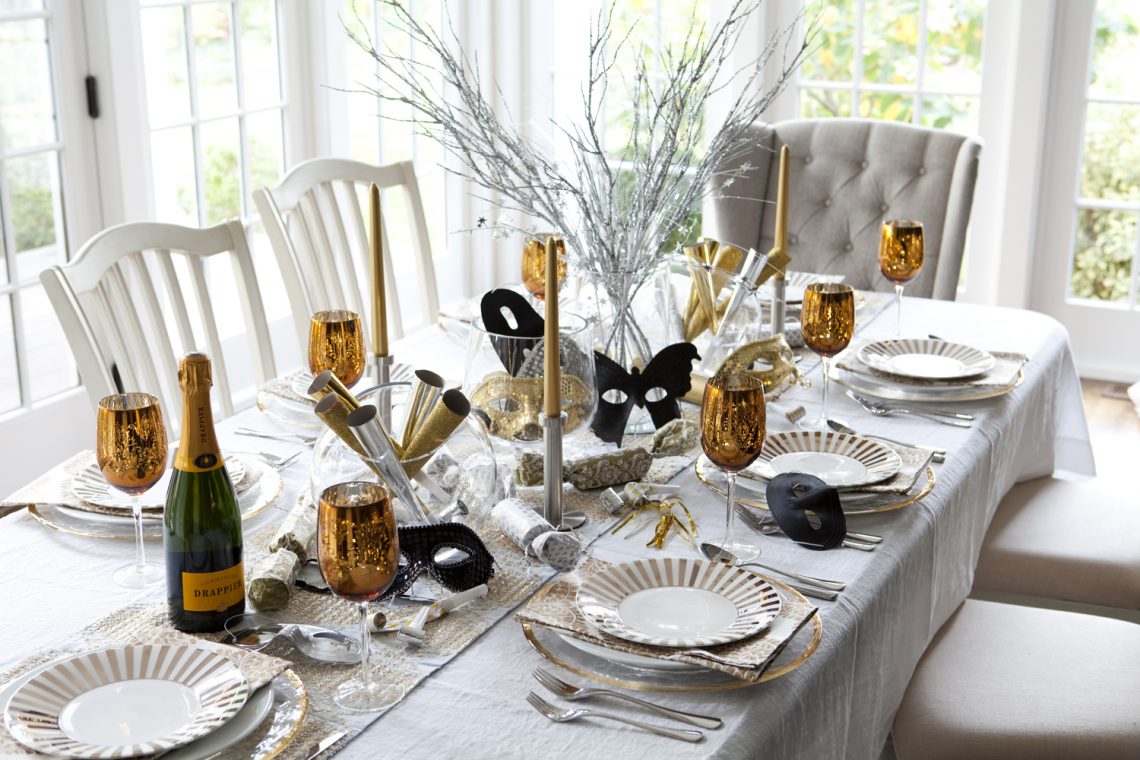 If you are worried about stains and crumbs, remember that a well-treated wood requires nothing but water to be cleaned. Decide on simplicity with a touch of glamour – just like in the case of balloons. Join different styles, try combining elegant golden glasses with minimalistic accessories just as you bring together many different characters and temperaments at one table.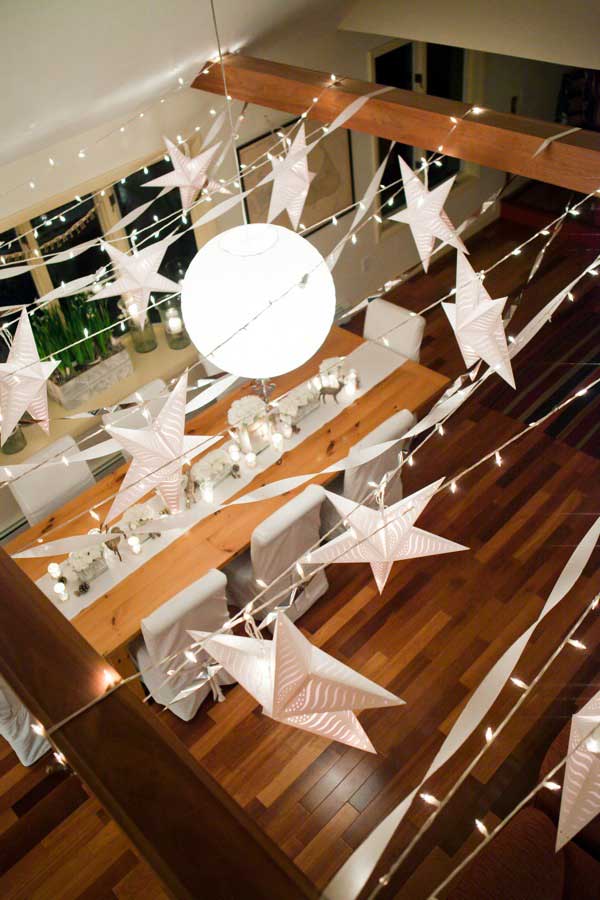 Anyone has a sweet tooth?
Last but not least – the sweet table. When the host has as much fun as the guest, the party always turns out be a huge success. Instead of running back and forth, replacing dinner plates with the dessert ones, set up a separate sweet area and enjoy your freedom to entertain or just revel with all the others.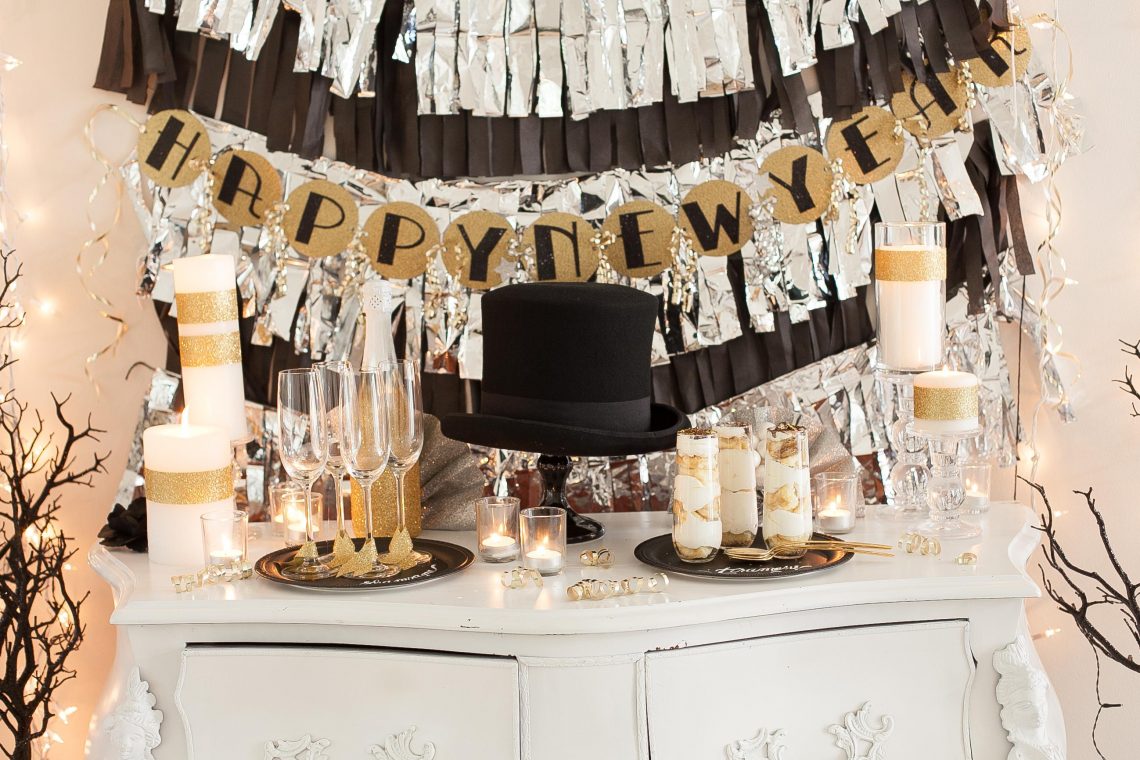 Moreover, another table gives you the opportunity to work on some more New Year's Eve decorations! It is always a good idea to put a bowl of punch here and there to keep your company in a jolly mood 😉 In Mexico, there is a custom of eating a grape with each of twelve chimes of a clock's bell during the midnight countdown – maybe a sweet table can come in handy in recreating this tradition at your party? If you know any other New Year's Eve games, don't forget to share it with us in the comments.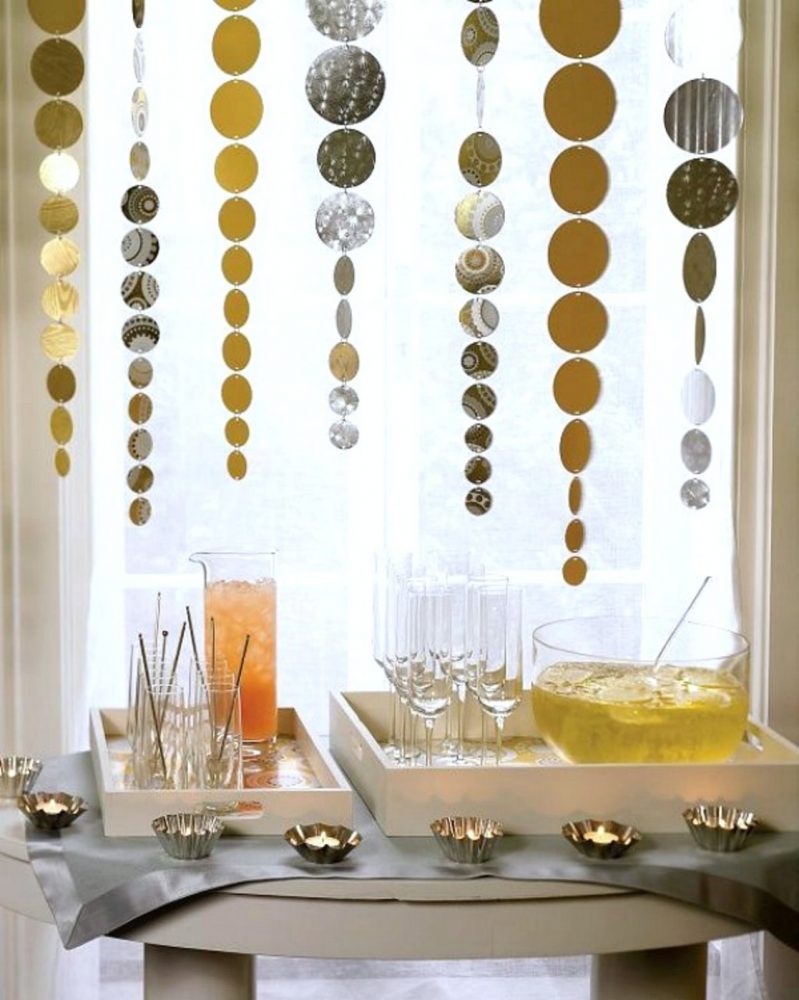 We wish you all a Happy New Year!