One-of-a-kind French Savonnerie Botanic Handwoven Wool Rug BB4926
11'4" × 17'3"
$

18,000
$18,000
An Early 20th Century French Savonnerie Rug with a stylised floral, wreath and ribbon design defined by a rectangle within a rectangle and simple border on a black field.
Many weavers who settled in France were Huguenots who had fled Spain during the Inquisition in the early sixteenth century. By issuing the edict of Nantes, Henry IV granted all non-Catholics freedom of worship, the re by protecting the antique carpet weavers in Aubusson. Aubusson weavers became the finest craftsmen in the world. Louis XIV's influential Prime Minister Colbert established the long and hard apprenticeship necessary to obtain the title "Master of Tapestry". Even today, the center in Aubusson, under control of the French Ministry of Arts, is busily producing antique European carpets and rugs of the most exquisite quality. Antique Savonnerie and Aubusson rugs and carpetsare considered to be among the finest examples of carpet production undertaken in Europe over the past 350 years.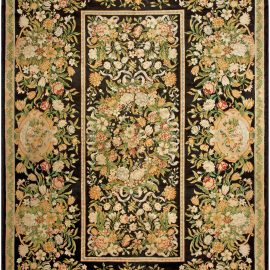 One-of-a-kind French Savonnerie Botanic Handwoven Wool Rug BB4926
$

18,000
In stock