In this consumerist world, it is important to always choose quality over quantity. One does not really have to splurge to satisfy his or her needs in every extent, and we would never encourage anyone to generate unnecessary costs, especially while decorating and furnishing their apartment. However, there are several home décor items that may seem pricey but are simply worth investing in. Read on and discover the cases in which you should put the money on the table without blinking an eye (because you will get great value for every penny spent!).
Bedding
@rosedoorhome

Antique Persian Tabriz Copper, Beige, Salmon and Inky Blue Rug BB6097 in a bedroom

"Bed sheets. Blankets. Mattresses. Pillow inserts. It's hard to be grumpy when you've had an amazing sleep! My bedroom is my favorite place to end the day, and I personally recommend hotel linens from Castropor." —Ana Cummings, principal designer and owner of ANA Interiors

@thishouse5000
As you make your bed, so you must lie in it – this old adage warns us against making hasty choices in important matters, but the message also works in its literary meaning. Take proper care of your bedding (and the mattress ofc!) in order to bring a new level of quality into your life. After all, there is nothing more rejuvenating than a good night's sleep. "Custom bedding—especially in the master bedroom. You won't be sorry when you crawl into custom bedding at the end of a long day. Totally worth the spend!" —Rainey Richardson, principal designer at Rainey Richardson Interiors, Inc.
Art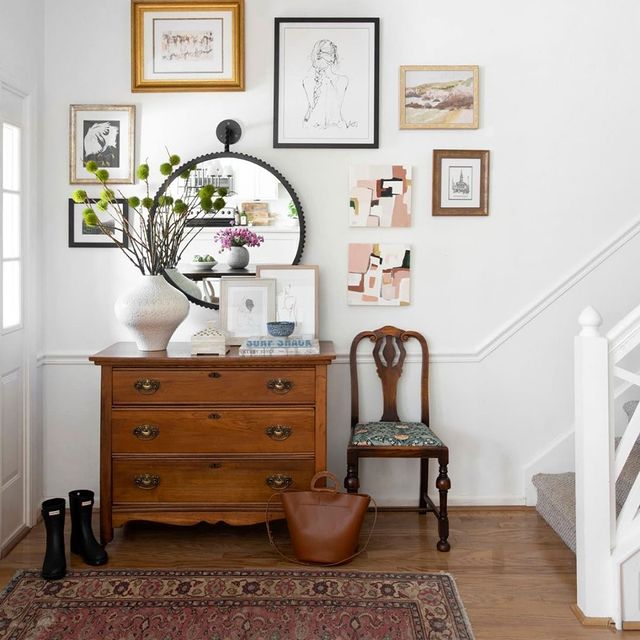 "Original art makes any place unique. It doesn't need to be famous or fancy. I suggest looking at online galleries, like Saatchi Art, where you can find a huge selection of pieces for every taste and budget. (And remember, when you buy art, you're not only supporting artists, you're also investing in pieces that increase in value over time.)" —Renata Carvalho, designer and owner of RGC Projects

@mattigreshaminteriors;

Art – the highest, most sublime manifestation of culture. The only thing that makes us closer to the divine. "Earth" without "art" would be just "eh". Joking aside, it goes without saying that art is essential for a good life. Choose a piece that moves you, touches your soul, and don't be stingy with the artist. He's your soul doctor, remember? 😉 "It's easy to pick up mass produced prints to fill bare walls, but I always encourage my clients to use these as placeholders. Make finding that perfect piece of artwork a mission, and use that goal as an opportunity to get to know artists, both local and beyond." —Amber Harris, decorator and owner of At Home DC

@houseofbeau13

Antique Rug

@beginninginthemiddle

19th Century Karabagh Brick Red, White and Brown Handwoven Wool Rug BB6629

Antique Turkish Rug

An antique rug is like a work of art. Truth be told, an antique rug IS a work of art but instead of a paint and brush there is a thread led by an agile hand of a weaver, whose canvas are looms. Antique rugs invite a great deal of color pattern and texture into any décor. Moreover, they are ideal warmth-bringers and space definers. Make sure your antique or vintage rug is authentic and it's quality and durability as well as design will surely surprise you!

@themollybee

Vintage Art Deco Pink Rug BB7529

"An antique, whether it be traditional or modern, is typically worth the splurge. Timeless pieces tend to hold value. And even if it doesn't, if you love the piece and it works in your space, then the investment is worth it.  —Lonni Paul, founder of Lonni Paul Design

@jets_homeandlife

Antique Turkish Rug

Lighting

@davidszymanski

And there was light – one of the most important phrases that have ever been uttered! Proper lighting is crucial in interior decorating for creating proper ambience. Not only the tone of light and it's color is important but also how it's framed. Make sure your lighting lets you rest in your own home!

@ashandcocreative @hauslove

"Having unique and beautiful lighting accents can transform an interior. I like buying antique pieces from the '30s—they have great designs and offer homes a certain warmth. In cases where I can't find what the space needs, I'll have the lighting custom-made." —Angie Socias Fernandez-Coppel, creative director and owner of Coppel Design

Dining Room Table

@nataliejeffcott

Modern North Star Blue and Gray Hand Knotted Silk Rug N12062

The table is the heart of every home – the place where people gather to eat, talk and laugh. It is also usually quite exposed and of considerable size. For all these reasons, a dining room table must be durable, functional and beautiful which may translate to a higher price, especially when it's make out of expensive wood.

@minettehand

"The dining room is a gathering spot for friends and family. And it's part of what makes a space feel like home. We like the idea of investing in a table that extends when needed—either for large gatherings, or when you move into a larger space." —Gideon Mendelson, founder of Mendelson Group Inc.

@westofmain @westofmainshoppe @muskokalumber

Vintage Persian Tabriz Rug BB7281

DORIS LESLIE BLAU CAN HELP YOU FIND THE RIGHT PERSIAN CARPET OR ORIENTAL RUG. WE HAVE A LARGE SHOWROOM IN NEW YORK CITY PLUS ONLINE CATALOGS AND SUPPLEMENTARY INFORMATION. FOR HELP CHOOSING A PRODUCT FOR YOUR NEEDS, CONTACT US ONLINE OR CALL 212-586-5511.