Long before everyone got to hear about Kim Kardashian's massive… success, the world followed the trials and tribulations of the wacky Osbourne family with bated breath.
Controversial heavy metal rocker and his wife, who also has managed much of his career, in 2007 purchased a stunning Los Angeles mansion, which they turned into an eclectic yet personal artwork thanks to the aid of Martyn Lawrence-Bullard. Let's take a look at how they created an "easygoing but still opulent" home "with a little rock star edge".
BRINGING LIGHT TO ROCKER'S DEN
Converting the Osbournes from the Contemporary Goth, as Architectural Digest described the couple's previous style, to something more bright and glamorous was the job for an old stagger. He also happened to be an old friend. Martyn Lawrence-Bullard, whom Ozzy and Sharon met during an African safari hosted by Sir Elton John, immediately agreed to Sharon's request to make their house a home. Martyn's task was nearly Herculean as he was faced with the major challenge of "bring[ing] a dose of enlightenment to the dwelling place of the former front man of Black Sabbath – a.k.a. the Prince of Darkness".
How did he do it? With the assistance of the future lady of the house, of course! As Lawrence admitted himself, when it comes to interior design it is Sharon who "rules the roost". Well, looking at the outcome, we can tell! Wonder how Ozzy might have felt washing the very same teeth he used to bite off bat heads with in a Carrara marble bathroom 😉
Similar look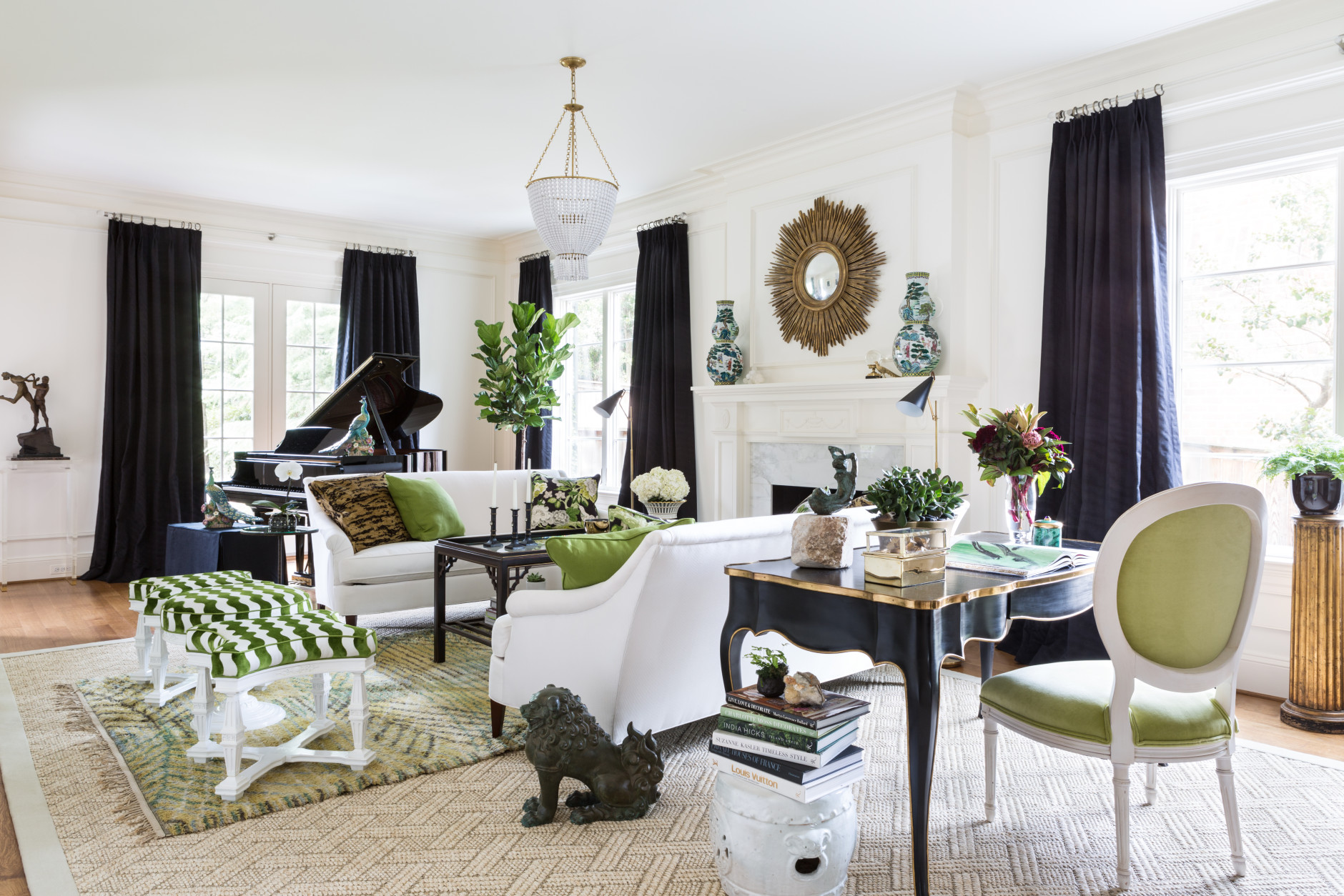 SPACIOUSNESS AND SECLUSION
Before Martyn entered the premises of Hidden Hills residence to add his vibrant touch, the Osbournes had conducted a major rebuilding project. They lowered the number of bedrooms to make space for immense walk-in closets as well as separate bathrooms and home offices for Sharon and Ozzy. Sharon describes her attitude to privacy as very English (nothing unusual for an English gal), therefore she cherishes separated areas in the house where she can feel quite at ease and work freely. That is why the residence, although spacious, has a door in every room as opposed to the popular Los Angeles fashion. When Sharon worked in her office, accompanied by iconic Cecil Beaton fashion photos, she sat at the desk designed by Lawrence-Bullard in the style of Maison Jansen. Classy!
THE KILLER VIEW
The Osbournes, all crazy and lively as they are, move a lot. According to Sharon, they have never lived anywhere for more than seven years. "I get itchy feet", she says. When the works on finding the next family harbor were in progress, the view turned out to be the decisive factor. Sharon wanted the scenery to take her breath away and she got it! The Hidden Hill residence looks down on the vast Pacific Ocean and the sea of green knolls rolling to the coastline. On hot Californian days, the family could rest at the elegant water pool terrace tiled in quartzite by Walker Zanger.
ECLECTICISM ABOVE ALL
Martyn Lawrence-Bullard appreciated Sharon's eye for beautiful objects, just as he was fond of her acquisitive streak. However, he admits that sometimes he had to stop her from buying "everything that she could see". By working closely, the designer and Mrs. Osbourne have developed a unique, eclectic and utterly tasteful project. The style is not so easy to put into stiff frames, which fantastically reflects the family's vibe! It combines influences from all over the world in the form of decorations, custom-made furniture or precious antiques. The 19th century French tables and chandeliers go perfectly Mark Quinn's British sculpture, original Italian dolls and even the sliding barn doors found at American Garage. In an attempt to pinpoint this dazzling variety, one might assume that the design represents a mixture of shabby chic, classical, cape cod and glamour. After all, glam definitely rocks in a rocker's house!
Similar look
Pamela Harvey's interior design featuring Doris Leslie Blau rug
THE POWER OF PASTEL PALETTE
What really draws attention are the beautiful, delicate colors applied with fantasy but without excess (ok, maybe just a little 😉 ). Interiors are ruled by light blue, dusty pink, lilac and the king of all colors – white. It makes the house look spacious, full of light and serene. "Can you believe the Prince of Darkness sleeps in a mirrored four-poster bed, with lilac painted-silk walls and satin curtains?", Lawrence asks jokingly. Exactly, where was Ozzy in all that? No worries, the Marie Antoinette's dream bedroom has his friendly touch – near the foot of the bed there is a hiding place for a large flat-screen TV, that shows up when activated by a beside button.
Moreover, the Hidden Hills residence contains areas that remain in contrast to the predominating "girly" aesthetics –let's call it the darker side. There are rooms including wood-burning fireplaces and paneled walls as well as a home recording studio. We may safely assume that it was there where the Prince of Darkness loaded his sinister batteries. Although the Osbourne family does not live in the Los Angeles residence anymore, they left a beautiful monument of contemporary eclectic art behind them, which will be remembered for generations.
All the quotes and photos come from https://www.architecturaldigest.com/story/ozzy-sharon-osbourne-home-article