Bakhtiari Rugs & Carpets
Persian Bakhtiari Rugs Design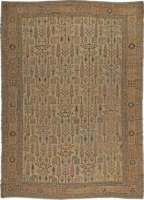 Bakhtiari rugs
 boast some of the most appealing and intriguing patterns, copied by many other Persian weaving centers. These mesmerizing Bakhtiar carpets are characterized by a unique style that incorporates both nomadic tribal and urban antique Persian Bakhtiari designs. This incredible merger of folk and chic gives absolutely awe-inspiring results, making Persian Bakhtiari rugs one of the most widely sought-after items by collectors and design aficionados alike.
The prevailing motif of these incredible carpets is nature. Floral or garden-inspired patterns are sometimes combined with animal representations, or arranged in utterly elegant, classic medallions. 'Khesti', an established garden motif, is perhaps the most well-known Bakhtiari rug design, in which the carpet is divided into individual squares with animals and plants acting as main symbols. Persian Bakhtiari rugs have miscellaneous color palettes which also depend on a tribe, nonetheless the majority of them includes natural shades of white, reds , greens, yellows and browns.
History of Persian Bakhtiari Rugs
The Bakhtiari, a colorful nomadic tribe from South Central Persia, migrates in summer with their herds from the plains near the Persian Gulf on the east of the Zagros Mountains, to the more mountainous pastures in the west, and then back again in winter. To the east of the Zagros range lies Chahar Mahal, the area where the bulk of antique 
Persian Bakhtiar rugs
 and carpets were produced.
Here, the weavers constitute a mixture of Kurds, Lurs, Armenians and even Turkmen tribes people. In the early nineteenth century, some of the Bakhtiari leaders settled in the Chahar Mahal region, where their relative wealth gave them the status of 'gentry' thus the Bakhtiari name was appended to the region and its substantial carpet and rug production. These distinctive antique Qajar carpets are among the boldest and most dynamic of antique Persian rugs, and are distinguished by the liberal use of blue-black or charcoal, both as an outline of the individual design elements, or as the field color.
Quality of Persian Bakhtiari Rugs
Although originally woven by nomadic peoples, the most authentic Bakhtiari rugs are made by settled communities in west central Iran southwest of Isfahan, Chahar Mahaal and Bakhtiari and parts of the provinces of Isfahan, Lorestan, and eastern Khuzestan, most notably in the town of Shahr-Kurd. 
Persian Bakhtiari rugs are based on a cotton foundation with a woolen weft, usually taken from the flocks of the producing tribe. This leads to an interesting diversity of Bakhtiari rugs which differ depending on the type of each community's wool. The wool comes in various degrees of gloss, from dull to extremely shiny, and the resultant pile is trimmed medium to high to provide the most pleasing and tender carpets. The finest Persian Bakhtiari rugs are distinguished by an extremely high knot density and known as 'Bibibaff'.
An Exceptional Collection of Persian Bakhtiar Rugs for Sale