This Martha's Vineyard Summer Home Is As Cozy As It Gets.
Architect Andrew Franz creates a collection of intimate spaces within a sprawling retreat.
We are exclusive rug dealer in NYC Doris Leslie Blau! Our timeless and iconic pieces are featured in our vintage rug shop located in New York. Established since 1965. World's most recognizable brand for the Persian, oriental, antique and vintage rugs and makers of the finest custom carpets. Antique oriental rugs (persian, vintage oriental carpets and rugs for sale). Some of these extra large area rugs are so rare that no more than a few exist in the entire world.
Reprinted from Architectural Digest, May 2017
Martha's Vineyard may be the preferred vacation destination for many a past president, but that doesn't mean all the houses there are palatial. In fact, much of the island's charm lies in its storied resistance to conspicuous consumption and starter castles. Mindful and respectful of the area's understated aesthetic, a Manhattan couple looking to build a summer getaway in the area gave very clear marching orders to their architect, Andrew Franz: No McMansion.
Instead, what they sought was a home that captured the island's beautiful light, a home that didn't feel big or imposing: a home that was, in their words, built "snugly with low-maintenance materials." And because the couple, who have two teenagers, are writers and self-described introverts, they also asked for as many intimate corners to curl up with a book in as possible.

To that end, Franz made sure that coziness was part of the new house's DNA. "There are large spaces, but also rooms with low ceilings. Some of the smaller bedrooms have pitched ceilings that start at six-foot-six, allowing you to hear rain falling on the roof," he says. And despite its expansive size (approximately 4,500 square feet), the home still feels modest and informal: "We achieved this by breaking it down into two distinct structures connected by a bridge and placing a third, the garage, in the front yard to minimize the home's generous scale."
The clients didn't want their residence to be a mere replica of a traditional beachside cottage, though. While weathered cedar shingles and traditional windows reference the area's design heritage, the architecture of the home is essentially modern. "The house was not meant to fool anyone into thinking it was original or historic," says Franz. Indeed, it was meant to be wholly original, to both stand out and blend in—and on those counts, this gem of a summer retreat succeeds brilliantly.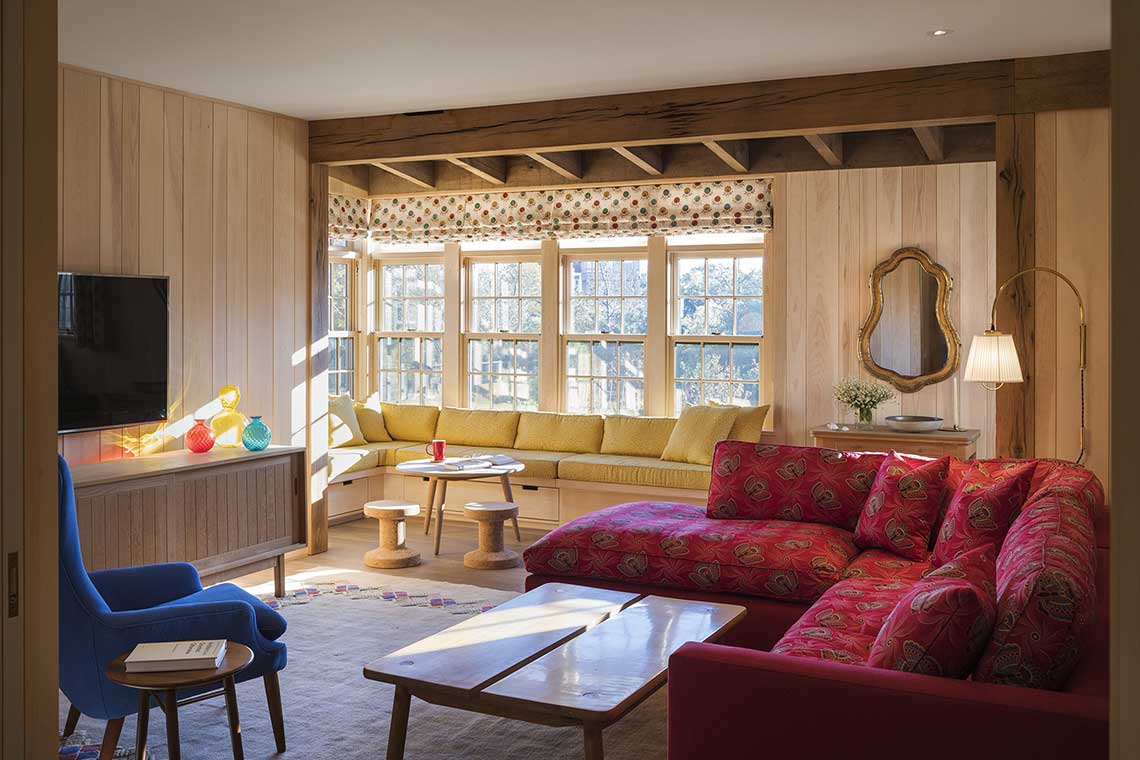 Dubbed the "movie room" and "the rainy day room," the den was allowed to be a bit more dramatic and playful, says Franz. That meant more color and spark in this space than in the rest of the home. "We didn't want any element—interior or architectural—to be crisp, hierarchical, formal, or pretentious," say the homeowners. The plush red sectional is a custom creation by Franz.
Albert Vecerka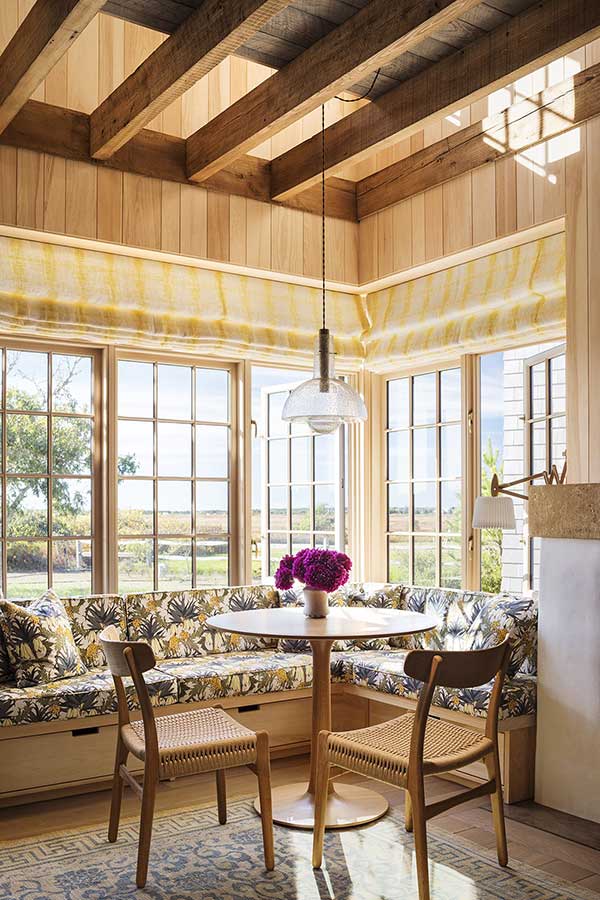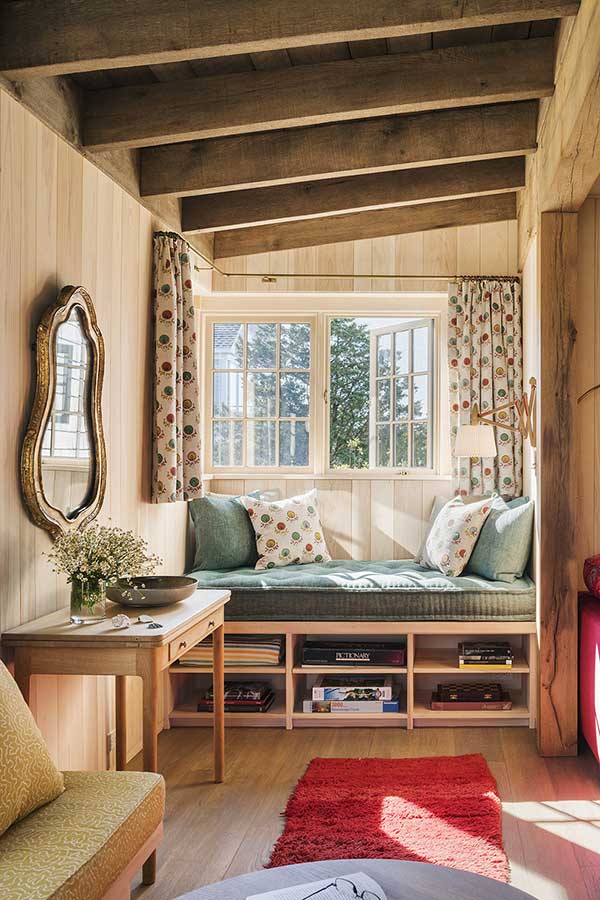 1. "Almost every surface in the house is covered in wood," says Franz. The walls are mostly Northeastern white pine, the floors plain sawn oak; the boards on both are of various widths to "minimize the preciousness" factor, he explains. The exposed structural elements, meanwhile, feature reclaimed wood from old barns and buildings on the East Coast for a more relaxed look.
Albert Vecerka
2. The breakfast nook features "fabrics that, like the architecture, were selected to harness the spirit of the cottage, without being literal and resorting to ginghams and slipcovers," says Franz. The fabrics for the Roman shades (Cleopatra Gold by Eskayel) and the banquette (Friti by Abigail Borg) are from Studio Four NYC. A vintage Italian Murano glass pendant light hovers over a small dining table from Suite NY.
Albert Vecerka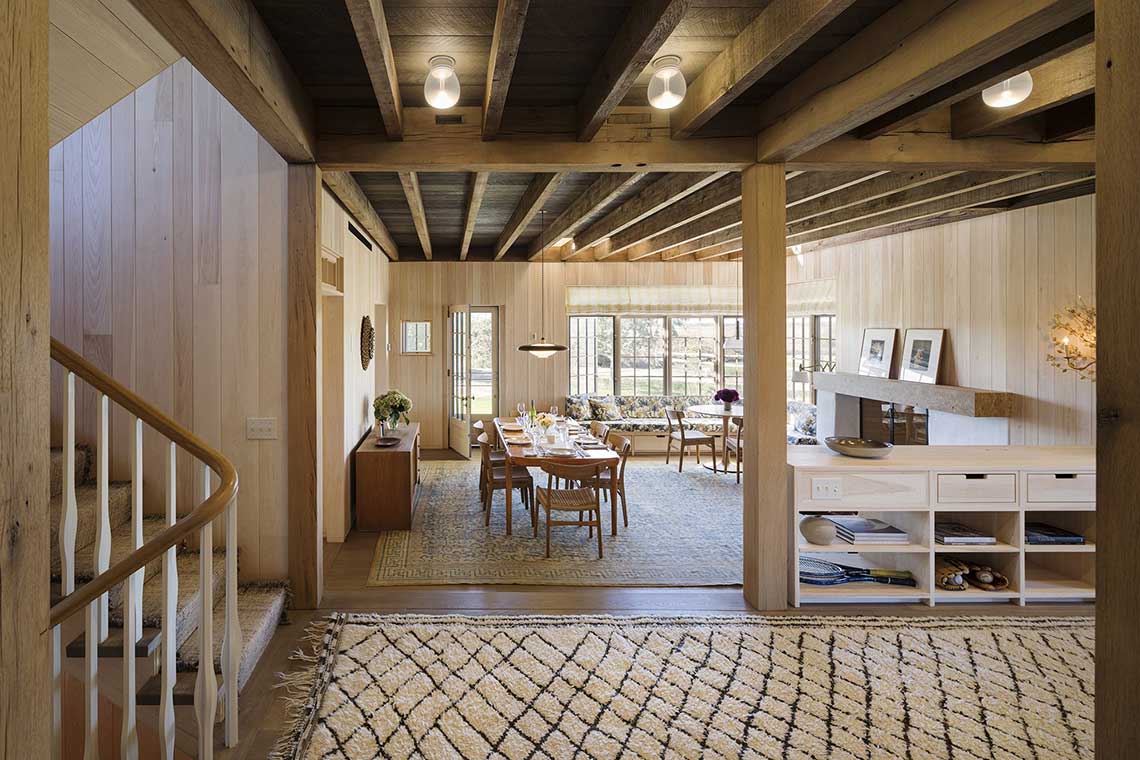 Artemide's Empatia ceiling lights float above a Moroccan Beni Ourain rug from Bruun Rasmussen in the simple but sophisticated entryway. In the dining area just off it, Hans Wegner chairs surround a vintage Swedish pine table.
Albert Vecerka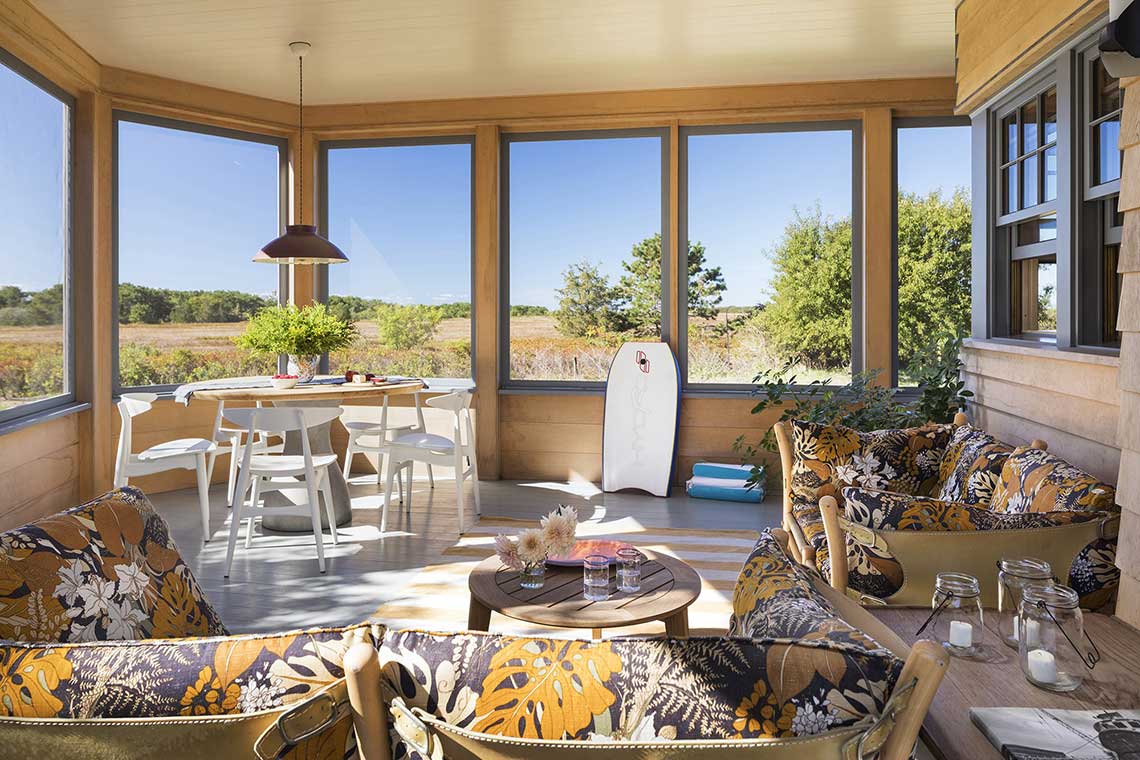 "My favorite room by far is the screened porch," reveals Franz. "It is delightful from morning to night, with east, south, and west exposures. I could live here." The sofas are vintage Ilona with original fabric by Arne Norell.
Albert Vecerka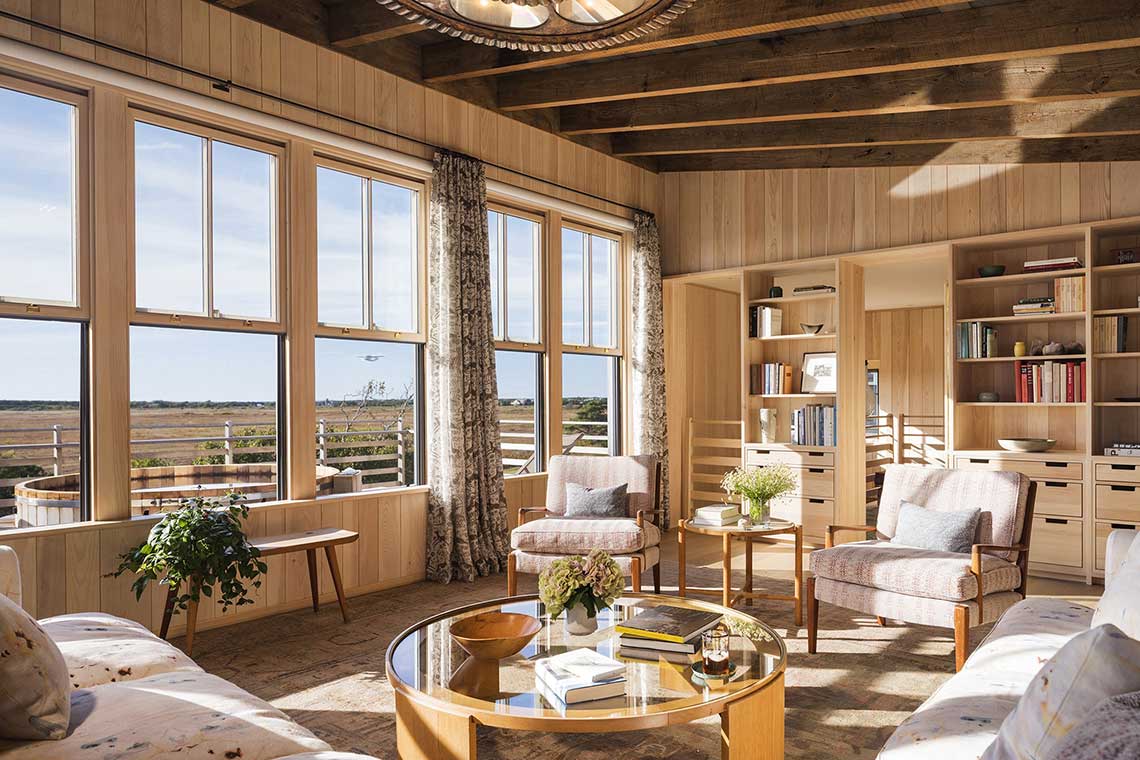 Much of the furniture is Scandinavian in feel and/or origin. "The goal was soft forms that worked well against the house's geometry and woods," says Franz. In the living room, the vintage carpet, custom sofa by Franz, and Westnofa Siesta chairs by Ingmar Relling, all in a neutral palette, reflect the colors outside.
Albert Vecerka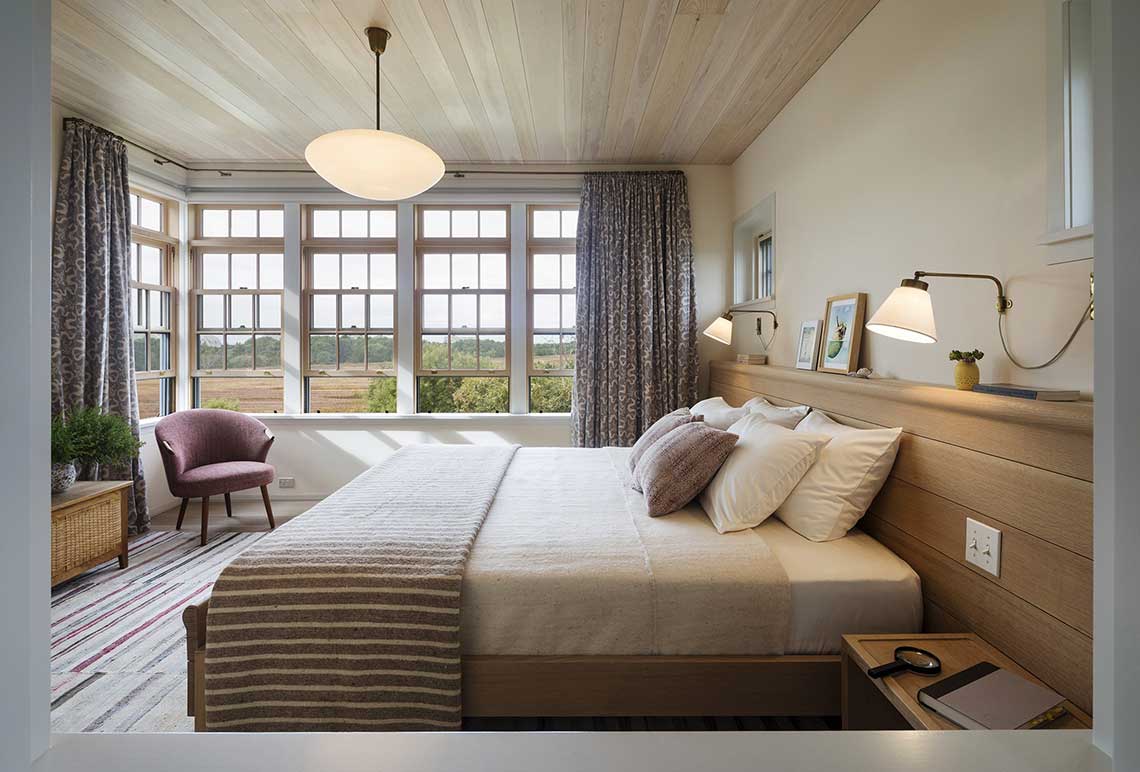 The bedrooms are the only areas in the home that have plaster instead of wood walls. "We decided to lighten the personal rooms a bit," says Franz. The bespoke oak bed in the master bedroom is by OTTO, which is Franz's new lighting and furniture line.
Albert Vecerka
Reprinted from Architectural Digest, May 2017