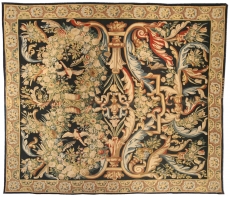 Manufacture des Gobelins
Skilled artisans make Gobelin rugs at The Manufacture des Gobelins. It is a tapestry factory in Paris. In the past it was a royal factory and a museum. It is best known for supplying the court of Louis XIV and other monarchs. Currently the French Ministry takes came of it. Also, tourists can come and admire it during guided tours.
The History of Antique Gobelins Rugs
The Gobelins were a family of dyers. They operated a small dying factory in Paris. In 1602, Henry IV rented factory space from the Gobelins for his Flemish tapestry makers. In 1662, the Gobelins sold the area to Jean-Baptiste Colbert. He transformed it into a general upholstery factory. Charles Le Brun was the chief designer from 1663 until 1690. Louis XIV's finical problems was th reason why tehy closed the factory in 1694. However, it re-opened in 1697 to manufacture tapestries for royal use. The owners suspended the work at the factory during the French Revolution. Later on, the Bourbon Restoration revived the factory. They began to manufacture Antique Gobelins Rugs as well as tapestries. In 1871, the building experienced a fire set by the Communards. Later the govenment rebuilt the factory and it still operates today. Now it is a state-run facility which produces Antique Gobelins Rugs.
The Gobelins of Our Time
At present, the factory consists of four outpost buildings and another on the avenue des Gobelins. The latter comes from 1871. The buildings contain Le Bruns residence, workshops and the remains of the foundries that made statutes for the park of Versailles. They also maintain and use looms. The artist weave tapestries on them following the seventeenth century techniques. The French use these tapestries in the decoration of French governmental sites and feature contemporary subjects.
There are Gobelin tapestries available for you to purchase for your own home. However, due to their limited production, many people choose reproductions. An Antique Gobelin Rug brings a subtle elegance to your home. The rich history of these tapestries makes an excellent focal piece or a simple wall decoration. The patterns of the new rugs are complex, ornate designs. However, reproductions do not reach the complexity of authentic Gobelin rugs.