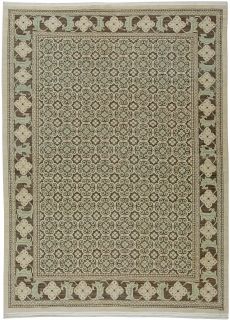 The expression allover rugs or allover rug design refers to the pattern repeated on a rug over and over. This kind of motif allows the rug's owner to place the furniture anywhere on the rug without covering the design. Usually the scale of the design is relatively small.
Different Kinds of Allover Rugs
You can find rugs with allover designs among Antique Persians, particularly Tabriz rugs, as well as Antique Turkish, Indian and Chinese rugs. Nevertheless, allover designs are more prevalent in vintage European rugs. The Art Deco Textile designer Paule Leleu is known for her repetitive use of diamond shapes. However, not all of her designs can be classified as allover rugs. To create an allover design, she also frequently uses flower motifs. On the other hand, the creators of Scandinavian rugs prefer abstract geometric shapes. These artists can feel less constrained as the Scandinavian market for allover rugs is more casual and less pretentious.
Allover Rugs in Art Deco Surroundings
Allover rug designs are the ones that add texture without dominating a room. In addition, they provide richness and softness of line while complimenting modern or traditional décor. Imagine your classic Art Deco building with its unique details. Perhaps you could choose an Art Deco rug and the eye would rove around and settle on the rug. Is that what you would like to happen? You would perhaps want people to appreciate the windows and the small carved details. In such a case an allover rug might be a better match for your design. It will fulfill its practical role of adding warmth and softness. At the same time it won't distract the viewers so that they can appreciate the other features of the room. In Art Deco this is usually the use of wood and glass: door handles and the light coming through stained glass.
Allover Rugs in a Minimalist Space
Rugs can be pieces of art or objects that can bring balance or change the appearance of the floor. Sometimes we choose them for their color, because they look good against pale shades. In other cases we want them to match similar hues. Even a much whiter, hard lined, modern space could benefit from an allover rug design. In a more simple building this kind of rug would stand out strongly while maintaining symmetry that compliments a contemporary design. Then again if you put this style into a classic brown stone it would read as traditional, especially the coloring; it would feel like a rug made for use, for baby feet to run on, for sitting in front of the fire. Allover rugs can  definitely be called the most flexible of designs.