Vintage Rugs
We welcome you to see our collection of vintage rugs in New York.
History of Vintage Rugs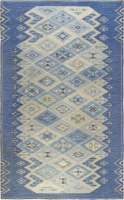 Stylistically vintage rugs have the same appeal as vintage furniture. They are clearly defined by the 20th century and by the celebration of new ideas and values for a modern lifestyle. Fine art and quality craftsmanship are two of the main components of carpet design. Vintage rugs were typically made after 1920. Antique carpets are considered to be made before the 1920. The modern design movement first emerged in the 1920's. It has evolved through interpreting modern design through the mid-20th century. Modernism is a great reflection of the transition from the era of the Victorian salons into the era of cafe society.
Art Deco represented for a very long time has represented high fashion and luxury in France. The studios of Emile Jacques Ruhlmann, Jules Leleu, Paul Follot and Maurice Dufrene are probably the best known for this type of interior decoration. Ivan Da Silva Bruhns and Paule Leleu, the daughter of Jules Leleu designed rugs for the house of Leleu while Suzanne Guiguichon was designing rugs for Maurice Dufrene. Other infamous vintage carpet designers included Marion Dorn, Jules Coudyser, Rene Crevel and Vladimir Boberman. Bold colorful floral designs and graphic geometric patterns were equally popular during this time period.
Simultaneously the famous Bauhaus school was founded in Germany with the philosophy of combining fine art training and apprenticeships with craftsmen and theoretical instruction. The most widely known Bauhaus weavers included Johannes Iten, Gunta Stolz and Anni Albers. The Bauhaus school and movement is credited with having unsurpassed influence on art deco carpets and is clearly apparent in Scandinavian design.
Types of Vintage Rugs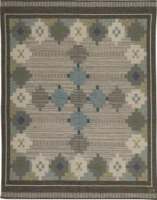 Scandinavian rugs and particularly vintage Swedish carpets have become known for intricate weaving techniques, exceptional color palettes and most importantly their compatibility with modern and also contemporary interiors. Marta Maas-Fjetterstrom is widely recognized as one of the most influential Designers and weavers of Swedish rugs establishing her own company in 1919. Barbro Nilsson became the director and chief designer of the company in 1942 after Marta Maas-Fjetterstrom's death the year before. Other important designers in the mid 20th century include Ingrid Dessau, Marin Hemmingson, Sigvard Bernadotte, Brita Grahn, Edna Martin and Viola Grasten. All of whom were designing throughout the mid 20th century and even later in history. Vintage carpets have recently gained in popularity for interior designers due to their frequently minimalistic designs and muted color palettes.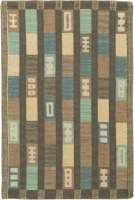 Rug production in China during this period was absolutely influenced by the fine Art Deco carpets being produced in France. Chinese Deco tend to be more floral than geometric. These beautiful rugs do appear to have an Asian influence particularly in the use of colors, occasionally bamboo vines, and leaves. They are also clearly modern in the scale of the design.
Also included in the vintage rugs category are Moroccan carpets. Moroccan rugs have a very unique and distinct look. They typically have tribal patterns and are graphic and geometric. Moroccan rug motifs influenced designers such as Ivan Da Silva Bruhn and Vladimir Boberman. American Interior Designer Francis Elkins used them in some of her most notable interiors in the 1930's and 1940's.
At the same time the modernist movement was growing rapidly in the United States and was widely accepted here most likely as a result of major exhibitions at the Museum of Modern Art and at the Metropolitan Museum. These exhibitions presented the movement to the masses. Some of the most notable textile and rug designers working in the United States included Donald Desky, Stanislav V'Soske, Eliel Saarinen, Loja Saarinen (the mother of Eero Saarinen) and Ruth Reeves. After the close of the Bauhaus school many of the architects and designers associated with the school immigrated to The United States including Josef and Anni Albers.
An Exceptional Collection of Vintage Carpets
Please visit our gallery in New York at 306 East 61st Street, 7th Floor