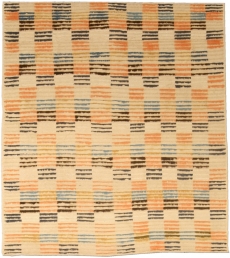 Tulu is the English word for the Turkish term 'tuylu' which means hairy. Tulu carpets are a variety of Turkish carpet. The weaving technique used in producing these rugs and carpets is same as other Western and Middle Anatolian rugs. The weft count in these rugs is slightly more that the other regional carpets yielding a softer, warmer, deeper pile. These carpets are woven in the region of Karapinar which is located east of Konya. In ancient times, about 7,000 years ago, Anatolian civilizations flourished in this stark landscape. About 80 years ago this region became populated by Turkoman and Greek villagers.
This area gained a reputation for high-quality rug weaving and became a commercial center of rug production because of the availability of high-quality yarn and cheap, skilled labor available.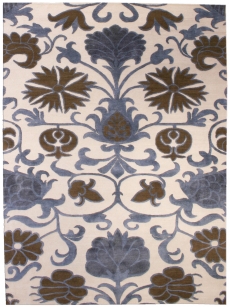 The Tibetan knot is famous in the rug industry. It gives a new and distinctive design to the rug. This knot is formed by looping the yarn around two warps and then further around a rod. In this manner a whole row of loops is created and then cut down to make a knot. The Tibetan knot is used in many kinds of rugs and is popular in many rug weaving communities.
What are Tibetan knot rugs?
The modern rug industry features an almost unlimited array of designs. Many make use of Tibetan knots in the creating their handiwork. You will find many carpet designers making use of these knots and accompanied by ornamented borders and motifs in carpet weaving. Use of Tibetan knots in rug weaving requires a certain level of expertise. These knots are not like the symmetrical and asymmetrical Persian knots which are easier to weave.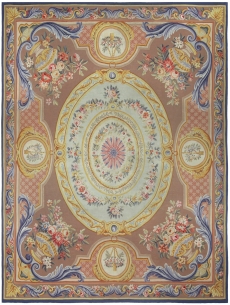 Among our custom rug options and in our current inventory, our period-inspired rugs have either been inspired by or closely reproduce antique or vintage rug designs. From architectural Aubusson carpets and all-over floral Sultanabad rugs to abstract modern designs and relaxed graphic Moroccans Rugs, our period-inspired rugs are beautiful, refreshing, and durable. Available in various colors, qualities and techniques, each of the period-inspired rugs captures the history behind the design.
The vastness of our weaves and techniques for period-inspired rugs and our ability to capture many design inspirations often makes a period-inspired rug an excellent choice for a designer who cannot find the perfect antique rug due to its size, color or pattern or who cannot choose an original antique rug due to budget limitations.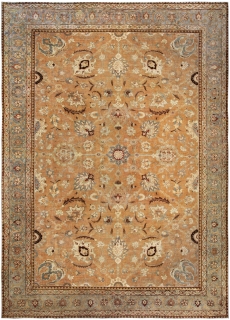 Antique Rugs and vintage rugs add a dimension of style and history to a room that no other floor covering can match. Varying in style, based on local tradition, these rugs have been used for thousands of years as a beautiful and practical foundation on which to build a room. With offerings of antique Persian rugs, antique Oriental rugs, antique Karastan rugs, antique area rugs, vintage rugs, and Moroccan rugs, no matter your preference for color, texture, style or vintage, Doris Leslie Blau offers the widest selection of antique carpets and vintage carpets for sale to fulfill your dreams.
While some of the technology may have evolved, the basic art of making rugs has not changed for centuries; the same basic techniques and materials are used whether the antique carpet is from Turkey, China, Persia, India, Morocco, or Russia.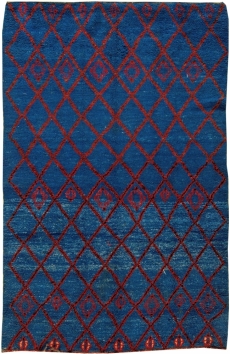 Interior design and product design of the mid 20th century have become iconic representations of modern design. Vintage rugs are also included as icons of design of the mid 20th century. Rugs of this period, 1940 through the 1960's include Moroccan, French Modernist and Scandinavians. The most sought after being Swedish rugs designed by textile artists such as Marta Maas-Fjetterstrom, Barbro Nilsson and Ingrid Dessau.
These Swedish rugs are easily identified as they are often signed. The initials of the designer can be found woven into the edge of the rug. MMF identifies Marta Maas-Fjetterstrom as the designer and when accompanied by the letters AB identifies the MMF facility in Bastaad as the studio where the rug was woven.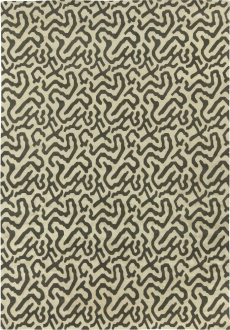 Rugs have been there ever since man thought he should have something beneath the feet even when slippers are not; contemporary rugs came in when stilettos replaced slippers! These rugs have their designs derived from modern forms of art such as graphical patterns and three D.
With antique carpets, a rug that fits in with the decor is hard to find but contemporary rugs make it easy to develop a harmony between the floor and the decor without much modification. Their styles vary just like designs in any fashion and ornamental items do. There are complex and intricate patterns on these contemporary rugs on one hand while on the other they can be as simple as squares and rectangles entangled in a mesh of vibrant threads weaved together by experts.