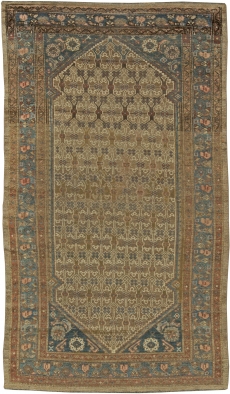 Hamadan is a large ancient city in Iran, located about 225 miles southwest of Tehran. Its history can be traced back to the times of the biblical Esther and Mordechai. Modern day Hamadan is now an important rug-weaving center in Iran, surrounded by hundreds of rug-producing towns and villages.
There are over a thousand villages in this area making rugs. Because of the prominence of the rug industry, the city's name became synonymous with the carpets they were producing. Since many of these villages were magnets for refugees from other countries, this place is now populated by different ethnicities and people of many religious backgrounds. This diversity in cultures served as a catalyst for creation of wide-ranging tapestries. Thus Hamadan rugs portray divergent designs, all of them excellent in quality and value.
Thick wool and coarse weaving were common characteristics of ancient Hamadan rugs. The texture of these rugs is rough but of excellent quality. As far as colors are concerned, these rugs mostly come in deep colors such as deep red and blue. But there are also Hamadan rugs that are off-white and others with soft neutral hues. All of these colors are produced from natural plant dyes.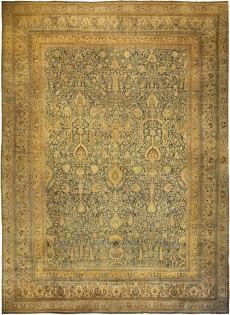 The Dorokhsh rug is synonymous with style and class. And with good reason. The name is taken from a town in the Khorasan region of Iran, which until modern times was northern Persia. And as anyone who knows anything about carpet production will tell you, a floor covering made in the region is among the best in the world. If you're looking for fine floor coverings, this is as good as it gets.
Characteristics
These rugs are available in a number of different designs, each one very finely woven usually in multiple colors. A quick look at a carpet will show intricate designs and patterns are the norm. A large rug has especially wide borders so that the design becomes even more conspicuous. Traditional carpet design is based on the legacy of the ancient weavers in northeast Persia, with the emphasis on medallions or flora. However, there are many different styles now available, and while most follow the tradition, variations have emerged so you can get the look that best complements your home interior and suits your individual tastes.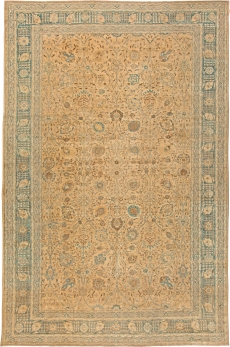 Antique Rugs and vintage rugs add a dimension of style and history to a room that no other floor covering can match. Varying in style, based on local tradition, these rugs have been used for thousands of years as a beautiful and practical foundation on which to build a room. With offerings of antique Persian rugs, antique Oriental rugs, antique Karastan rugs, antique area rugs, vintage rugs, and Moroccan rugs, no matter your preference for color, texture, style or vintage, Doris Leslie Blau offers the widest selection of antique carpets and vintage carpets for sale to fulfill your dreams.
While some of the technology may have evolved, the basic art of making rugs has not changed for centuries; the same basic techniques and materials are used whether the antique carpet is from Turkey, China, Persia, India, Morocco, or Russia.
Most high-end carpets were made in sophisticated urban settings, in well-established cities where value was placed on fine artistry and the stability of a permanent worksite allowed for use of larger and more sophisticated looms. The more casual tribal rugs were woven by nomadic tribesmen and women whose access was limited to coarser material and smaller, more basic, easily portable looms as opposed to the permanent looms used to make the more refined city rugs.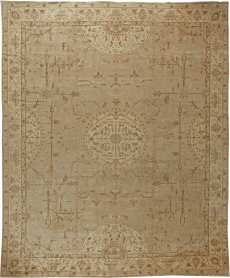 The beauty of Turkey is surpassed only by the superb quality of its carpets, a living tribute to the skilled weavers who labor to create these works of art. Carpet or rug weaving began in villages and towns in Central Asia and the Middle East about 3,000 years ago. Turkey most eminent carpet weaving techniques are still used today in making the most sought-after rugs in the market today.
An antique Borlou rug, for instance, has contrasting coloration such as royal blue, terracotta pink, acid yellow, and deep, dark reds which cannot be found in other rugs of similar material or weave. Easily distinguishable from their Persian or even Caucasian counterparts, Turkish rugs use a double knot, a classic feature that has become their signature. Creations by weavers from the Eastern Anatolian region tend to be colorful and bold, for example, while subdued designs characterize those from the city of Usak in Western Anatolia, seat of major rug manufacturing from the days of the Ottoman Empire until the early years of the 20th century.
Read more: You Don't Have to Go to Turkey to Get a Borlou for Your Living Room.  (Although You Might Want To.)
Exceptional rugs for your interior design