Free shipping for any antique or vintage rug
How to Select
an Antique Rug
Nader Bolour, president of Doris Leslie Blau, tells Wall Street Journal Wealth Adviser what you need to know about purchasing an antique or vintage rug.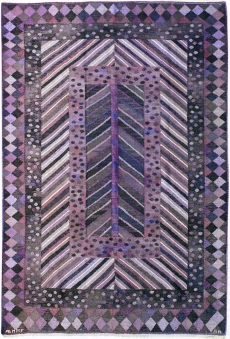 Art & Antiques, September 2014
Twentieth-century carpets weave strands of modernist geometry and color abstraction into traditional formats, taking textile into the realm of fine art.
From Sweden comes a large, intricate flat-weave carpet with the bordered rectangles-within-rectangles type of design familiar from oriental examples. Except this one's color scheme is like nothing ever seen in Samarkand or Bokhara—all various shades of purple. Amid the diagonal stripes and diamonds, instead of the traditional regular lozenges it has little de-centered blobs, like amoebas doing their own thing. A French pile carpet, bursting with bright reds like poppy blossoms, set off by pale greens and dark brown splotches, seems more like an abstract painting than a textile. And from England comes a square, handwoven wool carpet whose design of vines, flowers, and bulbs recalls a medieval tapestry. These three carpets, by Marianne Richter, René Crevel, and C.F.A. Voysey, respectively, came on the block this past June at Wright, a Chicago auction house that specializes in 20th-century design, and they represent the aesthetic diversity and boldness of modernist carpets, a genre that has long been recognized by designers but is increasingly finding favor among collectors as works of art.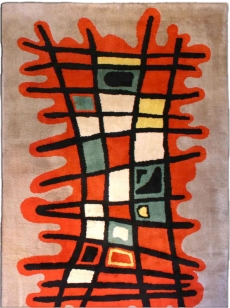 The political, cultural and artistic movement of Modernism in art, architecture, music, literature and applied arts emerged in the three decades preceding the First World War, making extraordinarily powerful changes to Western society that are still relevant today. Modernist architects and designers strongly believed that the new technology rendered old Victorian styles obsolete. In rejecting the old decorative motifs, these modernist designers, including designers of modern rugs preferred to emphasize pure geometrical forms, along with the use of new and innovative materials in their modernist carpet design and production. The skyscraper became the archetypal symbol of the era and modernist carpet designs began to emphasize simplicity and clarity of form.
Vintage modernist rugs were created by illustrious designers of the period that include Ivan da Silva Bruhns in France, Edward McKnight Kauffer and Marion Dorn in England and Frank Lloyd Wright in America. It is important to note that modern rugs today are often seen to include the decorative Art Deco rugs or Viennese Art Nouveau rugs, but modernist rugs specifically rejected these decorative principles and emphasized simplicity and utility.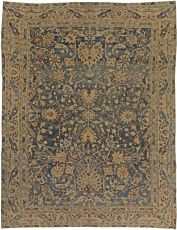 The making of antique rugs has not changed for centuries; the same rudimentary techniques and materials are used from Turkey, China, Persia, India, Morocco, Russia, Europe and the surrounding areas. Each culture ensures the longevity of their design iconography through the making of the rugs. Antique rugs can stand on their own for historical importance and cultural significance. Most high-end carpets were made in sophisticated urban settings in well established cities where value was placed on such fine artistry. The more casual Persian tribal rugs were woven by nomadic tribesmen and women as they had access to coarser material and did not have the advantage of established rug looms such as those used to make refined city rugs. As antique rugs are perishable this leaves us with a very vague evolutionary outline indeed.
Antique carpets can vary in color, size, designs and material. The current trend in buying antique rugs is towards the washed-out neutral colors which can be used in any environment. Although antique oriental rugs come in a plethora of rainbow colors they anchor any room and create an inviting ambiance. It was once said that, "the carpet/rug is the soul of the apartment." Antique rugs were originally made for the western market in countries such as India, Persia and Turkey. As the industrial revolution created a new merchant class, antique rugs were one of their status symbols for wealth and good taste. Watch any period film form the late 19th or early 20th century and you will almost certainly see an oriental rug in one of the interiors.
Exceptional rugs for your interior design