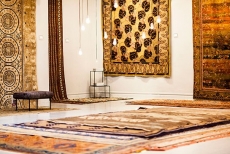 By Hannah Martin, Architectural Digest, October 8, 2014.
Graham Head confesses that he's probably bought more rugs than any other human on the planet. Except for, possibly, Nader Bolour. This should come as no surprise. As the vice chairman of ABC Carpet & Home and the owner of renowned rug dealership Doris Leslie Blau, respectively, these men have followed their love of floor coverings quite literally to the ends of the earth.
On Tuesday, October 7th, Head and Bolour opened "The Thrill of the Hunt," a gallery-like collaboration at ABC Carpet & Home that showcases 24 handmade heirloom carpets that have as much personality as provenance.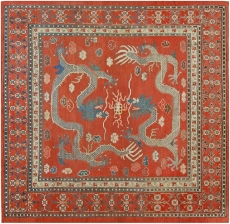 By Jamie Wiebe, Elle Decor
These handmade antique rugs have been carefully sourced from across the globe—and you can buy them for your home.
Every living room needs a rug, and the best living rooms deserve something better: A beautiful vintage, handmade rug, one that brings not just texture and color but also a powerful sense of history. Beautiful rugs should be created slowly, each intricate pattern designed and woven by artisans, but many of today's mass-produced offerings forego that process for a quicker, cheaper product. But that doesn't have to be the case—and the collectors and carpet experts at ABC Carpet & Home and Doris Leslie Blau have travelled across the globe to develop an exclusive collection of 24 one-of-a-kind rugs, sourced from Morocco, East Turkestan, Persia, China, France, North Africa, Russia, Sweden, Mongolia, Iran, India, and the USA. They ultimately hope to encourage buyers to more deeply consider the tradition and creation of their home's rugs—and to foster a tradition of handmade rugs that they worry is petering out.
Read more: 18 Rugs That Prove Handmade Is Best (And How To Buy Them!)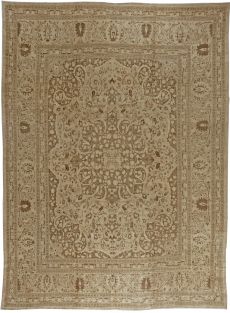 Tabriz, the capital of the northwestern province of Azerbaijan, has for centuries enjoyed a great reputation as a center of Persian culture. Under the benign patronage of Shah Abbas the Great (1587-1629), artists and artisans designed illuminated manuscripts, embroidered silks, painted miniatures and fabricated metal work in the Safavid style. In this fertile atmosphere, the Court weavers of Tabriz were inspired to reach their artistic zenith and created exceptional Antique Persian Tabriz Rugs. The early eighteenth century saw the end of the Safavid Empire and the decline of the town of Tabriz with its legendary craftsmanship falling into decay. Under the Qajar Dynasty (1786-1925) the workshops of Tabriz were gradually revived; by the 1880s another golden age was underway and Tabriz again began to re-establish its position as the center for the exporting of Persian rugs to the West.
Designs of antique Persian Tabriz rugs feature medallions, hunting scenes, flowers, and gardens; along with prayer and pictorial rugs interpreted in a curvilinear manner. A refined palette reliant on copper tones, terracotta and ivory, with shades of blue and subtle touches of gold, green and salmon are prevalent in antique Tabriz rugs. Some extremely luxurious Persian Tabriz rugs and antique carpets were woven in silk. Haji Jalili, master weaver of the Qajar era is renowned for producing some of the most superlative of antique oriental rugs. Within the span of nineteenth century decorative arts, it is still generally acknowledged that the finest Antique Persian Carpets and Rugs are unsurpassed for both quality and beauty.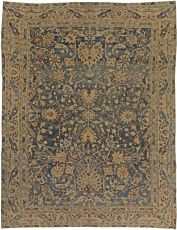 The making of antique rugs has not changed for centuries; the same rudimentary techniques and materials are used from Turkey, China, Persia, India, Morocco, Russia, Europe and the surrounding areas. Each culture ensures the longevity of their design iconography through the making of the carpets. Antique rugs can stand on their own for historical importance and cultural significance. Most high-end carpets were made in sophisticated urban settings in well established cities where value was placed on such fine artistry.The more casual Persian tribal rugs were woven by nomadic tribesmen and women as they had access to coarser material and did not have the advantage of established rug looms such as those used to make refined city rugs. As antique rugs are perishable this leaves us with a very vague evolutionary outline indeed.
Antique carpets can vary in color, size, designs and material. The current trend in buying antique rugs is towards the washed-out neutral colors which can be used in any environment. Although antique oriental rugs come in a plethora of rainbow colors they anchor any room and create an inviting ambiance. It was once said that, "the carpet/rug is the soul of the apartment." Antique rugs were originally made for the western market in countries such as India, Persia and Turkey. As the industrial revolution created a new merchant class, antique rugs were one of their status symbols for wealth and good taste. Watch any period film form the late 19th or early 20th century and you will almost certainly see an oriental rug in one of the interiors.
Exceptional rugs for your interior design