The Old... The New... The Future! - Second Edition
You can see our new book online, or if you're a designer and would like a hardcopy, give us a call or email Nader@DLBrugs.com and we'll happily send one your way.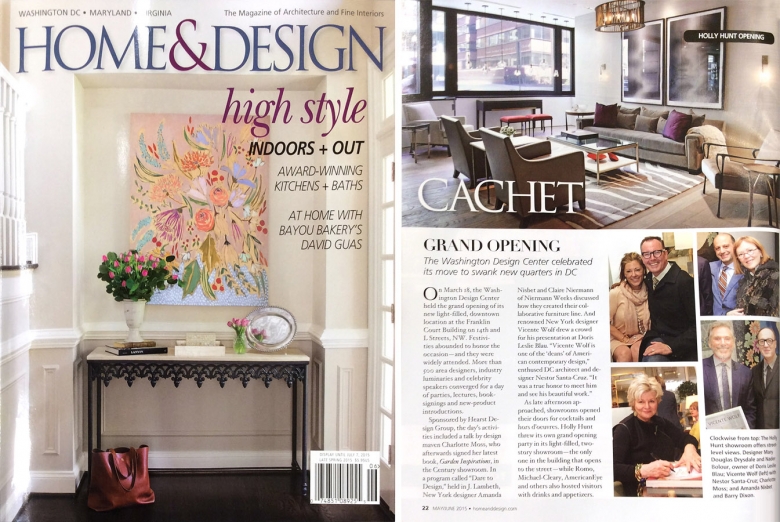 Reprinted from HOME&DESIGN, May/June, 2015
The Washington Design Center celebrated its move to swank new quarters in DC
On March 18, the Washington Design Center held the grand opening of its new light-filled, downtown location at the Franklin Court Building on 14th and L Streets, NW. Festivities abounded to honor the occasion—and they were widely attended. More than 500 area designers, industry luminaries and celebrity speakers converged for a day of parties, lectures, book-signings and new-product introductions.
Sponsored by Hearst Design Group, the day's activities included a talk by design maven Charlotte Moss, who afterwards signed her latest book, Garden Inspirations, in the Century showroom. In a program caned "Dare to Design," held in J. Lambeth, New York designer Amanda Nisbet and Claire Niermann of Niermann Weeks discussed how they created their collaborative furniture line. And renowned New York designer Vicente Wolf drew a crowd for his presentation at Doris Leslie Blau. "Vicente Wolf is one of the 'deans' of American contemporary design, enthused DC architect and designer Nestor Santa-Cruz, "It was a true honor to meet him and sec his beautiful work."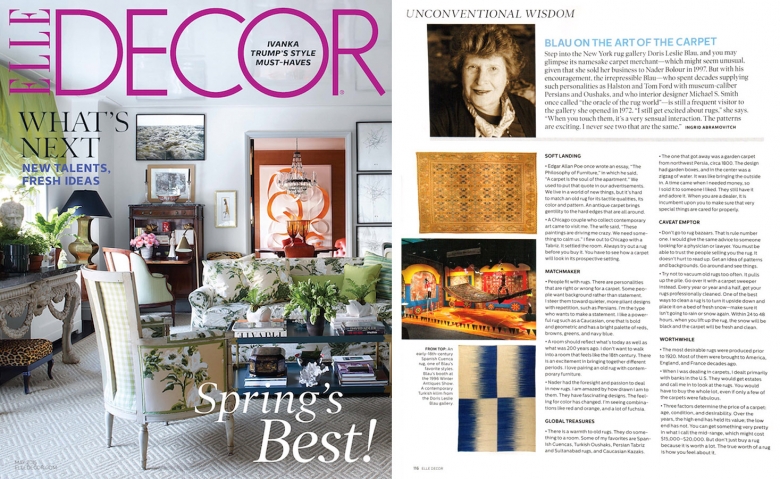 Reprinted from ELLE DECOR, May 2015
Step into the New York rug gallery Doris Leslie Blau, and you may glimpse its namesake carpet merchant—which might seem unusual, given that she sold her business to Nader Bolour in 1997. But with his encouragement, the irrepressible Blau—who spent decades supplying such personalities as Halston and Tom Ford with museum-caliber Persians and Oushaks, and who interior designer Michael S. Smith once called "the oracle of the rug world"—is still a frequent visitor to the gallery she opened in 1972. "I still get excited about rugs," she says. "When you touch them, it's a very sensual interaction. The patterns are exciting. I never see two that are the same." INGRID ABRAMOVITCH
SOFT LANDING
Edgar Allan Poe once wrote an essay, "The Philosophy of Furniture," in which he said, "A carpet is the soul of the apartment." We used to put that quote in our advertisements. We live in a world of new things, but it's hard to match an old rug for its tactile qualities, its color and pattern. An antique carpet brings gentility to the hard edges that are all around.
Read more: Unconventional Wisdom: Blau on the Art of the Carpet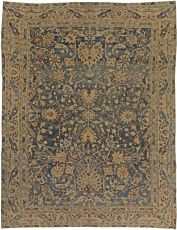 Antique Rugs and vintage rugs add a dimension of style and history to a room that no other floor covering can match. Varying in style, based on local tradition, these rugs have been used for thousands of years as a beautiful and practical foundation on which to build a room. With offerings of antique Persian rugs, antique Oriental rugs, antique Karastan rugs, antique area rugs, vintage rugs, and Moroccan rugs, no matter your preference for color, texture, style or vintage, Doris Leslie Blau offers the widest selection of antique carpets and vintage carpets for sale to fulfill your dreams.
While some of the technology may have evolved, the basic art of making rugs has not changed for centuries; the same basic techniques and materials are used whether the antique carpet is from Turkey, China, Persia, India, Morocco, or Russia.
Most high-end carpets were made in sophisticated urban settings, in well-established cities where value was placed on fine artistry and the stability of a permanent worksite allowed for use of larger and more sophisticated looms. The more casual tribal rugs were woven by nomadic tribesmen and women whose access was limited to coarser material and smaller, more basic, easily portable looms as opposed to the permanent looms used to make the more refined city rugs.
Exceptional rugs for your interior design