My first introduction to Turkish delight was reading C.S. Lewis's The Lion, The Witch, and The Wardrobe when I was about nine. In the story, Turkish delight was built up as so good that little Edmund Pevensie in the story becomes addicted then betrays his siblings for more.
Now, the rural Midwest wasn't exactly a mecca for Anatolian treats in the late '70s, so I didn't have the opportunity to try this memorable, powdered sugar-coated confection until a few years ago. My impression? Meh. But to look at it is delightful. Each piece is unique; sizes vary and the different fillings hint at a pattern.
Sounds a bit like a Turkish rug, doesn't it?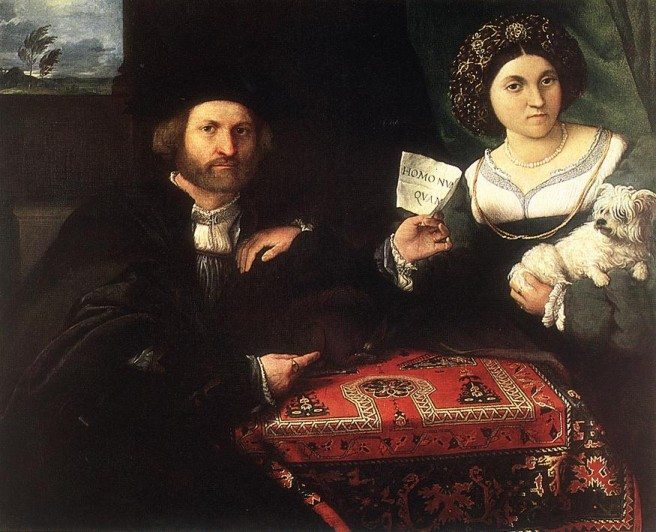 While the Turkish delight didn't win me over, Turkish rugs certainly do. Great Renaissance artists Van Eyck, Holbein and Lotto included oriental carpets in their paintings, like the one above.With that sort of history, many conventionally think they only work in traditional interiors.
However, a lot of folks don't realize their beauty particularly shines in contemporary settings. Sparse spaces and clean lines highlight the boldness of their graphic designs.
This bright little rug would get lost in a busier space. The neutral palette and streamlined design let this rug 'pop'.
Mid-century modern inspired spaces work exceptionally well with Turkish rugs. The gentle curves and tight wood grain of Modern furniture offset the geometry of the rug. So, each helps to enhance the other.  This Turkish rug features tree-of-life motifs and animal shapes.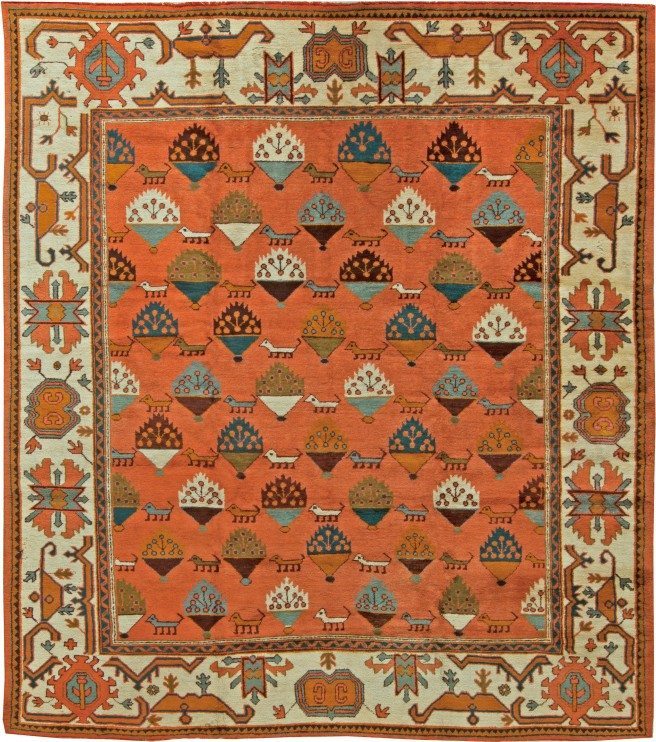 This c. 1940 Turkish Oushak from Doris Leslie Blau features even more animal figures flanked by palmette-like motifs. Oushaks typically have a longer pile and looser knots, giving them a coarser appearance compared to finer Persian rugs.
Here, the zig-zagging pattern in this colorful Turkish kilim pairs well with Hans J. Wegner's Wishbone Chairs, designed in 1949.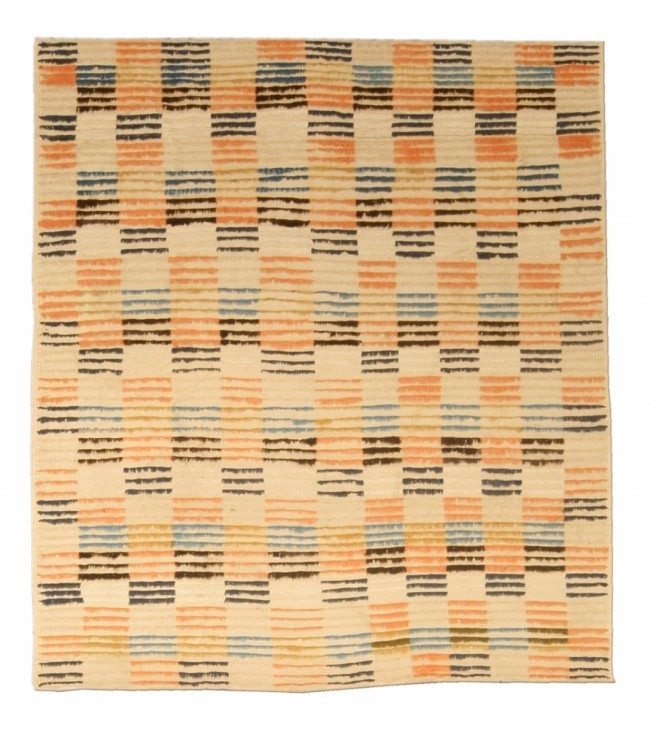 Some Turkish rugs, like this Tulu from Doris Leslie Blau, have a long pile and were made to keep its owners warm.  A Turkish Tulu would be a welcome addition to a bedroom – something to sink one's toes into when getting out of bed.
The clean lines of Asian design teams up with a Turkish kilim in this kitchen. Admittedly, most folks are too messy as cooks to pull this one off, but together, the cabinets and kilim look like kindred spirits.
The central medallion in this Turkish rug mimics the swanky chandelier hanging above it in this more transitional living room.  Luckily, the other furnishings are pared down to not detract from the vivid turquoise in the wall color and rug.
—————————————————————————————————————-
Karen Egly-Thompson is a former interior designer turned interiors writer. She writes regularly for Houzz and her work has appeared in publications such as Commercial Interior Design and Middle East Architect. Her blog Design Salad focuses on traditional design in contemporary context. A seeker of ideal coastal weather, Karen calls both Dubai and Maine home.