In decorating, a lot is being said about walls and floors yet ceilings are strangely neglected, as if that part of the house did not affect the overall décor. To demonstrate how untrue is this assumption and to show the immense power the top of a room may have on an interior, we present 10 statement ceilings that prove it is worth looking up!
The Mirror Ceiling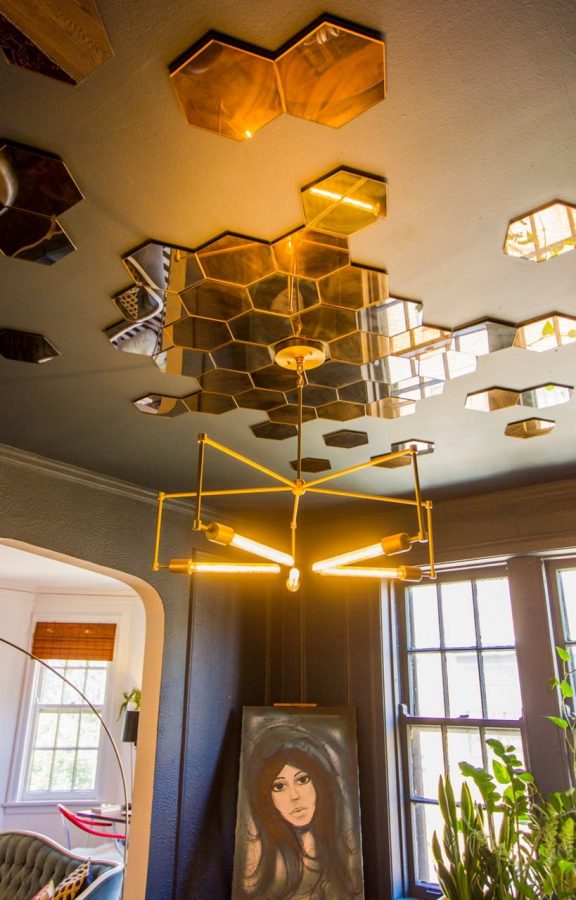 If the Evil Queen from Snow White lived today, she would definitely hang her mirror on the ceiling instead of the wall, especially after seeing these gorgeous reflective brass hexagons! Although we don't suspect Lauren Svenstrup of Studio Sven of maleficent intentions, she has definitely bewitched us with her project in which she transformed a relatively small place into a harmonious and intriguing living space, permeated with the artistic spirit by DIY elements as well as experimentation with forms, textures and shapes. This is the real magic.
The Geometric Ceiling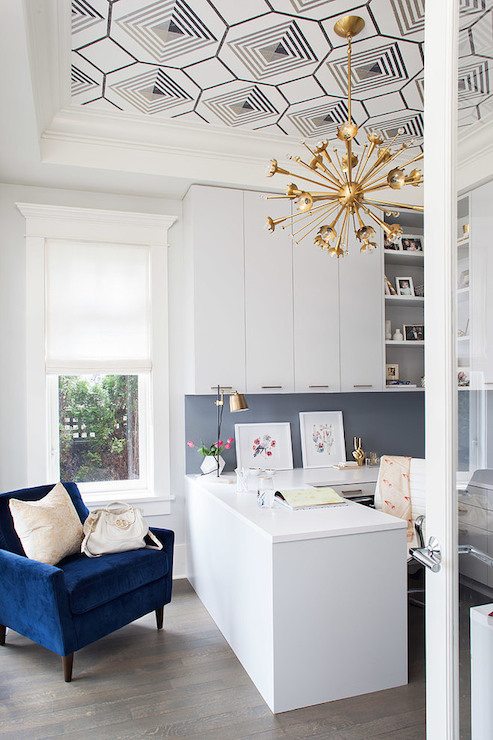 The geometric wallpaper, a brilliant idea of a decorator Terris Lightfoot, may be over the room but it is definitely not over-the-top! The patterned ceiling perfectly balances the minimalist furniture and the subdued palette of colors revolving around shades of white. It's a perfect way to add originality to the interior, while maintaining simplicity.
The Royal Chic Ceiling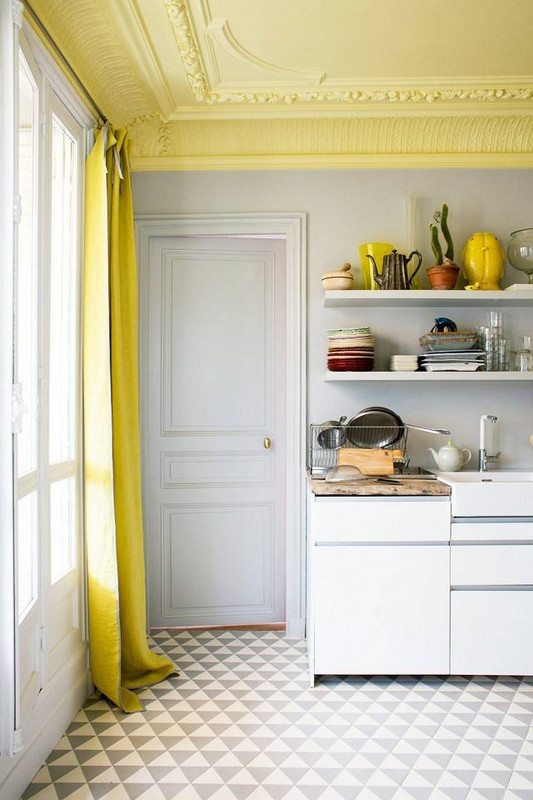 Here we have a space fitted for a true Marie Antoinette of our times! This absolutely dashing interior belongs to Beatrice and, as one might suspect, is located in Paris. The space exhibits an interesting and paradoxical combination of Scandinavian design (simple furniture, geometricized floor, delicate colors) with the Parisian, royal-like style represented by the stylized, ornamental ceiling in invigorating lemon yellow. It is a proof that the French can pull off any look with ease, both in fashion and decorating.
The Antique Rug Ceiling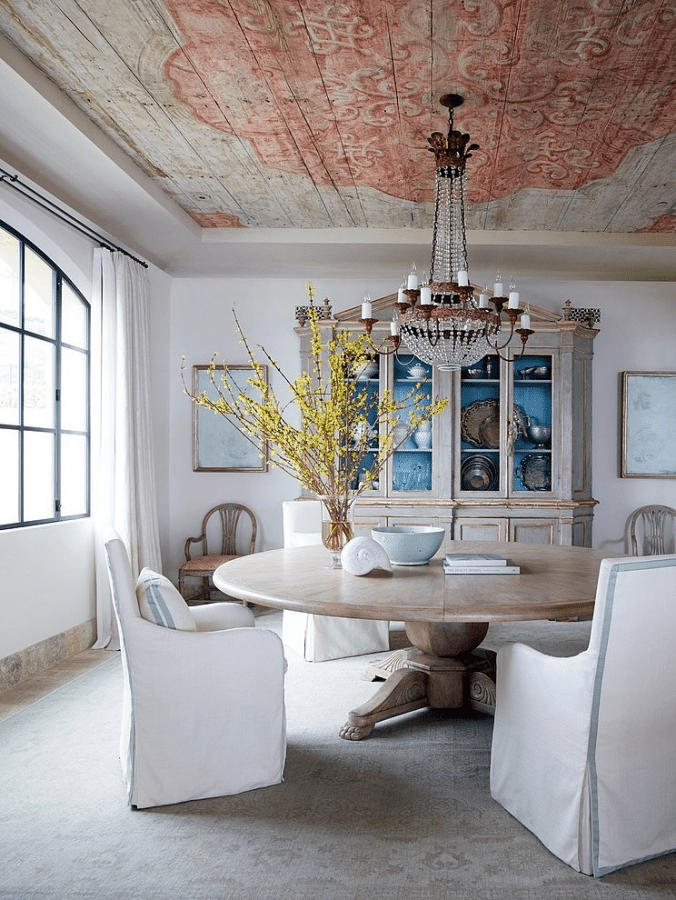 A rug on a ceiling? This luxurious Andalusian style beachfront residence designed by Homer Oatman situated at The Strand, Dana Point, California, shows that the Upside Down, next to being a hellish parallel universe from Stranger Things, is also a fabulous decorating idea! Here, the wooden ceiling is transformed into a classy vintage carpet thanks to the painted, ornate medallion. The floor is also adorned with a oriental rug, however far more neutral for the proper balance.
The Farmhouse Ceiling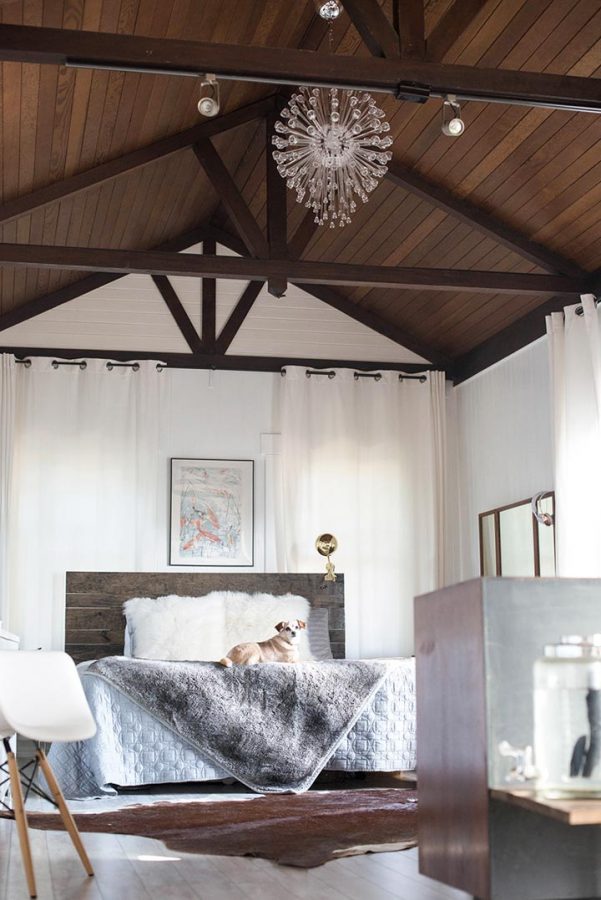 Eclecticism has been in vogue for quite a while now, and looking at this impressive bedroom, combining modern and traditional elements, we exactly know why. The original vaulted wood ceiling, spanning from the owners' bedroom space to the kitchen (the whole length of the house!), is complemented by minimalistic furniture and a futuristic lamp. Farmhouse, Scandinavian, Modern – all three styles co-exist in perfect harmony because the designer decided to concentrate on textures over colors which are left neutral.
The Shiny Ceiling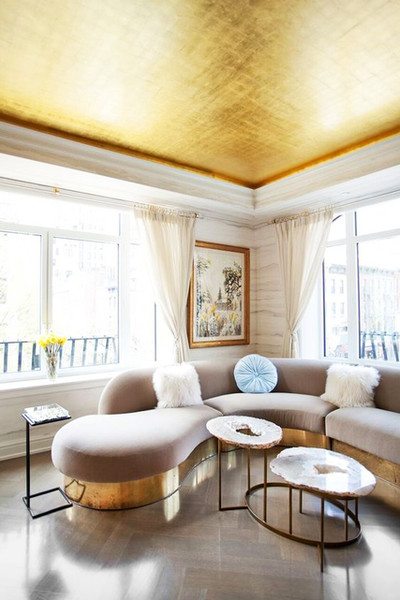 G-L-A-M-O-R-O-U-S is the first word that comes to mind with regard to this, well, glamorous interior 😉 A golden ceiling may seem like an overly bold idea, dangerously bordering on kitsch, yet here it is perfectly balanced by light, curvilinear furniture as well as spacious, bright windows, and subtly accentuated by yellow flowers, gilded frame and the lustrous base of the couch. A space for a truly golden girl or guy!
The Black Ceiling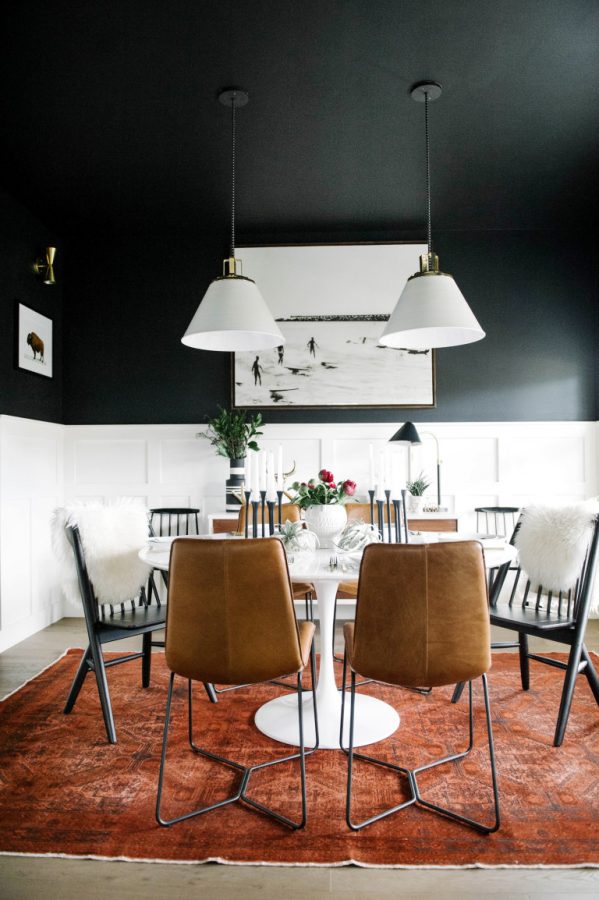 2018 is officially the year of bold, dramatic colors, and black definitely counts among them. We realize that having a charcoal paint on the ceiling is easier said than done – painting any part of the room black is against the cardinal rule of steering clear of dark shades in order to make the space feel bigger. It is also very intimidating. However, looking at this amazing black ceiling, we think it is absolutely worth the gamble. To minimize the risk, decide on flat finishes which hide imperfections and are easily touched up.
The Wooden Ceiling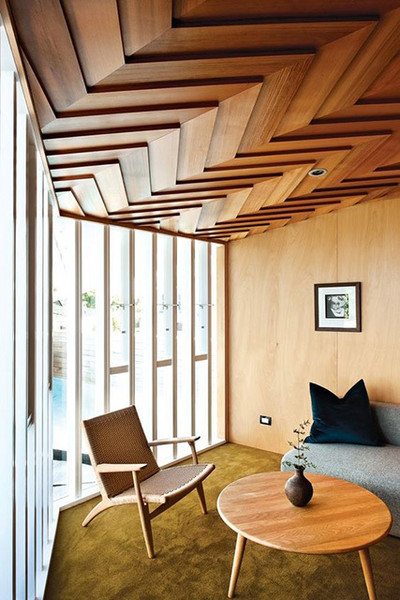 A ceiling can be made of wood (like in case of Farmhouse mansions) but it may also be simply adorned with it. This Mid-Century Modern abode incorporates a unique parquetry-style ceiling that shows the astounding impact geometric accents have on the overall arrangement of space. They themselves constitute incredible architecture!
The Colored Ceiling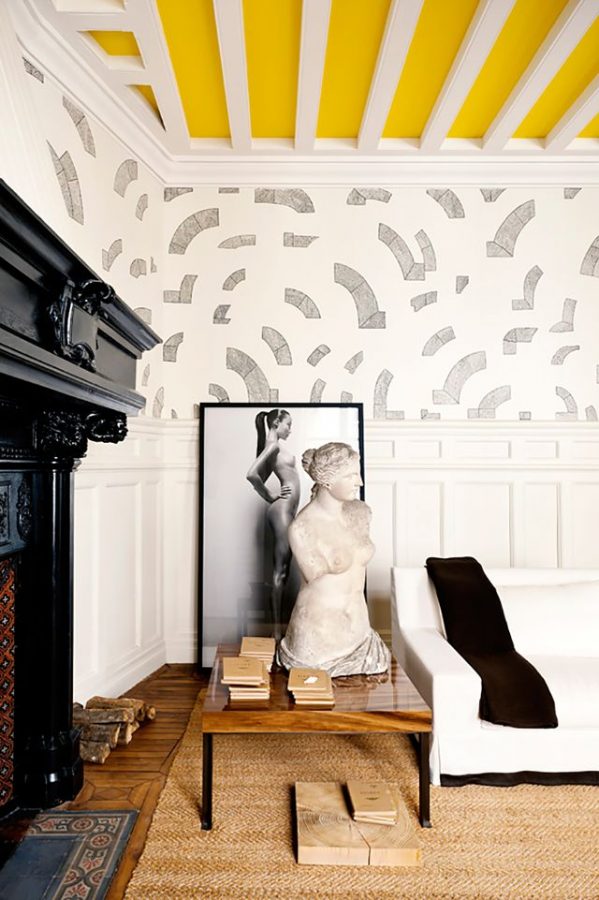 If you have a tendency to choose neutrals (this refers to wall paints, furniture and accessories alike), a statement hue on the ceiling may be an excellent way to jazz up your home in an original way. The monochrome feel of this living room is fantastically broken up by the bright pop of sunshine yellow. Consider breaking your own decorating timidity and let your preferred hue always shine above you.
The Super-Slanted Ceiling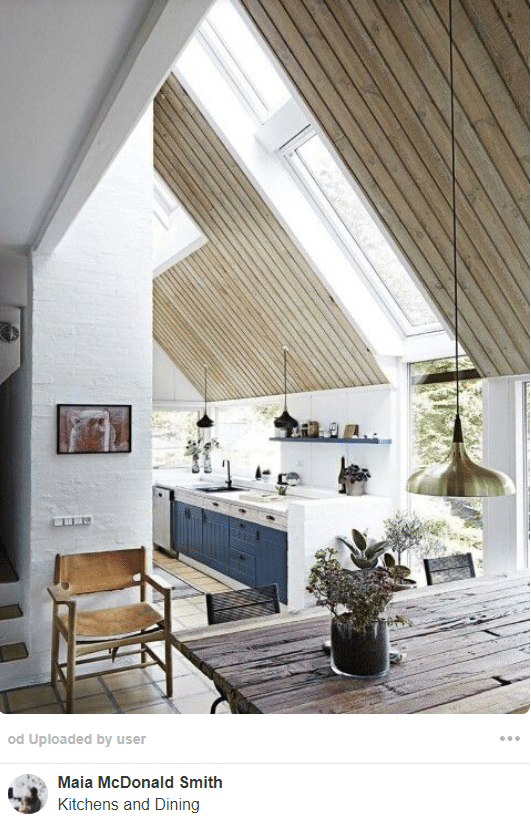 Let's not forget about the tilt! The ceiling may be exceptional not only thanks to its material or color but also due to the shape and gradient. Such a super-slanted roof as this looks fantastic with pendant lamps, hung extra low to further emphasize the height of the ceiling. A good contrast is what we love in decorating!
For more inspirations, take a peek at Doris Leslie Blau website – we are always at your disposal. And if by any chance you are visiting the capital, step into The Washington Design Center, 1099 14th Street N.W. Washington, D.C. 20005, to see our showroom. You can also give us a call at 202-808-9361.