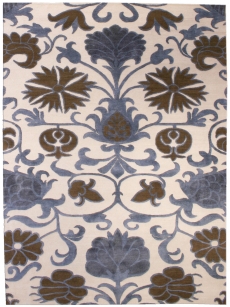 The Tibetan knot is famous in the rug industry. It gives a new and distinctive design to the rug. This knot is formed by looping the yarn around two warps and then further around a rod. In this manner a whole row of loops is created and then cut down to make a knot. The Tibetan knot is used in many kinds of rugs and is popular in many rug weaving communities.
What are Tibetan knot rugs?
The modern rug industry features an almost unlimited array of designs. Many make use of Tibetan knots in the creating their handiwork. You will find many carpet designers making use of these knots and accompanied by ornamented borders and motifs in carpet weaving. Use of Tibetan knots in rug weaving requires a certain level of expertise. These knots are not like the symmetrical and asymmetrical Persian knots which are easier to weave.
The Tibetan knot, as the name suggests, is found primarily, but not exclusively, in Tibetan carpets. In recent years there has been dramatic increase in demand for these Tibetan knot rugs.
Popularity and demand
There are many online carpet stores featuring Tibetan knot rugs. This can make it easy to browse and to educate yourself about these beautiful rugs. But make sure to buy only from a reputable website. Doris Leslie Blau offers rugs for sale including different sizes and designs of Tibetan knot rugs. Remember that the Tibetan knot is a technique for rug weaving and it does not limit design or motif. As a result you can find Near Eastern and Middle East designer rugs with Tibetan knots as well. They work astonishingly well in all kinds of interiors environments. So go explore Tibetan knot carpets and rugs for your home. It is sure to attract compliments!