Fancy a cup of coffee? Even if you don't count yourself amongst big hot beverages fans, you probably still want your coffee table to look absolutely smashing. This inconspicuous object may become the highlight of the interior if you follow a set of simple rules. Just keep reading!
Rule #1: Pay Attention to Colors and Materials
The most significant aspect in decorating is consistency. When properly arranged, a coffee table will act as a cohesive factor, bringing all elements of the room together. However, no one said you have to get all matchy-matchy to achieve that! In case of neutral or monochromatic decors, the table presents the perfect opportunity to show some color. A beige sofa will gladly welcome the company of contrasting hues combinations, such as orange with blue or green with pink.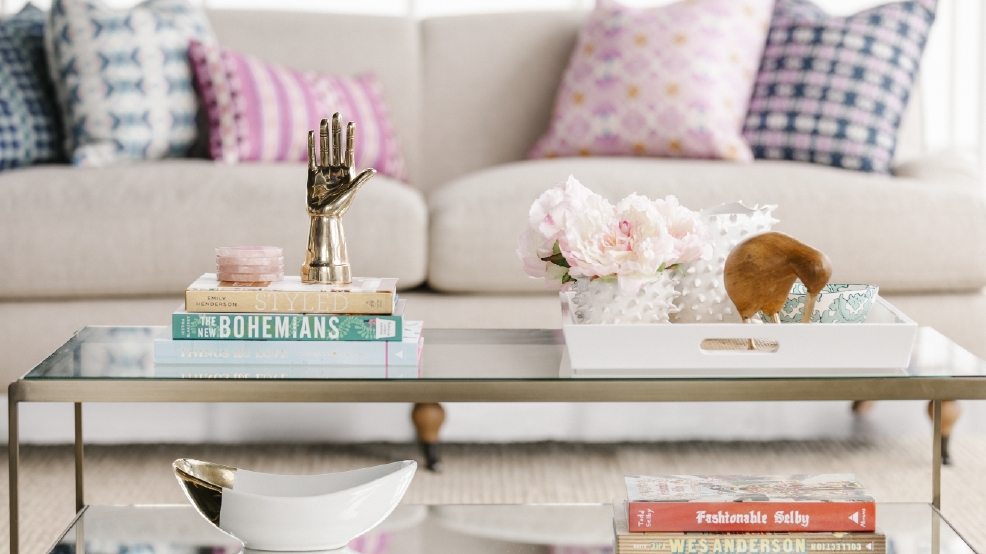 Nonetheless, if you're a fan of modern simplicity, there is no shame in sticking to earthy, black and white or dusty pink shades. It is the character of the room that matters. Also, it is important to consider the material of the very table and the trinkets that are going to be exposed on it. A glass one best works with natural accessories and a beautiful rug like a vintage Samarkand or an antique Persian that will be on display. With a wooden coffee table you may go for shiny golden or copper elements which have a chance to introduce warmth and brighten up the space.
Rule #2: Consider the Arrangement
Another crucial aspect of sprucing up the room is balance. It regards the arrangement of the furniture and knick-knacks alike. There is a wide variety of coffee tables and before you start planning out your décor, try to think about the best option for yourself. A renowned designer Ken Fulk is the advocate of putting more small tables in place of one bigger.
"They are better for traffic flow than one of those huge knee-knockers, and easily moved to wherever we need them," says Fulk.
You may go with two, or even three, and stagger them throughout the spot – just make sure you chose a different accent for each. To avoid the clutter on a broader top, remember to mix high accessories (like candles or flower vases) with the low ones (as books). Such layout will add three-dimensionality and make your coffee table feel effortlessly elegant.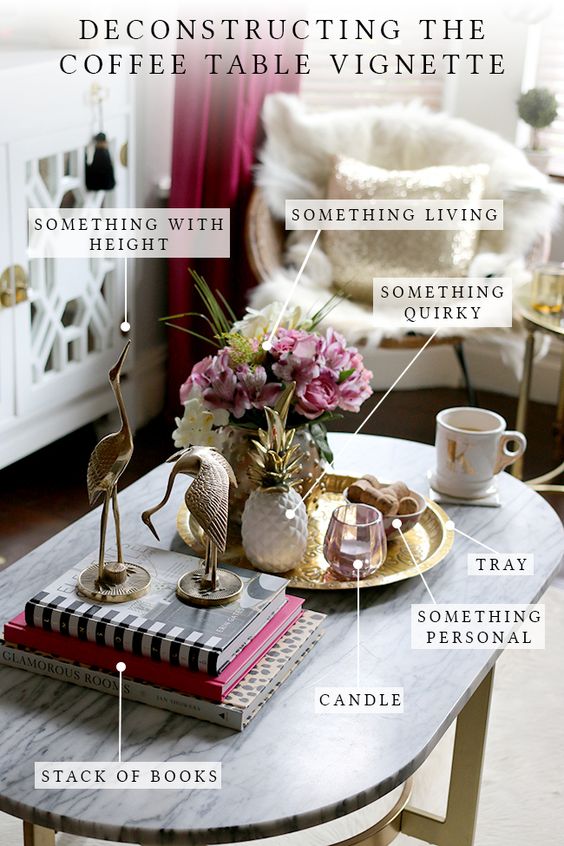 Rule#3: Pick the Right Book
Once we've covered the general rules, it is time to pass on to the specifics. If your table is ample enough, your first pick should be books. Of course, nowadays most people use a kindle to read a favorite novel but your coffee table demands something very special and nicely edited anyways. A colorful album full of photos, such as 'The People of New York', 'The Fashion Book' or 'The New Bohemians: Cool and Collected Homes' will not only look fab but also provide entertainment for your guests.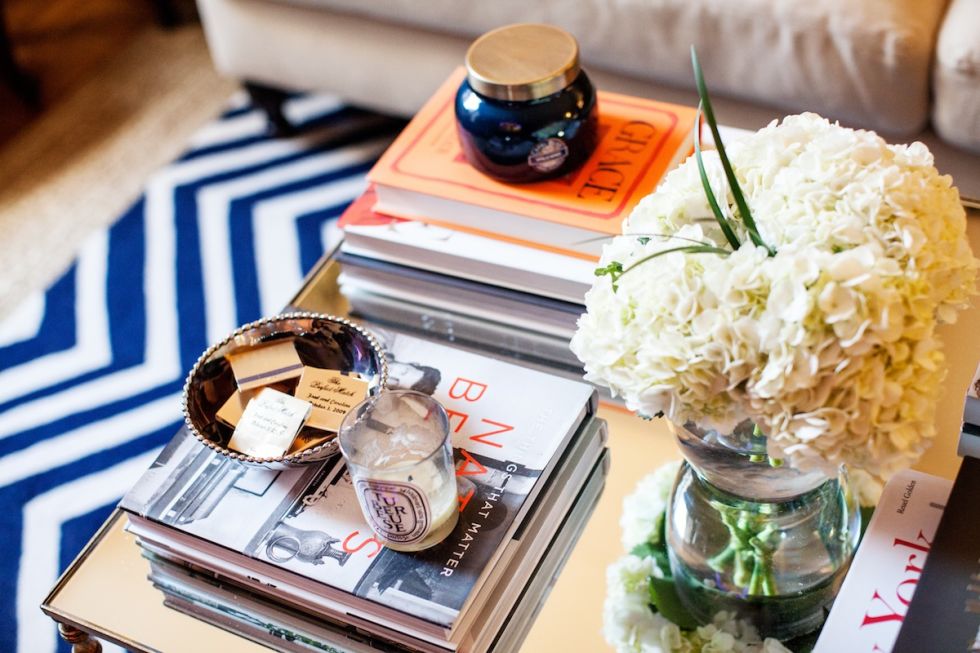 Moreover, a stack of books may serve a purely decorative function as the foundation for the exposition of other accessories. Finally, you may arrange them in a grid to cover the unused part of the coffee table. Judging a book by its cover may seem a bit crude, but hey, why not use their potential to the maximum? To succeed in decorating one must be creative and go beyond the rigid frames.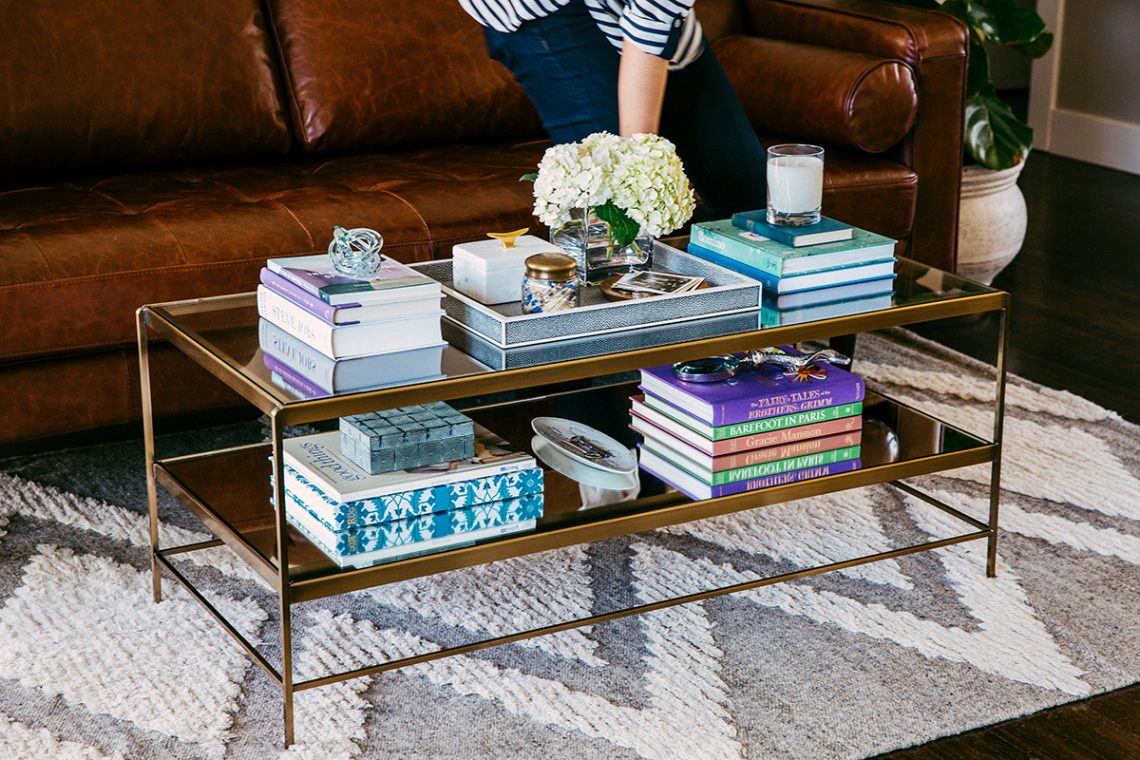 Rule#3: Make Space for a Tray
A tray is has it all. It is functional, decorative and it serves as a perfect space definer. Again, you may choose from many different kinds of trays and it's best to go with the atmosphere of the interior. A glass, simple one will fit into a modern abode, whereas a stylized tin tray with a retro vibe is a match to a boho décor. For all the fashion lovers we recommend super chic marble or copper trays – it's a thing now!
via Elle Decor
Our suggestion is to play with different shapes and sizes, like placing a rectangular tray on a round coffee table, or the other way round. This humble object will help you organize your table top. Putting in a flower vase or candles is nice, but how about transforming your tray into a mini bar with two glasses and a bottle of Jack? There is no rule saying a coffee table is only good for serving coffee 😉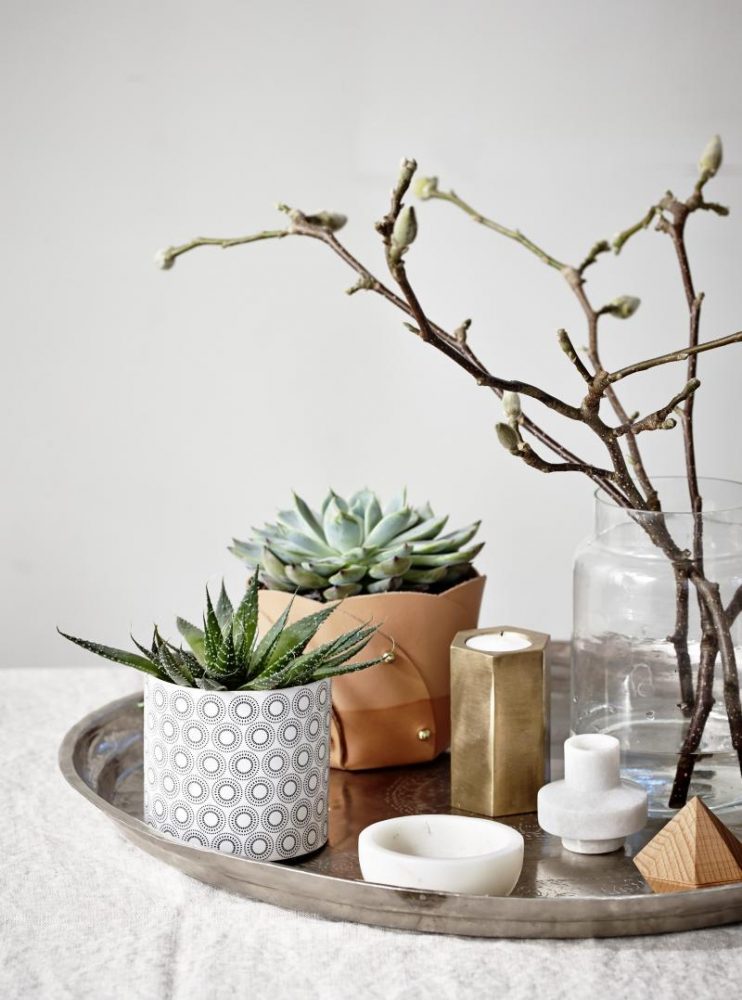 Rule#4: Don't Skip Nature
In the year of greenery color we should reach out to nature even more often than usually. Don't hesitate to bring the outdoors in and invest in some natural accents especially for your coffee table. And we're not only talking here about flowers in a vase. In the springtime, twigs are a fantastic alternative to cut flowers as they soon bloom with lush green leaves. For the people who prefer low-maintenance plants, a terrarium is the answer (and, at the same time, a chance to do some fun DIY).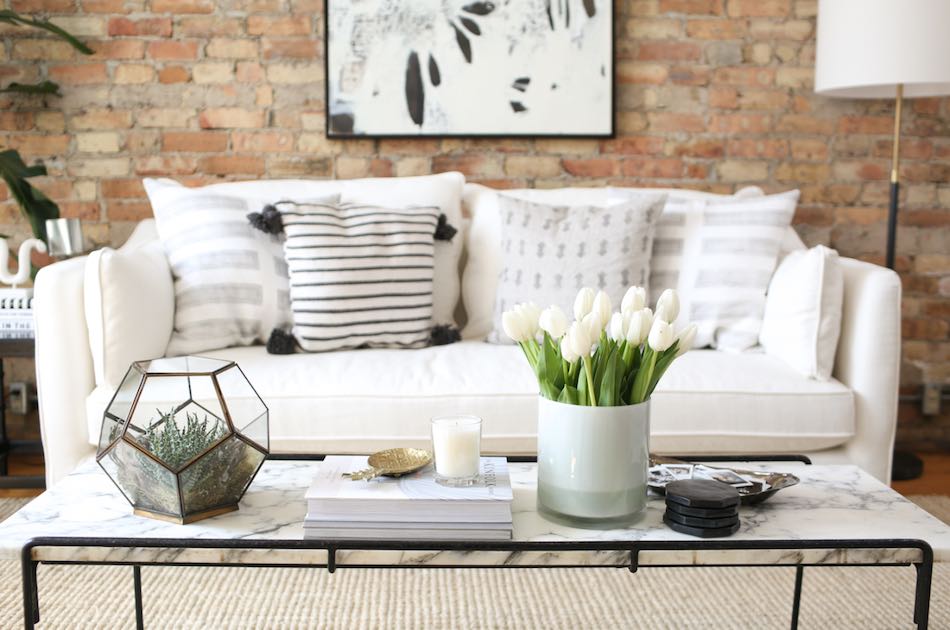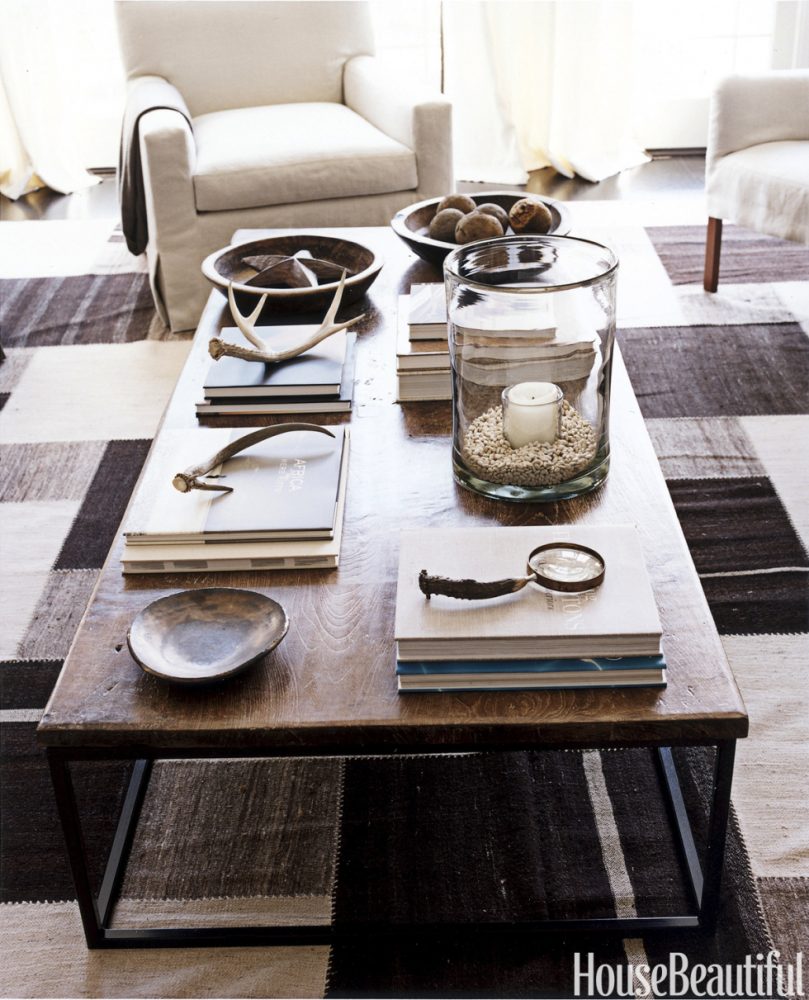 .Nature can also be found in accessories – a mineral serving as a paperweight or a wooden bowl full of chestnuts? Why not? The simpler, the better. Designer Robert Stilin likes objects that are elemental and natural, like antique wooden bowls or animal horns. "They add history to a room but can also be functional," he says, and adds "I look at them and they make me feel good." That exactly is the major point of nature-related accents – they affect your mood in a super positive way!
Rule #5: Light the candles
Nothing adds ambience to a room like candles. They give urban dwellers an exceptional opportunity to commune with a living flame which has a relaxing effect, and saturate the interior with a fresh and pleasant scent. Candles are great for balancing the composition of your table top according to the rule of high-and-low mixing. You may go along with Scandinavian design and place your candle in a singular candlestick – it is very hot right now – or cover the flames with a trendy bell jar cloche. Just make sure it is adequately large!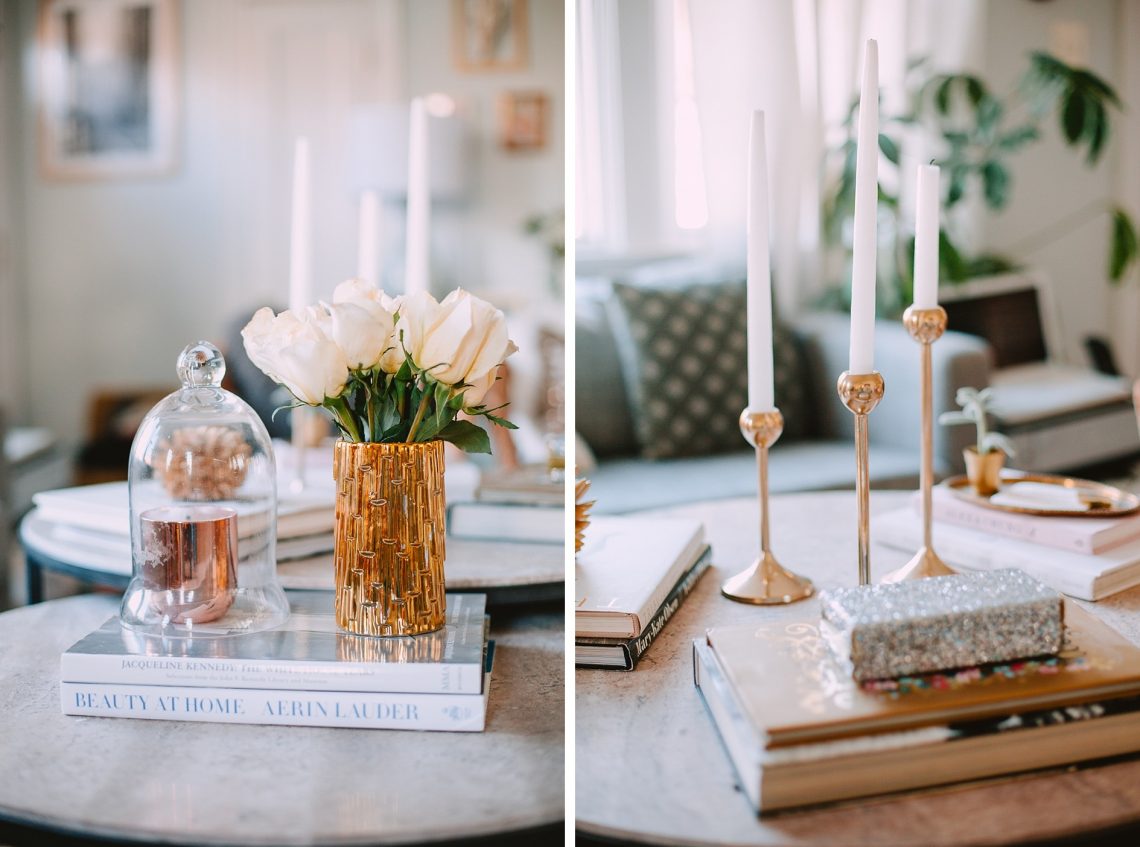 Rule #6: Add a WOW Factor
Last but definitely not least – put out something special! Whether it's a quirky statuette or a travel souvenir, the wow factor will be the centerpiece of your coffee table. Although it serves a purely decorative function, it is loaded with sentimental value and will most definitely evoke smile on your and your visitor's faces. A fantastic choice would be, for instance, a colonial magnifying glass, an exotic ornament like a little Buddha or an antelope figurine, or some of the good old DIY (currently, a terrarium is the in vogue).
You may also go with precious art pieces or inexpensive but funny trinkets that you simply like. This choice is entirely up to you. Just remember – be true to yourself and your coffee table will leave everyone in oohs and aahs.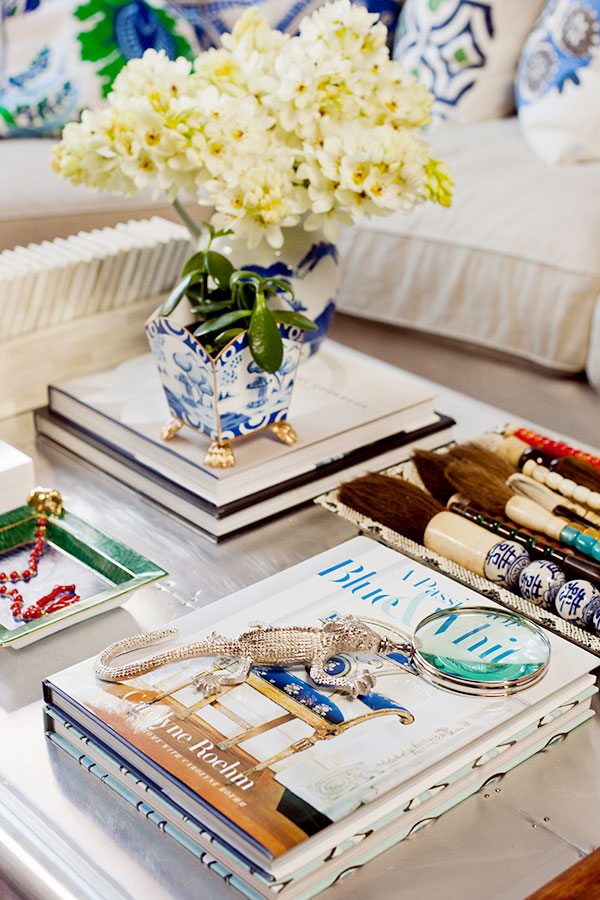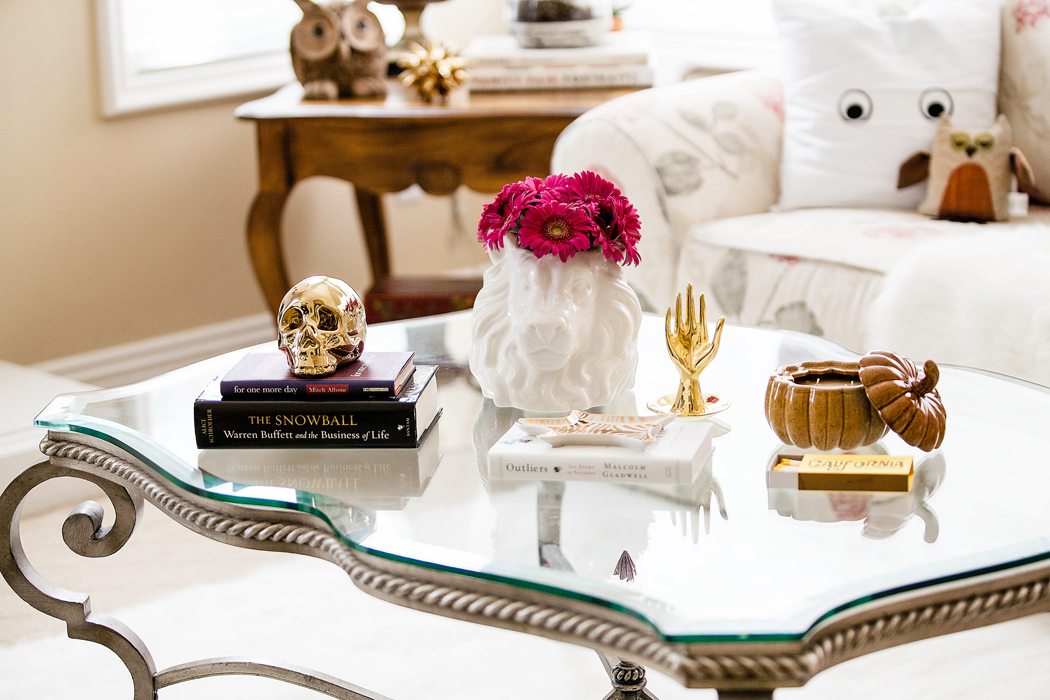 For more inspirations, take a peek at Doris Leslie Blau website – we are always at your disposal. And if by any chance you are visiting the capital, step into The Washington Design Center, 1099 14th Street N.W. Washington, D.C. 20005, to see our showroom. You can also give us a call at 202-808-9361.