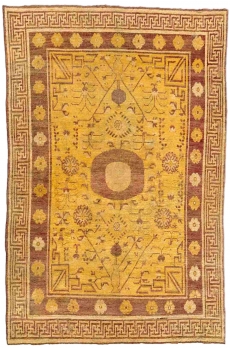 The region of Samarkand is comprised of Yarkand, Kashgar and Khotan (situated in autonomous Chinese-occupied Sikiang) and is situated in East Turkestan. The oasis town of Turkestan is known for producing high quality rugs and carpets with exotic designs.
The Design and Appearance
Samarkand rugs are characterized by use of glossy wool along with metal threads and brocaded silk. Using broad motifs, these rugs are spacious and the rugs are relatively longer and narrower compared to other carpets. Since the 17th century use of the Chinese yellow and red lacquer colors became more common, no doubt due to the influence of neighboring countries – Turkey and China.
What differentiates these rugs from their close relatives, Persian rugs, is their color scheme. Unlike the boastful use of blues and reds seen in most Persian rugs, the Samarkand rugs typical feature soft colors. You can often find them in color-schemes like magenta along with acid green; saffron yellow blended with touch of red lacquer; peachy beige tweaked in brown; or bone embellished with mild slate-blue or brown.
For thousands of years traders and merchants have plied the route from Western Europe to China known as the Silk Road, traversing the East Turkestan region. This resulted in the unusual orientation of Samarkand rugs which reflect the influence of many cultures in their design. In addition to the typical bold reciprocal borders in keeping with Turkish and Persian floral trellis art, you will find fretwork borders from China, Indian swastikas denoting infinity, lotus blossoms, and cloud-bands. Among all the motifs found in the traditional handiwork of East Turkestan, the liuka baize or the pomegranate design which signifies fertility and prosperity is the best.
Samarkand rugs have antique and ornamental value but the craftsmanship and skill of their weavers also makes an impact. If you want to make a dramatic statement in your home's interior, opt for a Samarkand rug.