Although the one most popular types of Oriental rugs are usually made in China, throughout the years  Tibetan rugs started to gain the interest of general public. Country's fascinating yet tragic history combined with the skill of local weavers makes Tibetan rugs something much greater than mere decorations. They are works of art and silent witnesses of local history, something that no other type of carpets can ever achieve. Of course, we can't omit the exotic beauty of their stunning designs or high quality of their weave. However, can they fit into contemporary interiors? The answer is yes. Although Tibetan rugs might be quite difficult to decorate with, their unique beauty and stunning designs are worth putting in some effort.
Throughout the years, Tibetans found numerous uses for the rugs – from wall coverings to horse saddles. The base of  a large Tibetan rug is made of double layer of cross patterned threads that ensures its durability. Weavers use large needles, guiding rows of threads thought looms. Normal pieces usually have up to 10 knots per square centimeter, which results in a pile with a very unique texture. Traditionally Tibetan rugs are made using changpel, highland sheep's wool. This particular breed of sheep has a very thick and soft wool, which ensures durability of the carpet as well as its pleasant texture. To weave a Tibetan rug  is not an easy task. The base of  a Tibetan rug is made of double layer of cross patterned threads that ensures its durability. Weavers use large needles, guiding rows of threads thought looms. Normal pieces usually have up to 10 knots per square centimeter, which results in a pile with a very unique texture. This is why contemporary Tibetan rugs are slowly, but steadily gaining more international attention. Nowhere else in the world you can find contemporary rugs which are as unique as Tibetan carpets.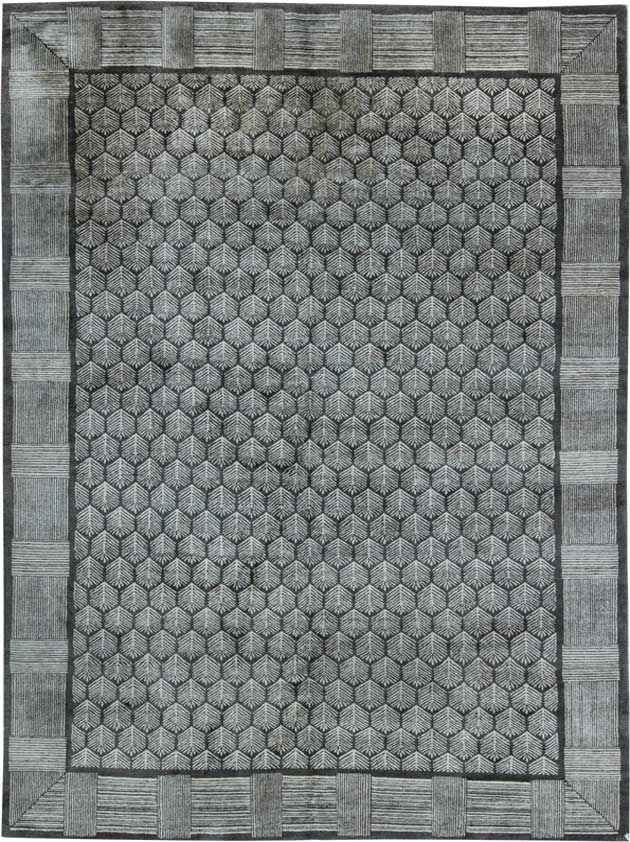 Traditional Tibetan carpets  are toned-down in terms of design and coloring. Following 19th century, Tibetan weavers started to make carpets based loosely on the Chinese ones, with patterns including such characteristic motifs as dragons, phoenix, clouds, et cetera. Among the most popular contemporary Tibetan designs, are so called "Tiger rugs", associated with Tantric meditation – tiger skin is believed to provide protection to a person who meditates. Some of them consist of semi-realistic or abstracted depictions of tiger pelts, while another type is a "whole pelt", complete with legs and grinning face. Other very popular design is the "Potala" rug, depicting Potala Palace, meant as a souvenir for the tourists.  Most popular motifs used by weavers are usually religious Buddhist scenes, but also stylized animals and flowers, however course many traditional Tibetan patterns were profoundly influenced by Chinese culture and are shared by two of those countries.
Size is one of the first things you should consider before purchasing a rug. While oversized rugs or large carpets can be a great addition to any household, first you need to make sure that they will actually fit your room. Easiest way to do this is to fist check the size of the rug you like and then use measuring tape to see how much space it can take.
Exotic design of a Tibetan rug can make fitting it into a room a difficult task. Of course, if you are looking for a more modern carpet, contemporary Tibetan pieces can often include simpler, more West-oriented designs. Still, nothing can beat the charm of a traditional Tibetan art! Looking for patterns that look similar to those in your room can be a good way of avoiding any potential clashes. A traditional Tibetan rug will look great when accompanied by some East Asia-inspired decor, giving your interior an oriental vibe. Such rugs can also look great in minimalist interiors, as they can make an otherwise calm space look more lively and interesting. However, if you are not looking for an ethnic look, consider purchasing a modern Tibetan rug. Contemporary Tibetan rugs, while appealing to the Western clientele, manage to keep their exotic aura. Most popular models include symmetrical geometric designs, inspired by local art, but altered to fit current fashion trends.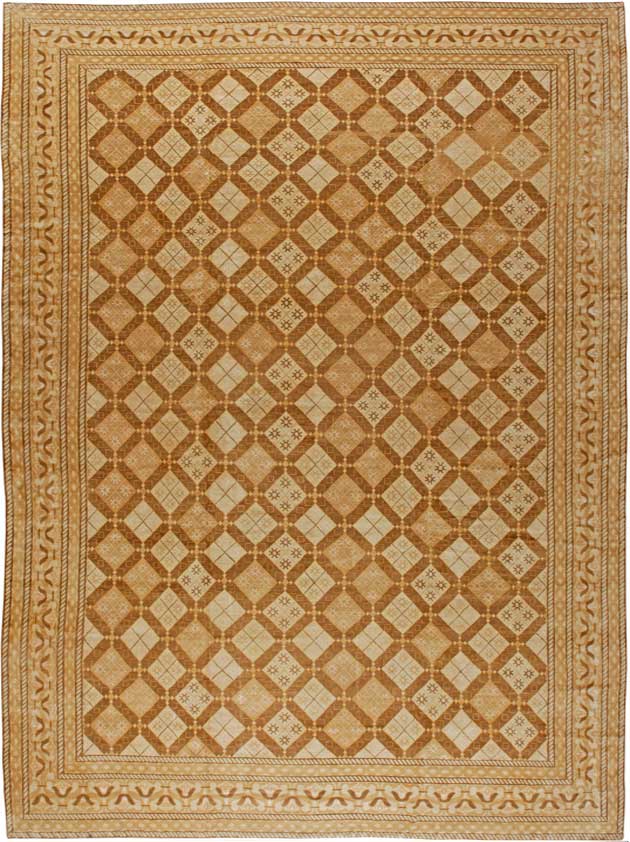 Vast majority of Tibetan rugs are made of local wool, which is known for its great quality. This is the reason why Tiberan rugs are so durable and soft. However, those suffering from allergies might want to rethink such purchase. With age woolen fibers have a tendency to break and crush, which can irritate one's airways and even cause problems with breathing. Likewise, woolen rugs can collect dust if not cleaned properly. Luckily, nowadays  more and more Tibetan rugs are woven using cotton blends and synthetic fibers – a much safer choice. There are also rare cases of silk Tibetan rugs, which are known for their luxurious sheen and softness.
Colors of Tibetan rugs can vary depending on the style that you prefer. Traditional Tibetan rugs are rather subdued and neutral, as a result of using solely natural dyes available in the country. However, availability of synthetic dyes resulted in a creation of much more colorful rugs, which complement traditional designs wonderfully. As always, try to pick rug in a non-dominant color, in order not to visually shrink your room. Picking a secondary hue will help you to enhance the interior and also expand it. There is also a possibility of picking a completely unrelated shade, but that should be done only if said shade will fit the color scheme of your interior.
Tibet is a country with history and locally woven rugs show it perfectly. Every Tibetan carpet is special in its own way, representing thousands of years spent perfecting this craft. The presence of such rug can make a huge difference at one's household and transform it completely. Doris Leslie Blau's collection of high quality contemporary rugs and antique carpets contains pieces from all over the world, Tibet included. With us you can find your perfect rug without leaving your home!