Handmade by wandering tribes, Moroccan rugs are one of their country's greatest cultural treasures. Nothing can imitate the  softness and irregularities in pattern, making each Moroccan carpet one of a kind. Because of their simple forms, Moroccan rugs are a great addition to any interior, from modern to traditional. They don't wear down easy and cleaning them is not as time consuming as with some other kinds of carpets – perfect for those who prefer functional interiors over decorations. However, before you will be tempted to purchase one for yourself, make sure to read through our guide to know what type of rug you should look for and how to protect yourself against dishonest sellers.
Although most popular are white and black rugs, you can just as easily find more colorful variations. Softness of Moroccan rugs was achieved thanks to local wool, harvested from sheep living in the mountainous areas of Morocco. The difference in oxygen levels in the air resulted in a soft, but extremely durable fiber, used to make beautiful carpets.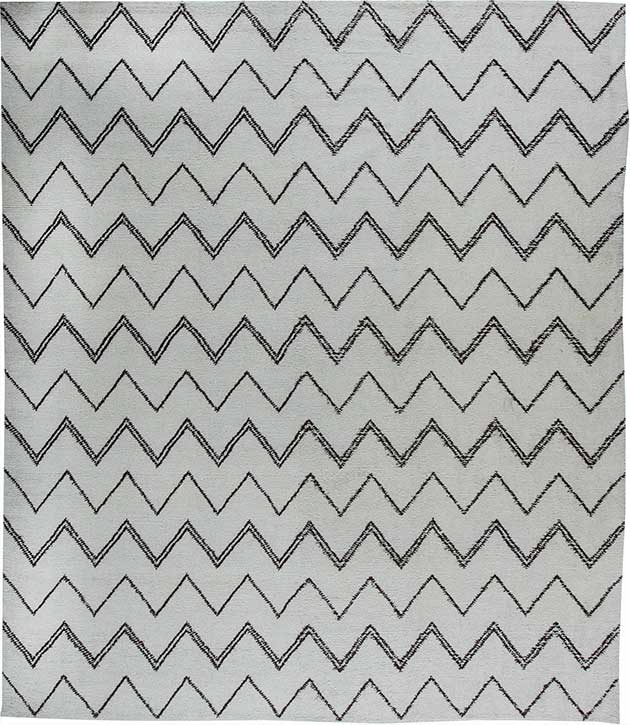 Despite what some people might fear, vintage Moroccan carpets are not only beautiful, but also a very practical choice. They don't wear down easy and cleaning them is not as time consuming as with some other kinds of carpets – perfect for those who prefer functional interiors over decorations.
Moroccan rugs have been woven by the local tribes for centuries. At first they were less of a decoration and more of a necessity, serving as bed covers and saddles. In the middle of 20th century, Moroccan carpets started to gain popularity in the West. This sudden interest resulted in the mass production of Moroccan rugs, as well as a surge of counterfeited pieces.
Before picking a rug for yourself, think about what exactly would you like. Antique and vintage rugs are a luxury, bound to awe your friends and family, but they tend to be quite pricy and very demanding in terms of maintenance. Contemporary rugs do not require as much maintenance, but lack the prestige of older pieces. Also, while shopping for an antique or vintage rug, you have to be extra careful.  One does not need to be a professional dealer to see obvious flaws in a rug. While taking a look at a potential rug, pay close attention to its state. Shredded edges, large holes and discolorations are difficult or impossible to remove. Smaller tears and dirt do not disqualify the rug, as a professional  service can easily remove them. Signs of repairs are nothing too alarming, unless your seller insists that the rug of your choice is in a perfect condition.
While buying from the source allows you not only to get your hands on authentic rug, but also potentially get the best price, it can be difficult and time consuming. Reliable rug dealers, such as Doris Leslie Blau Gallery present you with authentic products without requiring any additional effort on your part. Moreover, they might be able to give you some tips or advice on how to care for your brand new carpet. Speaking of sellers, be sure to either purchase straight from the source or from reliable and trustworthy dealers. Any refusal of photos or information about rug's history should immediately raise suspicion.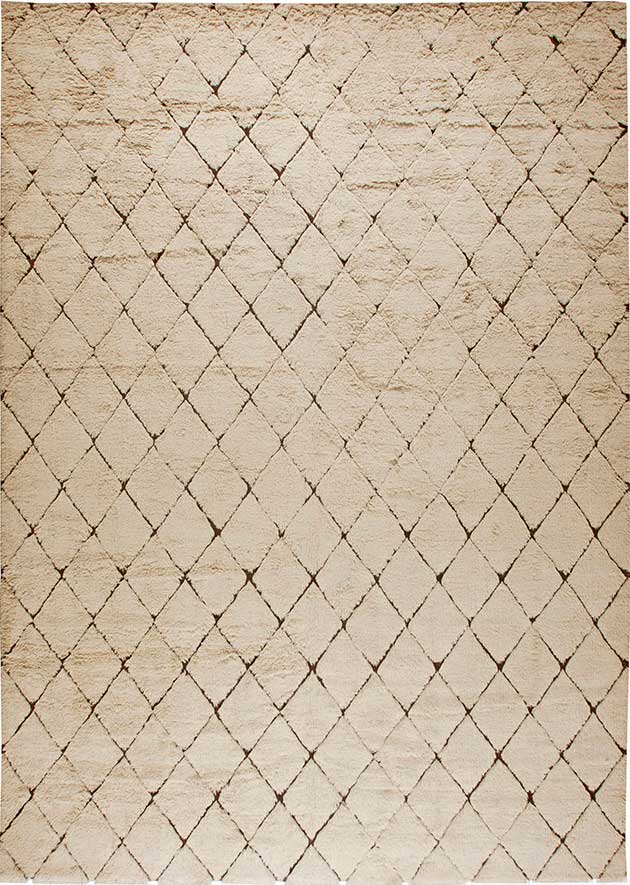 Always ask what type of dye was used in your Moroccan rug. The best ones are vegetable dyes, which ensure vibrant and long-lasting coloring of your rug. Chemical-based dyes can often be very harsh for fibers and even weaken them. Authentic Moroccan rugs are made solely of wool, with cotton weft appearing from time to time. This can be both their advantage and disadvantage, as wool is known for its luxurious softness and durability. On the other hand people suffering from allergies or asthma should avoid wool, as its fibers have tendency to break off and when inhaled, irritate airways.
Traditionally Moroccan rugs were woven by people who never attended any art schools or had teachers. Their techniques were developed through trial and error, which can be seen in most of designs. Patterns of Moroccan rugs tend to be chaotic  and seemingly out of balance, due to multiple elements present on the pile. Although geometrical motifs seem to dominate, they rarely keep the symmetry we are used to, once again preferring controlled chaos to order. While that can cause some people to view Moroccan craftsmen as "unskilled", this could not be further from the truth. Moroccan rugs are some of the last truly authentic pieces of art, created not to please the audience, but to please its creator. Their forms might be considered "ugly" in a Western sense, but it does not make them worthless or hideous. Few other types of carpets have such a unique bond between the weaver and their work, which is what draws people to Moroccan rugs.
When it comes to the size, Moroccan rugs are usually fairly standard, mostly because nomadic tribes needed them to be light enough to carry around. However, there is a large number of oversized rugs and large carpets made in Morocco, many of which were developed in order to suit the tastes of the Western clientele. Such rugs are most suited for spacious interiors such as living or dining rooms or open plan flats. Moroccan runners, although not as popular as their larger cousins, can be a great addition to corridors, as they can not only improve them visually, but also make them feel more homely and inviting.
Doris Leslie Blau's collection of high quality Moroccan rugs contains both antique and vintage carpets of exceptional beauty. Our goal is to ensure that our clients receive only the best quality authentic goods from all over the world, from Africa to Asia.