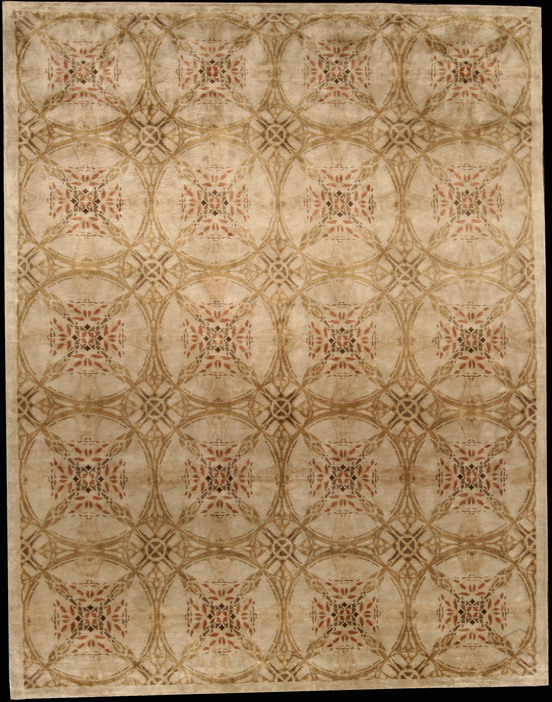 "Hand-knotted in Nepal, new Tibetan rugs often work best in transitional spaces and in contemporary interiors due to their luxurious texture to the unusual play of light that alters how they appear depending on they are viewed. Highly practical as well, the high lanolin content found in Tibetan wool also makes them incredibly resilient. Due to the system of rug production in Nepal, the descendants of traditional Tibetan weavers working today are able to make rugs in almost any style, pattern, shape, size, and material." — as quoted in the book The Decorative Carpet
At Doris Leslie Blau, our Tibetan rugs are among the highlights of our custom rug division. We are delighted to share images of our rugs being produced and a detailed explanation of the entire production process.
Nepal is one of the world's poorest countries. Living conditions, services, and environmental circumstances are well below western standards. Over the last 30 years, the Nepalese handmade rug industry has become Nepal's largest employer. It is the country's largest exporter, it's the largest source of hard currency, and it provides one of the few means for uneducated people to learn valuable working skills.
Handmade Tibetan rugs, an artistic tradition in Tibet for over one thousand years, are made with a unique method of hand knotting. Tibetan style rug making was introduced to Nepal following the forced expulsion of Tibetans from their homeland by the Chinese suppression of Tibet in 1959.
About 50,000 Tibetan exiles crossed over the Himalayas by foot and settled in Nepalese refugee camps that were organized by Swiss and German relief organizations. With early European assistance, the Tibetan rug trade has grown from a small cottage industry in about 1965 to its current leading economic position in the country of Nepal.
Alternative sources for Tibetan style production: India and China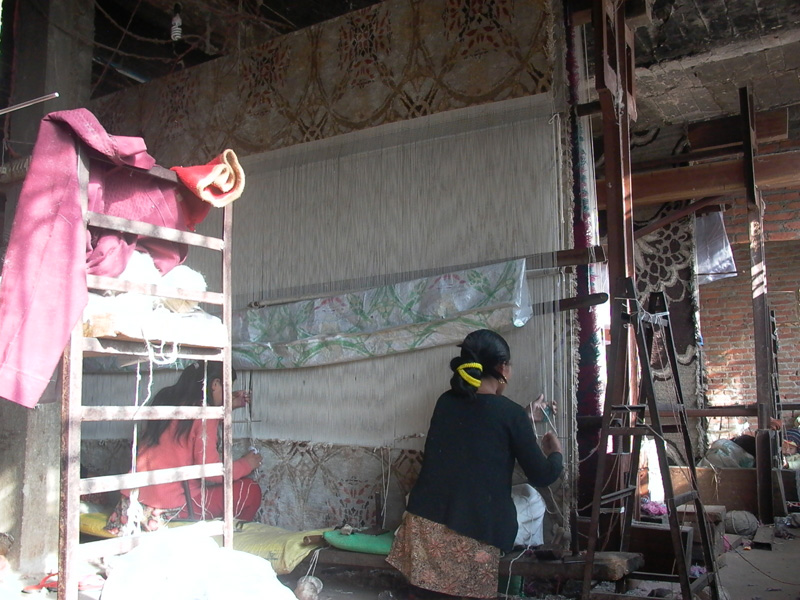 "Cinnamon" rug in production
Nepal is the only country in the world, with the opportune combination of talent and raw materials that has been able to execute high-end Tibetan quality. The Tibetan people in Nepal, are the originators and leaders in the production of the highest quality Tibetan carpets, especially those tailored for the American market.
In the factory selected by the Doris Leslie Blau gallery, over half the employees are Tibetan. The original Tibetan Master Weavers, who came from Tibet, have trained the current master weavers. The workers in all hand manufacturing processes: carding, spinning, dying, weaving, shearing, carving, etc., have learned from Tibetan masters. Many factory employees have 30 years of experience.
The Nepalese government is solidly behind the Tibetan rug business in Nepal, and continues to support initiatives to bolster its number one industry. Comparatively, in India and China, Tibetan rugs are a small percentage of the handmade rug business.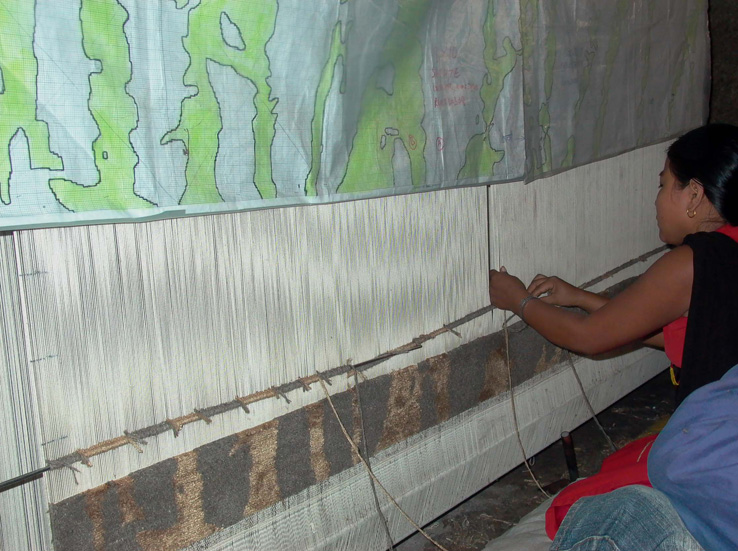 Production Site
Among hundreds of alternatives, Doris Leslie Blau selected a manufacturer that has the technical know-how to support the high-end American market. The factory has the talent, the facilities and the programs to perform in business and to sustain its employees.
This factory provides living quarters, clean drinking water, childcare and heath benefits to its employees. No manufacturing processes use child labor and the company takes steps to improve its local environment.
There are hundreds of rug making factories in Nepal. Each has ownership varying in ability and reliability, employees varying in skills, produces rugs of varying grades, and uses materials of varying qualities. Many have never successfully exported to the U.S.
The company has superior abilities and has a proven track record. Management philosophies and practices, including those regarding social and ecological responsibilities, are exemplary in Nepal. Doris Leslie Blau aims to produce the best quality of rugs available in Nepal, with a factory that maintains high standards for their work, employees and their families, and local environment.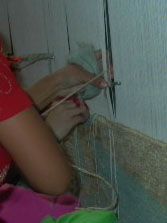 The Tibetan Knot
The common denominator that makes a rug a "Tibetan Rug," whether it's made in Tibet, Nepal, India or China is the "Tibetan Knot." The Tibetan Knot is an ancient technique. The knot itself is most like a Persian knot, but instead of being looped around one warp thread and cut knot by knot, the Tibetans loop the yarn around two warp threads and a metal rod, anchoring the yarn to the underlying cotton foundation. The yarn is looped across the full length of the rod and intermittently cut when colored yarn must be changed. When the looped row is complete, the weaver cuts the loops across the rod by hand with a sharp knife to create the cut pile.
The Tibetans developed this method to save wool and time perhaps a thousand years ago. Each Tibetan clan or village might have owned a few sheep to provide a limited supply of wool. Since rug making in Tibet was a cottage industry to supply personal needs and adorn Buddhist temples and monasteries, rugs were traditionally small. The rugs were simple in design and may have had one or just a few colors to save yarn.
Tibetan Wool
Native to Tibet, the Tibetan line of Himalayan sheep was bred by individuals or groups of families in villages in Tibet. Although the cold, wet, and high altitude climate was enough to provide the conditions for the native sheep to grow long, hearty, oil rich coats of wool, the Tibetan shepherds selectively bred their most productive sheep over hundreds of years. There are no other sheep in the world that posses the long-stapled, lanolin rich, wool indigenous to Tibetan sheep.
Today, with updated designs and colors, the Tibetan knot woven with Tibetan wool on a metal rod has created a fresh fabric that pleasingly lends itself to the execution of simple, but sophisticated designs and to naturally textured pile. The colors are in harmony with the wool, and are subtly enhanced by their natural variation and luster.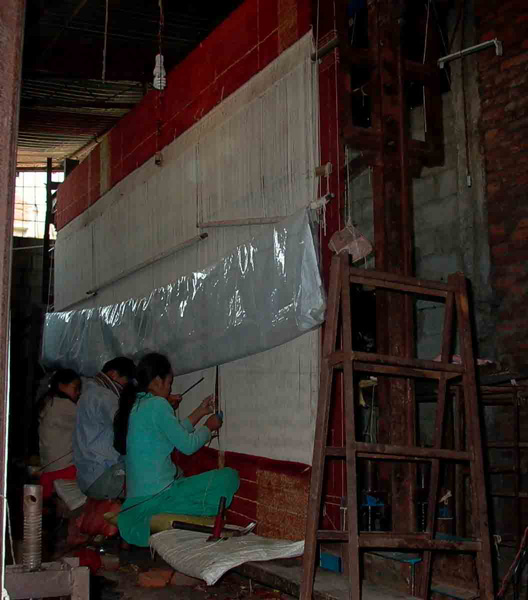 Doris Leslie Blau Tibetan Rugs: made with 100% Tibetan Wool
The wool is imported from Tibet. Tibetan sheep, living in the Himalayan environment,
yield a thick coat of long stapled wool, naturally high in lanolin. Tibetan wool is the basic element for the special texture and finish of the final rug.
The factory imports its own 100% unprocessed Tibetan wool for all qualities. The wool is sheared in the Tibetan region of China and brought over the Himalayas to Nepal by truck or sometimes by Yak. Once in Nepal, the raw wool is hand sorted into its different natural shades of ivory, gray, brown, and black, and these batches are kept together to be dyed with the appropriate colors for each shade.
Indian Silk
The factory imports 100% unprocessed premium grade Indian Silk to be used for rugs with silk accents or wool and silk blends. The silk is hand-carded, handspun, and dyed by experienced artisans. Although machine processed Indian or Chinese silk are available in Kathmandu, our factory has selected the highest grade of unprocessed silk to best complement the look and feel of hand crafted Tibetan wool.
Handmade Yarn
The unprocessed Tibetan wool is hand scrubbed in mountain water to retain its natural strength and lanolin content. The wool fibers are gently combed with hand made carding tools and then handspun with handmade wooden spindles. The remarkable combination of the natural softness, texture, and lanolin infusion found only in Tibetan wool and the ancient art of handcrafting the yarn, creates a special luster, luscious feel, and gentle variation in color, unparalleled in any other handmade rugs.
Alternatives: Cost-cutting methods can be used to reduce the cost of yarn. Various grades of New Zealand wool, Indian wool, or Chinese wool, none of which posses the natural character of Tibetan wool can be used. Some of these yarns can be spun with Tibetan wool to give the yarn a splash of Tibetan character. Cuttings and leftover Tibetan yarn that is bleached and re-spun into yarn is very often used to produce
Inexpensive commercial grade rugs. None of these alternatives can impart the look and feel of 100% handcarded, handspun Tibetan wool.
Wool can be machine carded, machine spun, and bleached, to cut corners. These can be violent or obtrusive processes that strip the wool of its lanolin and divest any wool of its intrinsic strength and resilience. These processes create uniformly white wool with the same consistent twist in every square inch of the yarn. The yarn then absorbs dye evenly and produces a perfect rug, precisely carved and with no color variation.
Since our wool is untouched by chemicals or machines, we uncommonly maintain the rare qualities of the Tibetan wool. The wool is gently combed and spun by hand, producing a delicately twisted yarn. Each square inch of our yarn is inconsistent in thickness, lanolin content, and natural shade. There can often be specs of natural gray or black wool within the twist of Tibetan natural ivory. Therefore, when our yarn is dyed, every square inch of wool bonds with the color at varying levels of absorption.
In cut pile, the colors reflect the random blending of naturally inconsistent dye strengths, resulting in fortuitous imperfection. Every handmade Tibetan rug made by The Doris Leslie Blau gallery is a work of art and made for unique interiors.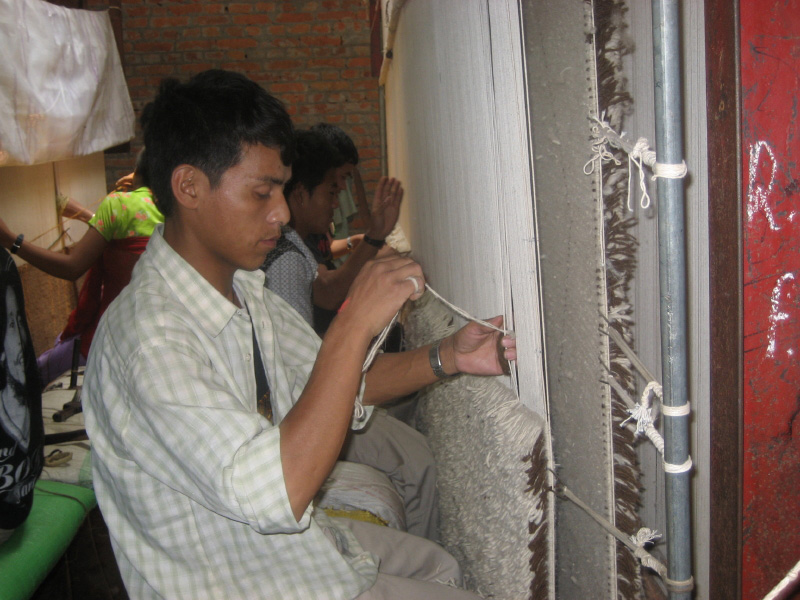 Rugs are finished in Nepal
To continue the tradition of handcrafted workmanship, the factory washes and finishes its Tibetan rugs in Nepal. The washing, rinsing, shearing, and carving processes are done by hand to assure each rug is attended to individually. The gentle care helps to preserve the inherent qualities of Tibetan wool and the handwork of the craftspeople.
Alternatives: In Europe and the U.S., more mechanized methods are used to wash and finish Tibetan rugs, with some producing excellent results. We prefer the more natural and hand processed methods we found in Nepal.
Doris Leslie Blau's Advantage: Among many alternatives, the Doris Leslie Blau gallery has selected one finisher with whom we have developed our own washing process. The handcrafting and personal care at each stage is exceptional allowing us to maintain a soft finish with the color variation and luster expected in high quality Tibetan rugs. Our washing process is ecologically safe and especially consistent.
High quality dyes
Alternatives: Natural dyes have a limited range of color selection, since the source of color pigment is limited to plants and insects. Natural dyes, by nature, are inconsistent from batch to batch. Rugs made with natural dyed wool react easily with atmospheric conditions, sunlight, and traffic patterns. They are not conducive to programming a line of rugs. Synthetic dyes are used for programming because of their wide range of color selection, their consistency, and their color fastness.
In Nepal, there is a large assortment of imported synthetic dyes. The most common are made in and imported from India. We use only Ciba Geigy dyes and Sandoz mordents made in and imported from Switzerland. These are the most expensive of the synthetic
Dyes, but they are the safest and the most colorfast. The Swiss formula is called Swiss Metal Complex. It is the only chemical compound that allows chromium to carry color, but causes it to be fixed. Chromium, the best carrier of color pigments, can be toxic if unfixed. Swiss made Ciba Geigy and Sandoz products give us an unlimited selection of color, color fastness, safety, and consistency.
Top designers and colorists
In Nepal, we have one of the best design departments in the industry. They are adept at interpreting and creating new designs, placing colors properly, and producing color graphs used by the weaving team to hand-knot the rug. Doris Leslie Blau also provides design services on request from its clients for programming or custom designing. The core of our custom business is the creation of one-of-a-kind rugs within the exact color and design specifications of the interior designer, architect, or artist.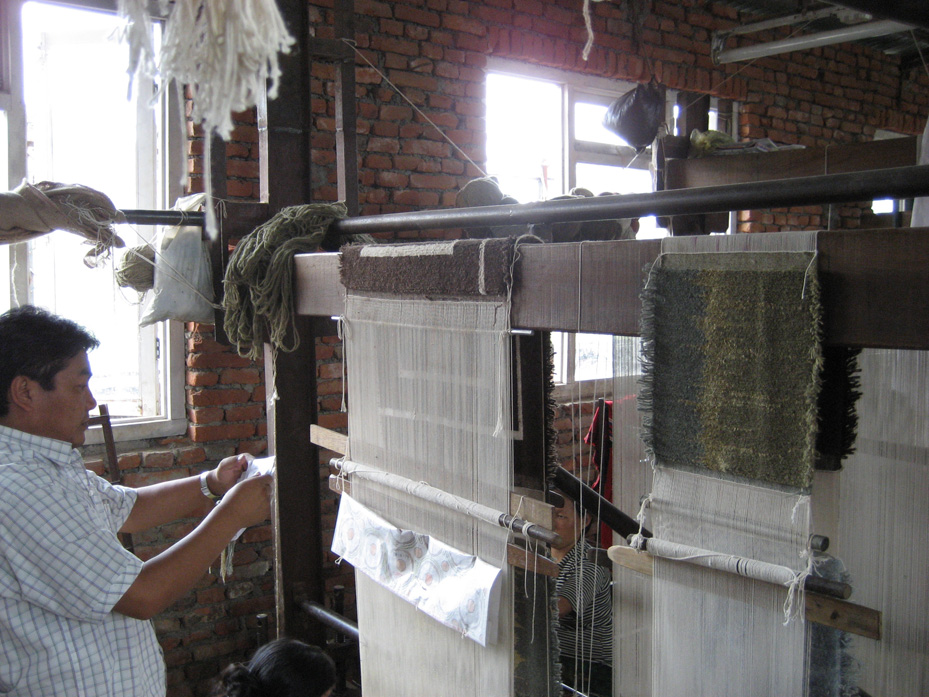 Security
The Doris Leslie Blau gallery's partners in Nepal systematically maintain control of designs and colors. Our rug producer and washer operate in secure compounds. The rug producer works solely for Doris Leslie Blau using colors produced exclusively for the gallery. The factory has it's own yarn making, dying, weaving, and finishing compounds, working solely for the producer. The washer uses a formula developed with and exclusively for Doris Leslie Blau. Completed rugs are kept in a secure warehouse that is totally out of view.
Systems
Doris Leslie Blau has developed and implemented several quality-related procedures to make the Nepal experience a pleasant one for its clients. We oversee order processing, production scheduling, quality control, and shipment planning.