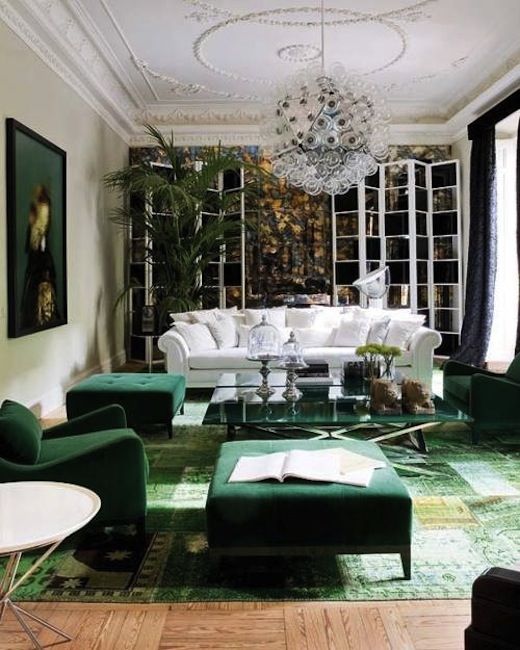 Lively, radiant, lush, and elegant.  These are all of the words that describe Pantone's color of the year for 2013 – Emerald.  A luxurious jewel-tone, this rich shade can enliven any room and is an excellent choice for making a colorful statement at home.  Whether you're decorating with a colorful emerald settee, deep malachite curtains, or the latest emerald green rugs, it's a wonderful way to bring a bit of elegance into your space.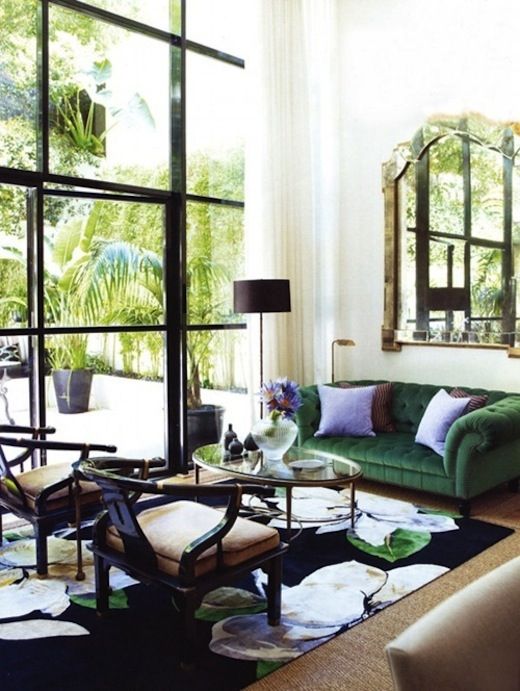 Color is a powerful accessory. Look for pieces that combine bright shades and deep and intriguing patterns to make a strong statement.  As a larger accessory, a colorful rug featuring today's trendiest shade can also be the basis for an entire room's color palette.  This black, beige and emerald green rug does the trick in a sophisticated black and white living room with a touch of emerald.
In addition to creating a color palette, colorful rugs can also be used to set an emotional tone or bring in a cultural touch.  In this Melbourne home, an overdyed emerald green rug adds to the room's eclectic design aesthetic.  Exploring rugs by color can turn up one-of-a-kind pieces that can add to your room's diverse color palette.  Here are a few of my favorites in Pantone's color of the year: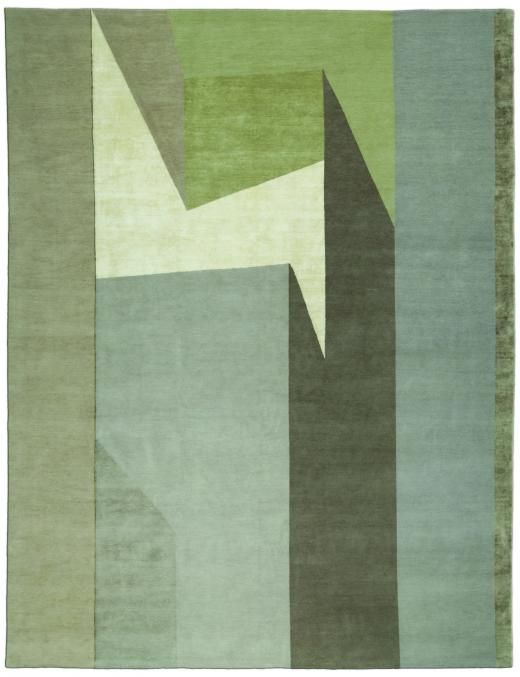 A modern rug like this one featuring an architectural design can be a great option for a structured room with hard edges. The blocks of vivid greens come together like a city skyscraper.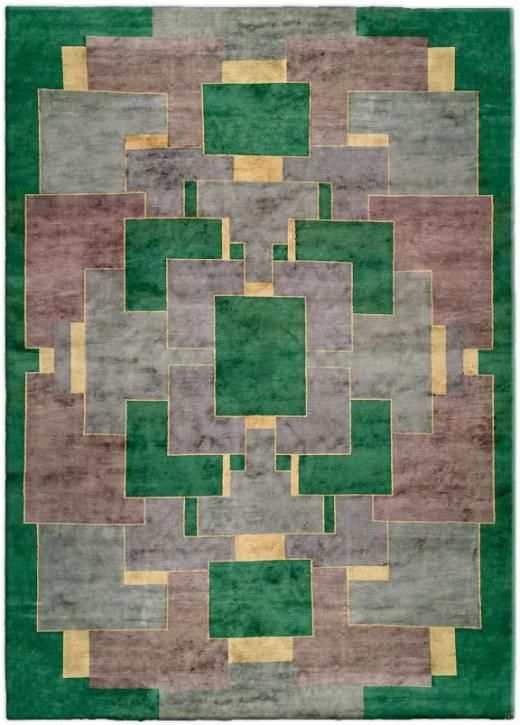 This beautiful multicolored rug mixing emerald green, gold and gray rug is a perfect example of a floor covering that will help you build a room's color palette from the ground up.  In addition to its sophisticated color palette, the mix of geometric shapes present in this piece can help to tie in other patterned textiles – such as pillows – and even works of art to create a room that fits together magically.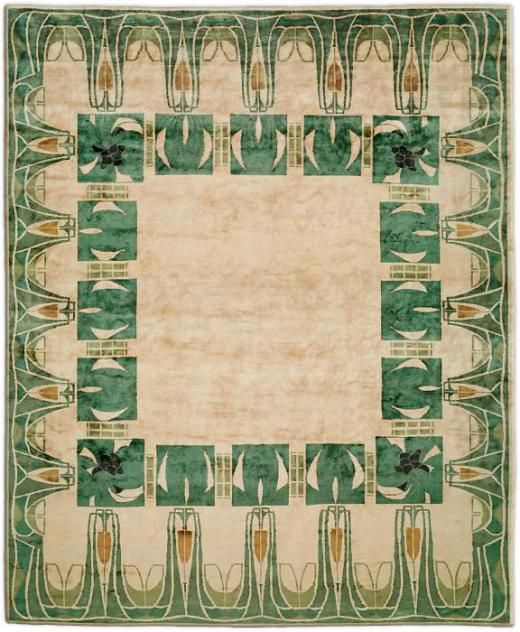 In neutral spaces, look for emerald green to brighten things up.  Beige is no longer boring when emerald green details are introduced. This rug would shine in even the most neutral interior.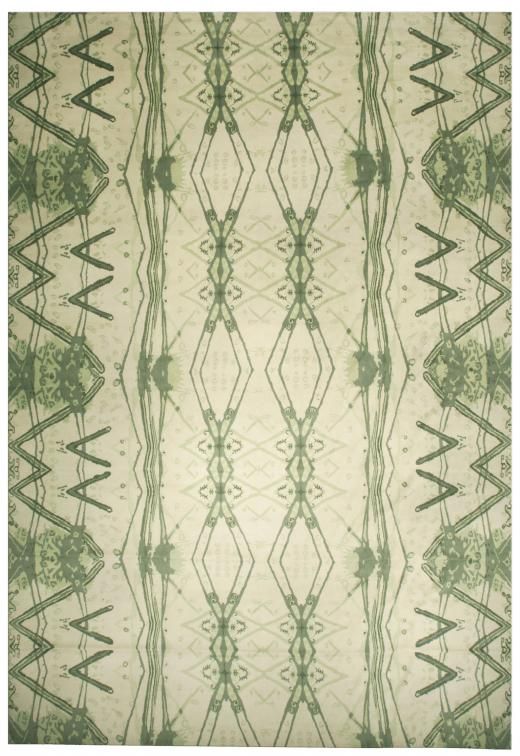 Eskayel's Festival Feast rug features striking patterns that stand out in Pantone's color of the year. With a colorful pattern that is unconventional and edgy, this rug would be the perfect colorful accessory for a room filled with modern details.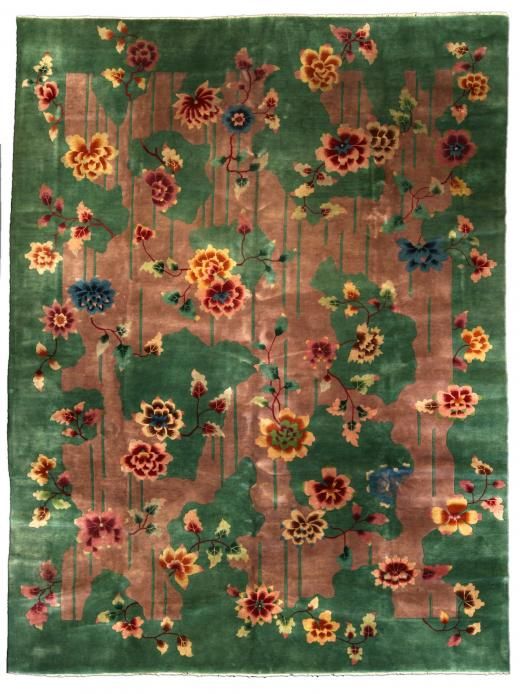 This Chinese deco rug is absolutely gorgeous framing bold blooms in an emerald green landscape.  A rug like this brings the outdoors in and adds a whimsical feminine detail to a space.  Pair it with traditional pieces to create a beautiful room with old-school style.
Explore more rugs in shades of emerald green!
By Jeanine Hays