Arts & crafts rugs of the late 19th and early 20th centuries stand for the golden age of British rug weaving. The style of designers, who followed the Arts & Crafts set of principles of restoring the link between an artist and a craftsman, range from Persian-inspired to proto-modernist.
Generally, the movement of Arts & Crafts began in Britain during the 1870s, and quickly spread across Europe and North America. It flourished there between 1880 and 1910.
The intention was to use simple forms in traditional craftsmanship; medieval, romantic and folk styles of decoration were also commonly used. The first usage of Arts & Crafts term was at the meeting of the Arts and Crafts Exhibition Society in 1887 by T. J. Cobden-Sanderson.
The style of the Arts & Crafts was a response to a deterioration of standards that was most probably caused by machinery and factory production. Being strongly anti-industrial, reformers advocated economic and social change, as well as strived to amend the design of the mid 19th century Britain. They didn't like the artificial, ornamented items, of poor quality materials, that were shown in the Great Exhibition of 1851.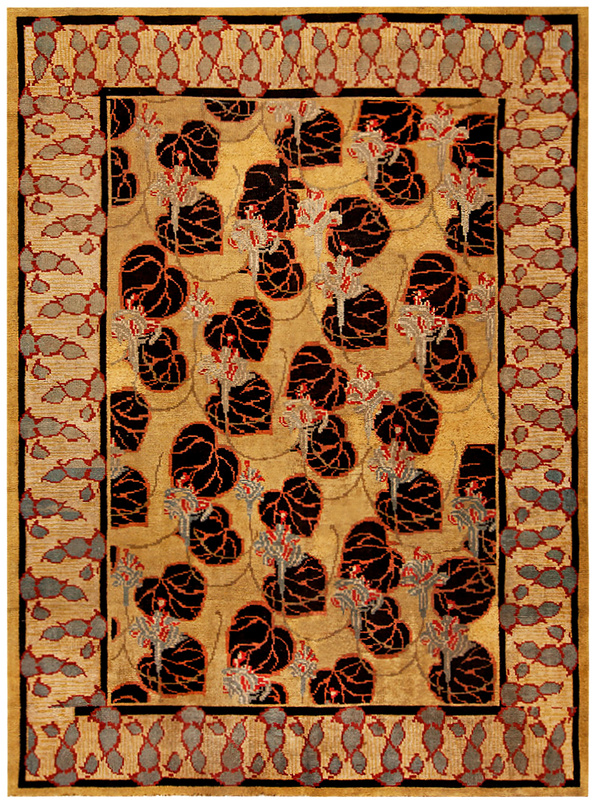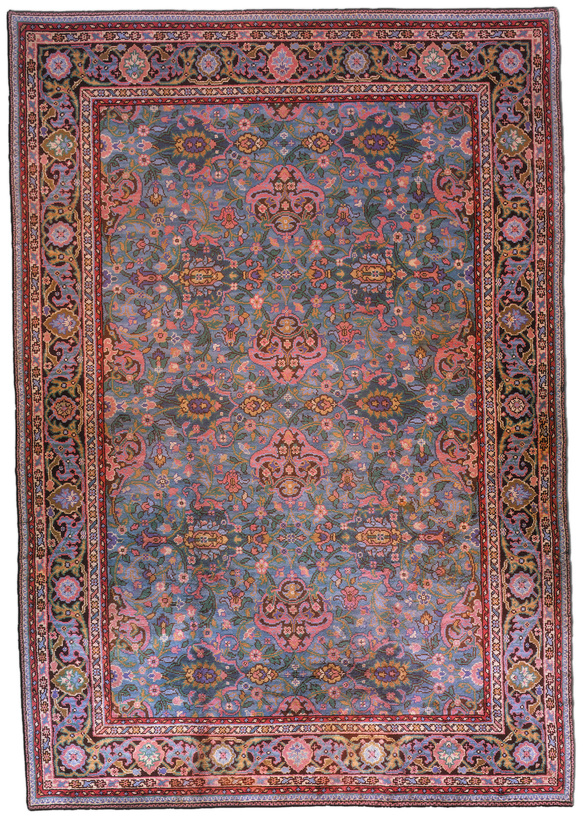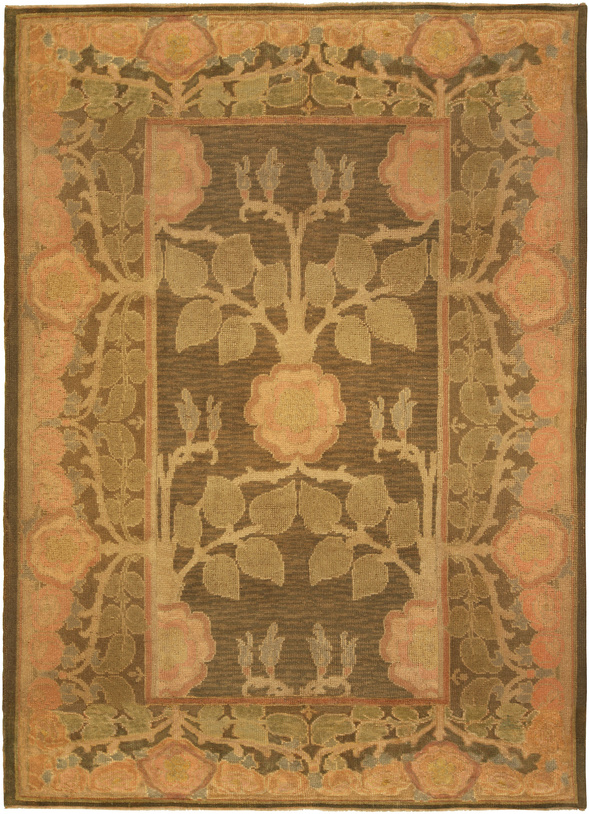 An English textile designer, social activist, poet and novelist, William Morris, caused traditional British textile arts and methods of production had their revival. In 1861, together with other designers, he opened the firm which became remarkably fashionable and successful. Morris designed tapestries, fabrics, wallpapers and furniture. In 1875, he took over the whole control over the company, which was renamed Morris & Co.
Morris, who claimed that producing rugs by machinery was 'altogether an evil', created one of the most recognizable styles of Arts & Crafts, which is characterized by: serpentine and curvilinear yet simplified floral patterns. Morris & company's rugs, designed in collaboration with artists like Dante Gabriel Rossetti and Sir Edward Burne Johns, displayed a Persian influence and skillfully stylized imagery based on English field and gardens. Those hand-knotted carpets were made from wool and silk or a mixture of mohair and wool, their foundation, on the other hand, was wool. However, in 1880 cotton warps and wool or jute wefts were introduced. Morris was an enthusiast of vegetable-dyes, e.g. red that we can obtain from madder.
Donegal became recognized for its rugs in the late 19th century. The carpets were created by C. F. A. Voysey (an English architect and textile designer) and Alexander Morton. They were generally produced in England, Scotland, and in County Donegal in Ireland. Voysey's pattern designs are rhythmically contrasted shapes with spaces of flat, clear color, surrounded by dark or pale outlines. Early Donegals were hand-knotted with wool pile and had thick wool foundation. Voysey inspired other artists, so that plenty of 'Voysey-like' rugs were produced. Some of these carpets have Celtic elements on them.
Arts & Crafts-style rugs produced in Turkey, China and India were highly popular in the 1990s. Nevertheless, they serve as an inspiration in various productions till these days.
Source: The Decorative Carpet: Fine Handmade Rugs in Contemporary Interiors by Alix G. Perrachon.