When talking about carpets, Tibetan rugs are known to have appeared rather late. The reason for this is that they were often mistaken for Chinese carpets or were deemed to be influenced by neighboring pile-weaving traditions. It wasn't until 1880s when the first examples recorded in the West were obtained.
There isn't also any written documentation as far as trading the Tibetan carpets is concerned. However, the tradition of making rugs in Tibet is very old, but political events prevented it from flourishing. During the 19th and early 20th century, the Tibetan carpet industry was up and running, to go into decline in the second half of the 20th. In the 1970s, we can observe the business revival – in Nepal and India though, not in Tibet.
Contrary to popular belief that Tibetan rugs are made of wool from Tibetan Highland sheep, they are now produced primarily in Nepal and in India. Moreover, the wool comes mostly from New Zealand. On account of political reasons, the import of Tibetan wool is limited, and as a consequence, its prices are extremely high. Nevertheless, Tibetan Highland sheep's wool (called changpel) was traditionally used in making Tibetan rugs. Today, the rug business is flourishing in India and especially in Nepal partly because of the Tibetan diaspora that started in 1959. Tibet does not export rugs on such a scale.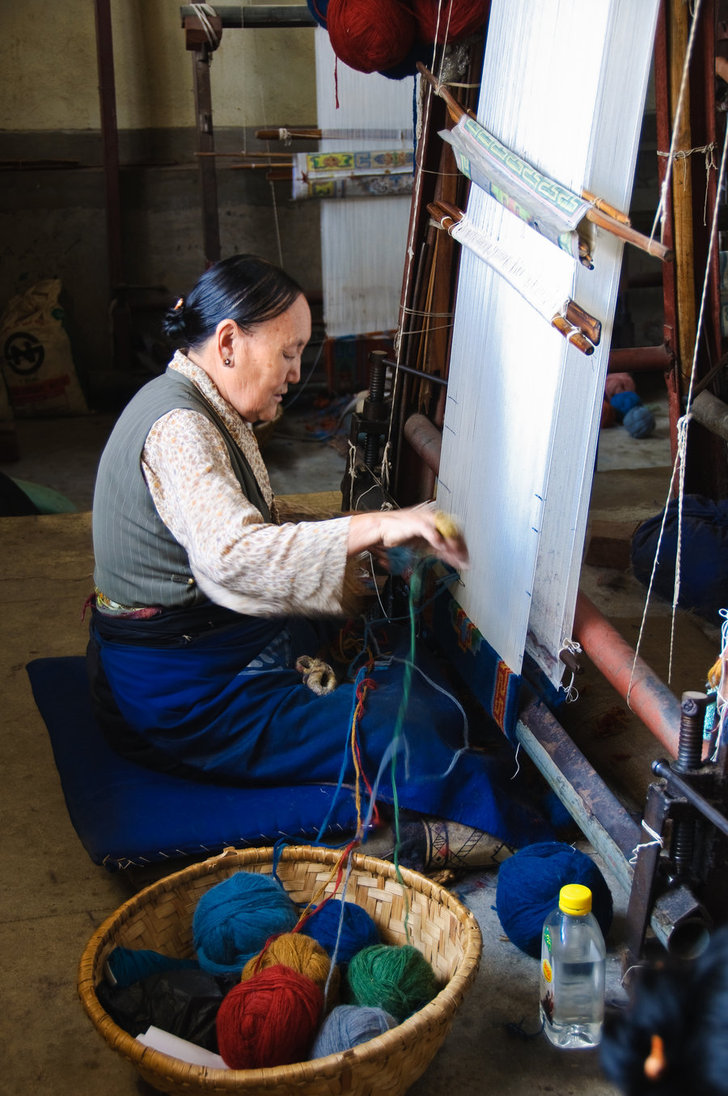 There are various purposes of usage of rugs in Tibet, including the most obvious one – putting it on the floor. Besides, the rugs are also hanged on the walls or serve as horse saddles. Seating carpets and sleeping rugs (khaden) are common as well. Whereas this kind of carpets were available for everyone, pile rug pillows for instance were limited to more affluent members of the society. Tibetan carpets served a principally practical function, other reasons like aesthetic or artistic expression were placed second to this.
In the matter of types of coloring, carpet makers had just a few natural dyes at their disposal, such as madder (red color), indigo (blue), Tibetan rhubarb (yellow) and walnut (brown and grey colors). As for the design, some of the motifs were elementary geometric patterns, medallions or figures from Chinese decorative traditions. It all concerns Tibetan carpets from the 19th century. With the passing time, more colors appeared – and thus the designs became more manifold. Religious symbols like Buddist's vajra (representing the state of enlightenment) or the ancient swastika are the recurring motifs. Animals appear on Tibetan rugs, with a particular symbolism included in them. Phoenixes go hand in hand with dragons that are considered to be benign in Tibet. Cranes symbolize good luck, and that's why they are a desirable rugs' motif. Snow lions, on the other hand, are the most admired mythical animals among Tibetan community. Tibetan tiger rugs are also worth mentioning. In the past, tiger pelts were used to demonstrate wealth and social status. Taking into account religious aspects, the tiger skin served as an additional protection while meditating.