Antique Tehran Rugs Offer the Best in Persian Tapestry
Antique Tehran rugs set the standard for quality and workmanship. In the late 1800s, the art of Persian weaving experienced a revival of popularity, and Tehran became the locus for Persian rug production. Antique Tehran rugs are not only high quality, they are also rare. Most high-quality Tehran rugs pre-date 1945. Newer, high-quality Tehran rugs are generally only produced in very small numbers by master-weavers. These rugs represent the ultimate beauty and quality considered an essential aspect of Persian carpetry.
Design and Structure of Tehran Rugs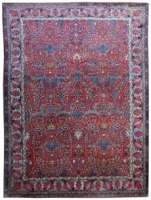 The artistic aspects of Antique Tehran rugs pay homage to Persian cultural tradition. The patterns are curvilinear in nature, and they are composed of deep reds, bright blues, with contrasts of ivory. The rugs range in size from four by six to eight by ten. However, some larger rugs are available as large as ten by eighteen. The composition of the rugs also demonstrates Persian tradition. These rugs are woven with Persian knots, which are asymmetrical, with soft wool thread. Thin, tight piling creates the rug. The quality of the rug largely depends on the tightness of the weave. Most Antique Tehran rugs have an average of 120 knots per square inch. Quality rises with the number of knots per square inch. The tightness of the weave is often indicated by the clarity and sharpness of the rug's design. In terms of size, color, and quality of weave, Tehran rugs display the ultimate in Persia's culture and history of tapestry.
Tehran is the capital of Iran. It is no wonder that the capital of a Persian nation would also be the main city for Persian carpets. Antique Tehran rugs are the best Persian rugs. The artistry and composition demonstrate the standard of genuine quality expected in Persian tapestry.
An Exceptional Collection of Tehran Carpets for Sale