Antique Shiraz Rugs Offer Hand-Woven Authenticity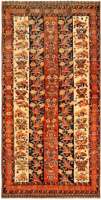 Antique Shiraz rugs come from the south western region of Iran in the village of Shiraz. Shiraz is a city in the province of Fars where tribal weavers create Shiraz rugs. The main draw to this type of Persian rug is the absence of factory creation. They are largely hand-woven on looms by tribal weavers. This fact enhances the artistry and uniqueness of each antique Shiraz rug.
The creation of Shiraz rugs by hand affects the composition of the rug. Sometimes these rugs can be distorted, but this distortion does not necessarily affect the quality of the rug. The materials composing the rug are often coarser than other styles of Persian rugs the threads are of strong wool. The pile height may be slightly higher as well. The colors used are generally red and brown, and the designs are frequently geometric. Other designs may include focal points including a central diamond shape, a depiction of Cyrus' horse, or nightingales which represent contentment and happiness. The border of the rug is often a band of pine and palm leaves surrounded by a smaller band. The weaving technique used for antique Shiraz rugs is the asymmetrical Persian knot, and the knots per square inch vary from 100-300. The quality of these rugs may be evaluated based upon the tightness of the weave, the level of distortion caused by the loom process, and the consistency of the pile height.
Fully hand-made Persian rugs may be rare however, antique Shiraz rugs are fully created by hand. The uniqueness of each piece is assured because the piece is not made in any factory. This authenticity can be sure to over-ride some imperfections in appearance. The tradition of Persian tapestry creation lives on in the village of Shiraz where tribal weavers continue to create Shiraz rugs.
An Exceptional Collection of Shiraz Carpets for Sale