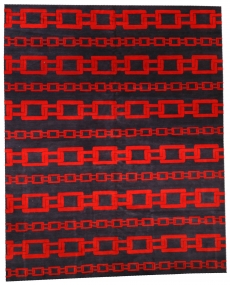 Doris Leslie Blau, one of the most elite carpet and rug dealers in the world, is second to none with half a century of experience in helping our clients find exactly the right carpet or rug to give a room its soul. With access to the finest specimens of antique, vintage, new, and custom carpets, we can meet the needs of the most demanding of clients. We pride ourselves on the high level of customer service we provide and the strong bonds we forge in order to understand and deliver exactly what our customers want. Always popular in our collection are flat weave rugs which are frequently used by top interior designers and architects as the final furnishing that pulls all other design elements together to complete a room or as the foundational piece that sets the tone for the room and from which the entire design draws inspiration. Flatweaves can be found in variety of colors, patterns, designs and styles and are made in an assortment of materials such as wool, hemp, silk, linen, and cotton. These rugs are highly versatile and thinner than hand-knotted rugs. Many cultures and religions have used these rugs as floor coverings, wall hangings, and prayer rugs for centuries. Among the rugs in this category are Kilims, sumacs, aubussons, needle point, and tapestry rugs (see below for more details on each of these styles). Flatweaves designer rugs can be made by hand or machine and, as the name indicates, do not have tufted pile and knots; they are flat. Many Middle Eastern countries are known for their flat weave rugs and in some regions they are still handmade by skilled craftsmen in accordance with centuries-old traditional methods. These rugs are highly durable and easy to maintain.
Because of their flat construction, flat-weave rugs are often used in the dining room where the lack of pile aids the movement of chairs back and forth and its ease of cleaning really stands out. But you should not make the mistake of thinking that flat weaves offer only functional beauty. Like most other rugs, they are a work of art and, in fact, are also frequently used explicitly for this purpose as a wall hanging. Light weight and highly decorative, flatweaves make a perfect wall-hanging. In fact, that was one of their original purposes and one that they still fill with distinction today.
Styles of Flat-Weave Rugs
Kilims
Fine ethnographic Oriental rugs, kilims (kelims) and other weavings have been produced by nomads and villagers throughout the Middle East and Central Asia for centuries. Kilim, pileless floor coverings are hand-woven in most places where pile rugs are made. Decorative woven saddlebags, storage sacks, tent hangings, animal trappings and floor or ground covers have traditionally enhanced every important aspect of daily life, and are genuine expressions of tribal culture.
The geometric motifs in these antique tribal rugs and weavings evolved directly on the loom. Traditional designs–some religious, talismanic or totemic–were passed from one generation to the next, with each weaver creating subtle variations that reflected her own artistic personality.
Extremely fine kilims of silk were woven for the Ṣafavid court (1502–1735), possibly in Kāshān, and fine kilims were made during the late 19th century in Senneh. Kilims have also been woven in parts of the Balkans, with those from areas closest to Turkey showing features similar to Turkish kilims.
Sumacs
Or: Soumak weave (Shahsevan)
More intricate patterning can be done by wrapping colored yarns around the warps–usually single warps or pairs. Most commonly, rows of this pattern-yarn wrapping alternate with thin, plain-weave ground wefts. Because the technique is time-consuming, it has frequently been used for bags and other small, sturdy weavings. Soumak wrapping most often covers entire surfaces, although occasionally figures are scattered about on open, plain-weave fabrics. Exquisite examples come from the Caucasus, from northwestern Iran, and from a few other areas. Kurdish weavers in eastern Turkey have sometimes produced weftless soumak bags–with no intervening ground wefts.
Variations in soumak structures occur when the direction of wrapping is altered, or when the weaver outlines her design in diagonal directions. Sometimes the yarn segments are offset; other times the structure is reversed, so that the usual back serves instead as the front. There are few design restrictions with these techniques, and so motifs have often been borrowed from other weaving traditions.
Flatweave Aubussons
Aubusson carpet, floor covering, usually of considerable size, handwoven at the villages of Aubusson and Felletin, in the département of Creuse in central France. The Savonnerie carpet factory, located on the site of the present Musee d'Art Moderne, inherited its name from the soap making factory it took over at the behest of Louis XIII. From 1660 until 1743 Savonnerie was a manufacture royale, carrying out commissions for French Aubusson rugs and carpets specifically designed for the Royal Palaces. Workshops were established in 1743 to manufacture pile carpets primarily for the nobility, to whom the Savonnerie court production was not available. Aubusson carpets were, however, also made for the royal residences. Soon after the production of carpets began at Aubusson, the pileless tapestry technique previously in use in this district was adopted for so many carpets that the word Aubusson has become synonymous with a flat-woven French carpet. In the 1770s, the tapestry looms at Aubusson in the Creuze Valley near Limoges were converted to produce flatweave rugs and carpets under royal warrant. No one knows precisely when carpet weaving began in this area, but it is certain that tapestries were first woven there long before the Gothic era.
Many weavers who settled in France were Huguenots who had fled Spain during the Inquisition in the early sixteenth century. By issuing the edict of Nantes, Henry IV granted all non-Catholics freedom of worship, thereby protecting the carpet weavers in Aubusson. Aubusson weavers became the finest craftsmen in the world. Louis XIV's influential Prime Minister Colbert established the long and hard apprenticeship necessary to obtain the title "Master of Tapestry." Even today, the center in Aubusson, under control of the French Ministry of Arts, is busily producing carpets and rugs of the most exquisite quality. Antique Savonnerie and Aubusson rugs and carpets are considered to be among the finest examples of carpet production undertaken in Europe over the past 350 years.
Given this heritage, Aubusson rugs are usually of significant size. Many of the early Aubussons were made in modified Oriental designs, some resembling Ushak medallion carpets. Taste soon changed to a range of Renaissance floral and architectural patterns similar to those in use at the Savonnerie and continued to reflect court and republican fashions up to the modernistic painterly concepts of the 20th century.
Needlepoint
Needlework rugs are rugs onto which yarn is stitched onto a cloth foundation, mostly using slanting stitches. The rugs, which are also referred to as embroidered rugs, were widely produced in Aubusson prior to World War I.
Tapestry
Tapestry is a form of textile art, traditionally woven on a vertical loom. The meticulous weavings of fine cotton threads are exceedingly time-consuming to produce, and the source of much pride. Small pieces often represent months of weaving. The artisan interlaces each colored thread back and forth in its own small pattern area with threads of different colors worked over to form the design. Most weavers use a natural warp thread, such as linen or cotton. The weft threads are usually wool or cotton, but may include silk, gold, silver, or other alternatives. Rarely are the tapestry surfaces perfectly flat; instead, their rippled planes reflect the inherent freedom and creativity of the medium.