English Axminster & Wilton
History of English Axminster & Wilton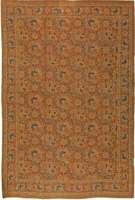 The history of the Axminster carpet started in 1755, when Thomas Whitty opened a carpet manufacturing company in the town of Axminster, in the county of Devon. The development of carpet manufacture in England during this period was enabled by laws which were designed to promote locally produced textiles, out of concern that foreign textiles were dominating the market, particularly by the French Savonnerie carpets. These early English Axminster rugs were hand knotted, and they quickly became the undisputed choice for wealthy aristocracy. Antique Axminster carpets and other European rugs grace the floors of Chatsworth and Brighton Pavillion to name a few and were bought by George III and Queen Charlotte who visited the factory in the 18th Century.
Design of English Axminster & Wilton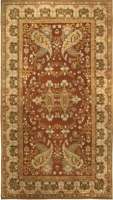 Some of the most famous Axminster carpets were designed by renowned architect and furniture maker Robert Adam. The elegant carpet he designed for Harewood House circa 1770 currently resides at the Metropolitan Museum is not dissimilar to the Lansdowne carpet, circa 1775. They both employ classical motifs based on the antique finds at Herculaneum and Pompeii in the late 18th century. They share a sense of orderly symmetry in the overall design using Palladian elements such as columns, pediments, architraves, trophy compartments and a string of bell flowers along with classical masks. The Axminster rugs he designed often mimicked the plasterwork of the ceiling above. He used nearly garish intensity of colors which have faded over time.
An Axminster carpet is a type of pile carpet named for Axminster, a town in Southwest England which continues to produce carpets today. These carpets are made distinctive by their bright colors, and they are traditionally made from wool. Like the French carpets they often featured classical motifs borrowed from Renaissance architectural elements and floral patterns while a few designs embraced Oriental patterns. William Morris and CFA Voysey are famous designers who drew patterns for Axminster carpets and rugs in the late 19th/early 20th century. Most people associate Axminster with quality, since it has been a renowned name in carpet making for centuries.
An Exceptional Collection of English Axminster & Wilton for Sale