Doris Leslie Blau Collection Warm Brown and Gray Handmade Wool Rug N11318
9'0" × 12'0"
$

11,000
$11,000
Tibetan rugs are like weavers' canvas, constituting no lesser artistic value than paintings. This beautifully composed piece is drawing from the best traditions of Art Deco. Its soft, qualitative fabric consist of tender wool and luminous silk thread, which make stunning underlay for the artistic design. The pattern of round and elliptical shapes is enriched by several 'bubbles' standing out from the mustard background due to texture and color. The modern area rug radiates with classical elegance and will fill any space with tasteful artistry.
A rug has always been an integral part of it. Deeply inspired by the breathtaking landscapes of mountains, seashores and idyllic countryside, Swedish rugs' expression lies in simple, geometric forms – a symbolic representation of nature. Toned, pastel color palette is dominated by shades of dusty blue, pink and brown. It has not changed over the years, if anything, it improved. Nowadays, next to historical motifs, one may find fresh and contemporary influences, which do not disturb the original harmony and artistry in the slightest.
Doris Leslie Blau carries an exceptional collection of original modern rugs in many styles and materials. Contemporary hand-made rugs are a bridge throughout history, they are the fruit of the constant evolution of the weaving craft that has accompanied men since the dawn of civilization.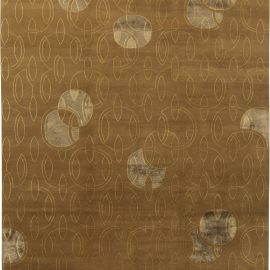 Doris Leslie Blau Collection Warm Brown and Gray Handmade Wool Rug N11318
$

11,000
In stock