Qum Rugs
Antique Qum Rugs Exemplify the Best in Persian Tapestry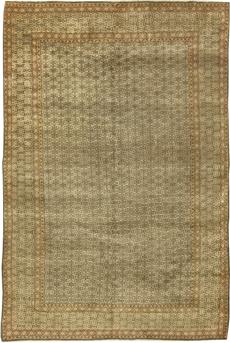 The Qom province of Iran, 100 kilometers south of Tehran produces the finest Persian carpets available today. Antique Qum Rugs may not necessarily be as old as expected. The highest quality of these rugs are less than sixty years old. In fact, these types of rugs were not produced until the early 1900s. Most in existence today have a production year prior to 1940. These rugs may not be as old as other types of Persian tapestry; however, the quality of Qum rugs, in terms of material and construction is outstanding.
Qum rugs have many names. They are also be referred to as Qom rugs, Ghom rugs, or Ghum rugs. These carpets are typically smaller in size. Many are hung decoratively on walls because of their small size.
Hanging these rugs may also be to preserve the quality of the tapestry. Antique Qum rugs are considered to have very great investment value that appreciates. They generally contain silk and high quality wool. In fact, some contain two layers of silk. The pile height for the rugs is very thin, and the knot count is higher than other kinds of Persian rugs. Often, Antique Qum carpets have 400-860 knots per square inch. The rugs are woven with jewel-toned colors.
Many times they are weaved with red, blue, and ivory shades. The designs of the carpets vary. Frequent choices include tree of life and medallion motifs. Other designs may include landscapes or depictions of historic events. The lines composing the designs are typically curvilinear. The size, materials, weaving, color, and design all demonstrate the value of Antique Qum rugs.
Antique Qum rugs, while relatively new to the long history of Persian rugs are very high-quality rugs. Many consider Qum rugs to be among the best in the world. For this reason, many people also choose Antique Qum for investment purposes.
An Exceptional Collection of Qum Carpets for Sale