Our Vintage area rugs bring time-inspired designs from a centuries-old craft into your home or office. These high-quality, affordable persian rugs will tie your office room together, provide warmth to your bedroom perfectly. Our Vintage rugs are made from materials that are as durable as they are beautiful and high-performance fibers that will stand up to wear and provide natural stain resistance.
What are vintage rugs?
Vintage rugs are decorative heavy textiles that are at least 30 years old. This general category is very diverse and includes rugs from all over the world. To put vintage carpets on the timeline, we can assume they were made after the year 1920. Antique carpets, on the other hand, were made before that date. This division is rather conventional because the border between an antique rug and a vintage rug is fluent and shifts over time. One day, all vintage carpets will become antique. Another, more accurate way to categorize vintage rugs is to link them to the birth of Modernism. This method of categorization introduces the term 'mid-century rugs.'
Vintage Rugs for sale online – introduction
Coming from the middle of the 20th century, authentic vintage rugs are real treasures of design. Mid-century rugs are not necessarily about minimalism but rather simplicity and functionality. They are made out of high-quality materials, and very often playful in terms of color and shape. Designs of mid-century vintage rugs can be experimentational but the rugs themselves are always functional above all.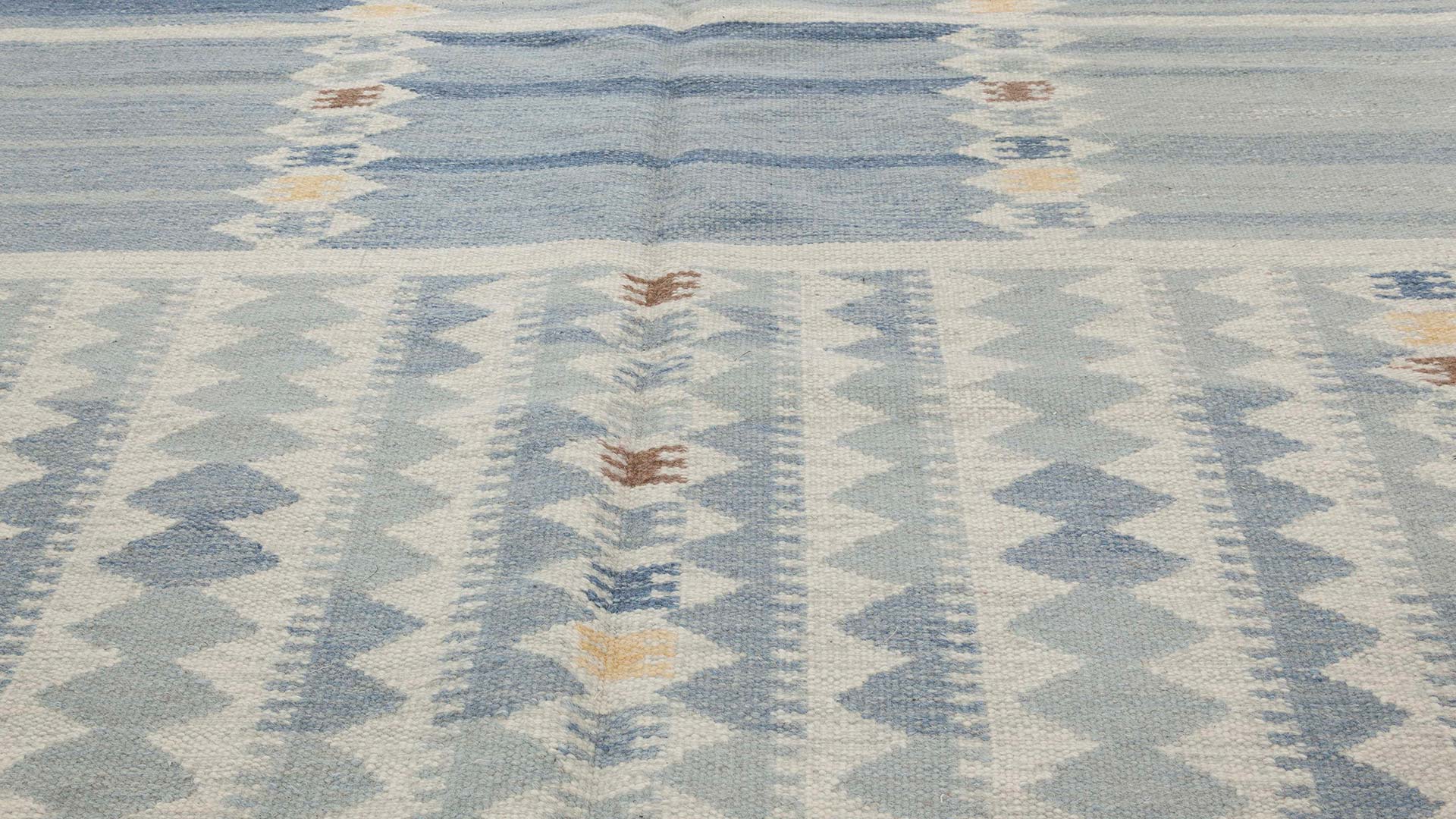 Mid-Century Scandinavian Rugs
The heyday for vintage Swedish rugs has begun in the first half of the 20th century and lasts until today. These northern textiles combine excellent workmanship, practicality and beauty, following the philosophy of Scandinavian design. Both enthusiasts and expert of decorating appreciate their unmistakable charm.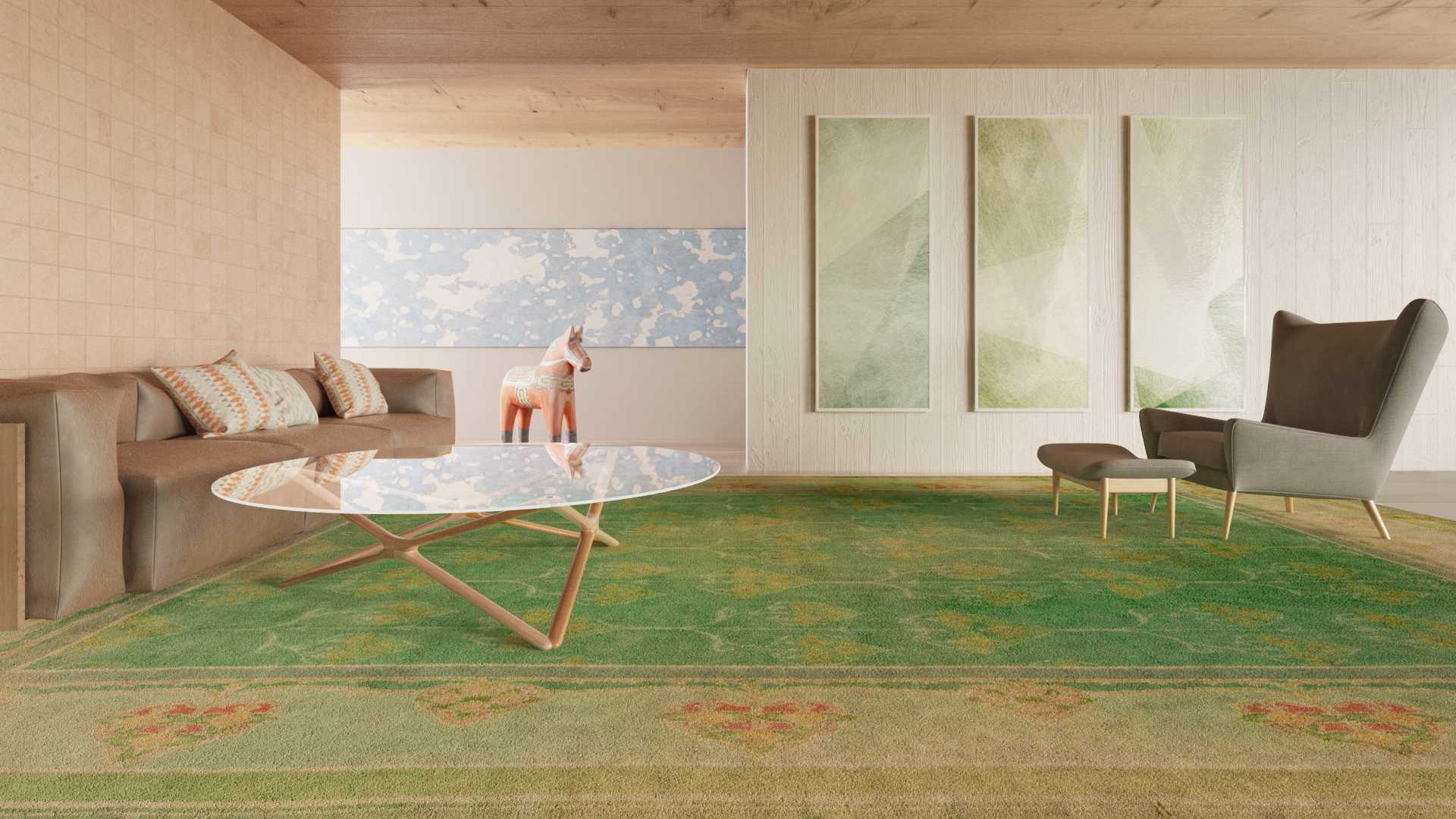 Arts & Crafts Rugs
Serpentine curvilinear and naturalistic floral patterns together with rich, dense color palettes define the style of vintage Arts&Crafts rugs. These rugs emerged from the rebellion against rigid Victorian conventions and the dehumanizing mechanization of the Industrial Age. Proponents of the Arts and Crafts movement sought to re-establish the link between the artist and the craftsman, and art and industry.
Moroccan Rugs
Bold colors and tribal aesthetics characterize Moroccan rugs the most. They carrying geometric rather than figurative designs. Moroccan rugs have been extremely popular since the mid-20th century. This is due to their naïve charm and unique appearance that fits perfectly into contemporary décor trends.
Art Deco Rugs
Art Deco rugs embody modernist progressive thought while preserving the finest, centuries-old weaving traditions and techniques. This gives Art Deco rugs a classic and luxurious feel. Vintage Deco rugs combine the ancient craft with rather contemporary aesthetics. They incorporate such iconic design influences as neoclassicism, constructivism, cubism, minimalism, modernism or art nouveau.
Chinese Deco Rugs
Art Deco influenced rug production in China resulting in a unique style – Chinese Deco. Unlike its European version, Chinese Deco does not shun nature-inspired patterns. It largely builds upon antique Chinese rug design full of figurative representations of fauna, flora. Chinese Deco rugs are full of symbolic motifs and mythical creatures like the mighty dragon or powerful phoenix. However, their patterns are less dense and more radical in the use of colors compared to traditional Chinese rug design.
Vintage Rugs and Modernism
Modernism emerged at the beginning of the 20th century. It marked a major transition from the era of Victorian salons, full of conventions and social distinctions, to the age of café society, which was focused on fixing all of the ill-fitted aspects of the world. This striving for change resounded strongly in design. Pomp and excess were left behind to make way for a new concept of beauty. All of this was carried over to mid-century rugs – along with every trend in architecture and art, which were also reflected in vintage textiles.
Types of Vintage Carpets
The most recognizable styles of mid-century vintage rugs are:
Arts and Crafts
Chinese Deco
European Deco
Hooked & Rag
Indian Dhurrie
Kilims
Mid-Century Modern
Moroccan
Samarkand and Khotan
Scandinavian/Swedish
Spanish
In contrast to antique rugs, vintage rugs usually have 'lighter', more contemporary designs. They reflect the socio-cultural changes of the 20th century, echoing a new way of perceiving art, craftmanship, design and their role in everyday life. Instead of opulent, intricate patterns, vintage carpets often have experimental forms and simpler motifs – their designs are mostly abstract and geometric. The message behind each vintage rug design is very different, depending on the country and particular movement from which it originates. Thanks to their modern appearance, which combines tradition and progress, vintage carpets easily match with both classic and modern interiors.
No matter your preference for color, texture or style, we pride ourselves on bridging the gap between art, design, and architecture by making rugs a key element of interior design.