Swedish Brown and Yellow Flat-Weave Wool Rug Signed by Ingegerd Silow BB6541
4'6" × 6'7"
$

2,000
$2,000
Ingegerd Silow is a well know person in the antique carpet industry. Not only a talented weaver, but also great lover of Swedish crafts, Silow worked hard to make Swedish flat woven rugs popular and succeeded. Even decades after her death, Silow's legacy lives on in beautiful vintage style area rugs such as this one. The piece, woven circa 1950, bears the unmistakable signature of great Ingegerd, a silent sign of her approval. Both the pattern and the color palette immediately draw the eye thanks to the perfect balance they are in. The warm hues of mustard yellow and brown fit in perfectly, resulting in a warm and inviting composition. The pattern depicts small climbing vines with small blossoming flowers curiously peaking from above the leaves.
Vintage rugs – they are essential objects of desire of not only vintage trend followers but all aficionados of beauty and sublime design. There is a good reason for such vast recognition as vintage rugs constitute the core of taste and artistry of the 20th century progressive thought.
Out of stock
Item No.:
BB6541
Circa:
1955
Size:
4'6" × 6'7"
(
137 × 200 cm
)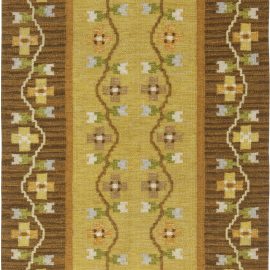 Swedish Brown and Yellow Flat-Weave Wool Rug Signed by Ingegerd Silow BB6541
$

2,000
Out of stock