Tabriz Rugs & Carpets
We invite you to view the largest collection of Tabriz rugs and carpets in New York.
Tabriz Rugs: Origin and Design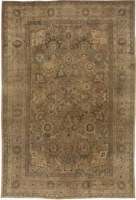 Tabriz, the capital of the northwestern Iranian province of Azerbaijan, has for centuries enjoyed a great reputation as a center of Persian culture. Under the benign patronage of Shah Abbas the Great (1587-1629), artists and artisans designed illuminated manuscripts, embroidered silks, painted miniatures and fabricated metal work in the Safavid style. It was in this fertile, creative atmosphere that the weavers of Tabriz rugs for the Court were inspired to reach for new artistic heights and created exceptional oriental Tabriz rug and carpet.
Tabriz Rugs: Carpet Weaving
The art of carpet-weaving was handed down from generation to generation and considered a family treasure, allowing artists to ply a respected trade. The early eighteenth century saw the end of the Safavid Empire and the decline of the town of Tabriz with its legendary craftsmanship falling into disuse. Under the Qajar Dynasty (1786-1925) the workshops of Tabriz were gradually revived and by the 1880's another golden age was underway and Tabriz again began to reestablish its position as the center for the export of Persian Tabriz rugs to the West.
Antique Persian Tabriz Rug Design
Designs of antique Persian Tabriz rug can vary widely. Some feature medallions, hunting scenes, flowers, and gardens Others prayer and pictorial rugs interpreted in a curvilinear manner. An antique Tabriz rug can be made of cotton or silk and woven as a pile carpet or flat-weave. A refined palette reliant on copper tones, terracotta and ivory, with shades of blue and subtle touches of gold, green and salmon are prevalent in antique Persian Tabriz rugs.
Luxurious Antique Tabriz Rug
Some extremely luxurious antique Tabriz rugs and carpets were woven in silk. Haji Jalili, master weaver of the Qajar era is renowned for producing some of the most superlative oriental Tabriz rugs. Within the span of nineteenth century decorative arts, it is still generally acknowledged that the finest antique Tabriz carpet and rug are unsurpassed for both quality and beauty.
An Article Written by CJ Dellatore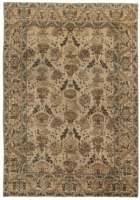 Quotes from owner Nader Bolour taken from the blog of CJ Dellatore:
"Searching for an antique rug is where the design process begins for most. They are the soul of a room, all the other elements of a well-appointed space are there to celebrate it."
"While many Tabriz rugs have central medallions with symmetrical designs - and typical coloration based in reds and blues, this rug is woven quite differently. It's a true work of art. The muted rose background, and range of colors, coupled with the asymmetry of the gardens, borders, poems and prayers amalgamated within make it a remarkable specimen. It's subtle, and exceptionally sophisticated."
"When I consider making a purchase of an antique rug such as this, I envision a designer who will respond to it. I've learned over the years that provenance is far less important than aesthetics - and the visceral reaction a designer has to the color, abrash, motifs, and subtle nuances in the overall design."
To gain more insight into our Persian Tabriz collection, read the full blog: https://cjdellatore.com/antique-persian-tabriz-nader-bolour-doris-leslie-blau/
An Exceptional Collection of Tabriz Carpets for Sale
Please visit our gallery in New York at 306 East 61st Street, 7th Floor to see tabriz rugs prices and our offer of best collection of tabriz carpets in New York City