Antique Sultanabad rugs are among the most desirable Persian antique rugs to be produced in the late 19th and early 20th century. Characterized by their subtle color palettes and trellis designs, antique Sultanabads are frequently the choice of designers in search of allover rugs to serve as a more subtle compliment to a design scheme.
History of Sultanabad rugs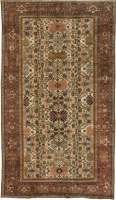 The appeal of Sultanabads to Western eyes is not the result of random chance. In 1883, Ziegler and Co. of Manchester, England, an Anglo-Swiss manufacturer, importer, and distributor of Persian carpets, established a Persian carpet workshop in Sultanabad, Persia, an area now known as Arak. Intending to export to Europe and the United States of America, Ziegler & Co. employed designers from major Western department stores, such as B. Altman & Co. of New York and Liberty of London, to adapt traditional sixteenth and seventeenth century Safavid designs by making the designs larger in keeping with the style of the early Arts & Crafts movement and made the rugs themselves larger to fit Western-sized rooms. For the more restrained Western taste, traditional designs were recolored to be more subtle and obliging. Traditional local dying techniques were improved and brought up to the standards of the latest methods of the time, creating new possibilities of color and tonality.
With bold, allover patterns and softer palettes than their vibrant Persian counterparts, antique Persian Sultanabad rugs and carpets attracted an immediate following leading to high demand for Oriental carpets from the Sultanabad district. Appealing to everyone from aristocrats to the newly-moneyed industrialists who sought to emulate them, a large number of oriental rugs were exported from Persia to both Europe and the United States up until the early twentieth century.
Sultanabad rug design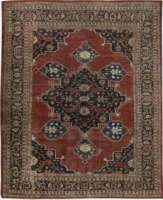 Sultanabads are similar in design to Heriz and Serapi rugs which is reflected in their magnificent graphic character. Yet within this similarity, the line work of the Sultanabads are always less curvilinear and classical than the Heriz and Serapis.
As with many other Persian rugs, Sultanabads feature all-over designs of palmettes and vinescrolls, but they use a larger, more supple weave, and the designs in a Sultanabad tend to be larger as well. Antique Sultanabad rugs are still regarded as the most appealing to European and American tastes. To this day, the term Sultanabad or Ziegler rug denotes an outstanding antique Mahal rug or carpet from the late nineteenth century.
An Exceptional Collection of Sultanabad Carpets for Sale