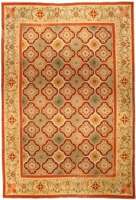 The ancient craft of needlepoint rugs, also known a 'canvas needle-work', 'canvas embroidery' or 'petit point' flourished most notably in England and France. Needlepoint carpets executed with wool yarn on jute, hemp, or linen canvas until the latter was replaced by cotton around 1825, needlepoints rugs are easily identified by their distinctive stitches—the tent stitch or petit point, and gros point. English needlepoint rugs, renowned for their profuse floral motifs, reached an artistic zenith in 1700-1750 but were produced through the end of the nineteenth century. Needlepoint rugs were mainly used as table carpets, the earliest pieces, dating from 1550-1650, exhibited scrolls of flowers with pictorial and heraldic motifs. Eighteenth-century needlepoint rugs reveal the influence of contemporary artistic movements including baroque, chinoiserie, neoclassical, and rococo.
Needlepoint Rugs During Victorian Era
In the Victorian era, needlepoint rugs and carpets featuring large flowers—such as hydrangeas, cabbage roses, and exotic species often combined with scrolls, cartouches, landscapes, and animals—were the ultimate fashion statement. Victorian pieces may also include geometric, Caucasian-style, or stained-glass elements, a byproduct of Gothic Revival influence. The introduction of aniline dyes in the nineteenth century generated new color schemes, namely black backgrounds and hues such as "nightgreen," mauve, and magenta.
Limited Production of the Needlepoint Rugs
The production of French needlepoint rugs, whose earliest examples date to the seventeenth century, was more limited. While sharing English needlepoint rug characteristics, they generally recreated formal Aubusson and Savonnerie patterns. Eighteenth-century pieces include chinoiserie and rococo motifs and the architectural attributes typical of the Directoire style while nineteenth—century examples became predominantly floral with the revival of Louis XIV, Louis XV, and Louis XVI styles.
Chinese reproductions of French and English needlepoint patterns and European rugs first crafted in the 1920s and revived again in the 1980s, often rival their rare antecedents in quality and authenticity of needlepoint rug pattern and coloration. Moreover, new contemporary and transitional patterns have emerged, ensuring the longevity of the needlepoint art form.
An Exceptional Collection of Needlepoint Rugs for Sale